How to Lose Weight and Belly Fat with Ginger (Evidence Based)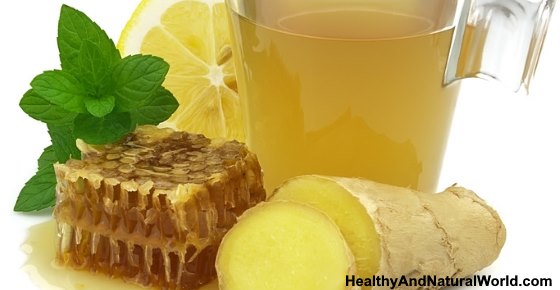 Advertisement
Ginger is a root that has a crisp, pleasantly spicy flavor and also boasts many health benefits. One of these benefits is the ability of ginger to have a positive impact on maintaining a healthy weight—specifically, with losing weight and losing belly fat.
Ginger for Weight Loss – The Studies
According to the ancient practice of Ayurveda, eating and drinking ginger root can help keep your weight under control and research has confirmed this as well.
In a study published in the Journal of the Science and Food of Agriculture in 2014, researchers found that overweight rats who were given gingerol (a compound found in ginger) were able to lose weight after a 30-day supplementation period. The rats also showed improvements to blood sugar levels and leptin levels.1
Leptin is a compound that plays a role in feeling full and satisfied after a meal and I've already covered in great detail the importance of leptin for weight loss.
The researchers concluded that ginger supplementation suppresses obesity induced by a high fat diet and it might be a promising adjuvant therapy for the treatment of obesity and its complications.
Another study published the prior year in the European Review for Medical and Pharmacological Sciences showed that ginger supplementation had an equal impact on rat weight loss as a popular weight-loss medication, Orlistat. Additionally, the ginger caused noteworthy improvements to blood cholesterol level, with "good" cholesterol levels (HDL) up from their baseline level.2
With ginger's power to help you feel full and help you properly digest your food, it's no wonder that it shows such a strong impact on weight loss.
How Ginger Helps Fighting Belly Fat
Not only can ginger help with weight maintenance in general, it can also keep that pesky belly fat at bay. Ginger can target the main reasons that belly fat accumulates, such as overeating, hormonal changes and low energy leading to lack of exercise.
Ginger helps you to feel full, so eating ginger or drinking ginger water can help curb the urge to overeat. As a natural appetite suppressant, consuming ginger is one of the best ways to aid in the weight loss process. An additional advantage is that ginger is nearly calorie free and can be used fresh, in cooking and brewing in tea.
Hormonal changes and chronic stress can cause spikes in levels of blood cortisol, which throws the immune system and metabolism out of balance. According to an article in the Biological and Pharmaceutical Bulletin, ginger suppresses cortisol production.3
Elevated levels of cortisol may contribute to weight gain, especially making it hard to lose belly fat, and I've mentioned it in my article on how to reset your hormones to lose weight and in my article on how to lose belly fat without exercise.
Consuming ginger can help bring the internal balance back in tune and promote well-being and weight loss. Ginger's sharp, distinctive flavor can also help naturally boost your energy levels, both physically and mentally.
Ginger Increases Your Metabolism to Help You Lose Weight Faster
A study published in the medical journal, Metabolism, in 2012 found that ginger has a thermogenic effect by enhancing the thermic effect of food as well as promoting feelings of satiety.4
Thermogenic food means that it raises the temperature of the body and helps boost metabolism and calorie burning. In the thermogenesis process the body burns calories to utilize foods you have just consumed, converting those calories to heat.
The International Journal of Obesity mentions that consuming foods that have thermogenic effect can potentially be a tool for weight loss and weight maintenance as they may increase energy expenditure, fat oxidation and counteract the decrease in metabolic rate that happens during weight loss.5
The study assessed the effects of consuming a breakfast meal with or without a hot ginger beverage (2 g ginger powder dissolved in a hot water) on energy expenditure, feelings of appetite and satiety in overweight men.
The study found that there was a significant effect of ginger on thermic effect of food, and the participants showed lower hunger, lower food intake and greater fullness with ginger consumption versus the control group. The results suggest a potential role of ginger in weight management.4
How to Use Ginger for Weight Loss
If you want to use the healing powers of ginger to lose weight faster, here's what to do.
Before eating, chew on a thin slice of ginger root. This will help in regulating metabolism, stimulating digestion, reducing cortisol production and increasing energy.
You can also grate a small piece of ginger and add a squeeze of lemon juice and a dash of salt, then mix the ingredients. Eating a couple of small pinches of this mixture before you eat each of your meals helps to control appetite and aid digestion.
Make a delicious anti-inflammatory smoothie by adding fresh or dried ginger or add it to green smoothies.
Use ginger as a spice in your cooking whenever you can to increase your ginger intake. Cooking ginger for a short period of up to 6 minutes actually enhances its health benefits (as you can read in my article about the health benefits of cooked and dried ginger). Luckily, ginger has a tasty flavor that doesn't need to be "masked" in order to reap the rewards the plant has to offer.
Slice up fresh ginger and use it in stir-fries, soups, and sauces to give a bit of a "kick" to your food and boost your health at the same time. Add it towards the end of the cooking so that less gingerol is lost in the cooking process but that it heats up enough to release antioxidants.
Ginger Tea for Weight Loss (makes 4 cups – 1 L)
Another great way to get more ginger into your life is by making a delicious and energizing ginger tea. Drink this tea two or three times per day to get the most out of it. It's yummy and not at all hard to make. You can also add lemon that aids weight loss too and I've mentioned it in my article on how to use lemons to lose weight.
Here's how to make a detox ginger lemon tea for weight loss
2 inches (5 cm) finely chopped ginger root (or 2 tsp. dried ginger)
4 cups (1 L) filtered water
2 tbsp. (30 ml) organic lemon juice
1-2 tsp (5 ml) whole stevia leaf or honey
To make the ginger tea, prepare it as follows:
In a small saucepan, bring the water to the boil. Turn off the heat and add the chopped ginger.
Steep with the lid on for 5 minutes (covering with a lid prevents the oils and medicinal compounds escaping through the steam).
Strain the weight loss tea and add some lemon and honey when the tea has cooled down (excessive heat will destroy the benefits of honey). Honey and lemon have their own health benefits that can increase the potency of this wonderful tea.
Enjoy your anti-inflammatory weight loss drink.
Alternatively you can mix or replace the water with Matcha tea which can help you burn fat four times faster.
You can find more healthy and delicious recipes for fast and easy fat burning in my e-book Blast Your Belly Fat.
How to Use the Ginger Tea to Lose Weight and Belly Fat
You should drink one cup of the ginger tea 3 times a day between meals to boost your metabolism and fight belly fat.
Another option is to drink the tea just before meals as it can help you to increase feelings of fullness and promote weight loss. According to the European Journal of Nutrition, drinking water before meal increases fullness and decreases hunger.6 In addition, the American Journal of Clinical Nutrition reports that increased water consumption can help you lose weight.7
Remember to enjoy a healthy diet and get plenty of exercise.
What To Expect When Consuming Ginger For Weight Loss?

Consuming ginger will not provide you with a quick weight loss. The changes will be gradual, but hopefully permanent. Don't be impatient and allow it some time. Sometimes losing just one pound a month and not re-gaining it afterwards, can be the real success.
You need to remember that how fast you'll lose weight and body fat depends on other factors as well, such as your exercise, nutrition, stress and genetic factors. For best and fastest effects, you need to combine ginger with other techniques for losing weight, so the function of ginger gets supported with lifestyle changes.
Here a few more articles that you may want to read to learn about effective weight loss techniques:
How To Speed Up Your Weight Loss

There are ways to make your ginger regimen work faster to help you lose up to 20 pounds in 2 weeks.
First, avoid unhealthy fats, processed foods, and don't indulge in fast food – read my article about 8 foods to avoid to keep belly fat away. You should also avoid these 10 fake foods and also make sure that your food doesn't contain these ingredients. Also reduce your sugar intake, especially refined sugars. You will gain much more than just losing weight as I've mentioned in my article about 6 things that happen to your body when you quit sugar.
There are few more ingredients that you can add to your diet to speed up the weight loss process:
Coconut oil – I've already mentioned in my article on how to use coconut oil to lose weight the studies that support it and how to use coconut oil for weight loss.
Apple cider vinegar (ACV) – My article on how to use ACV to lose weight will help you understand how ACV works and how to use ACV as part of your daily diet to lose weight and to improve your health.
Many people claim that mixing garcinia cambogia and apple cider vinegar together may help you lose weight quicker.
Lemons and lemon water – Health writer Theresa Cheung, author of The Lemon Juice Diet, has written extensively about the benefits of lemon juice for dieters looking to finally succeed in their weight loss and you can read about it in my article on how to use lemons to lose weight.
Matcha green tea – Matcha green tea is believed to be the highest quality powdered green tea. Studies have shown that if you include Matcha tea into your diet plan, you can lose 25% more weight than people who don't drink it, and it has many more health benefits.
Cumin – This is another great spice that you can add to your diet, and you can read the research on cumin and body fat in my article on how cumin helps you lose weight.
Honey and Cinnamon – While you're working hard to shed the unwanted pounds, honey and cinnamon combination can assist you in several ways – read about them in my article about delicious honey and cinnamon weight loss drink.
Other spices – There are other spices that you can use for weight loss and you can read about them in my article about the best spices and herbs for weight loss.
The following things will also help you lose weight faster:
Other Health Benefits of Ginger
Not only does ginger aid in weight loss, it can also reduce inflammation, reduce nausea and quell vomiting, improves digestion and even kill cancer cells. You can also use ginger to make a special healing drink to detox your body and fight numerous diseases.
Dry, powdered ginger can keep for many months when stored in an airtight glass container in a cool, dark place. A fresh ginger root can be kept potent by storing it in the refrigerator and will keep for up to three weeks. You can even freeze the root to lengthen its lifespan—it will keep for up to half a year in the freezer.
You can read more about ginger's medicinal properties in my e-book the Herbal Remedies Guide that will teach you how to treat common ailments using herbs.
Ginger – Precautions
Many people can experience improvements in health by using ground ginger in food or as a dietary supplement, but it's not the right choice for everyone. There are certain groups of people that should avoid ginger consumption as it can interact with other medication and can worsen certain health conditions.
Read these related posts:
1. How to make honey & cinnamon weight loss drink
2. This spice helps you lose 3 times as much fat
3. How to use coconut oil to lose weight
4. How to use ACV for weight loss
Medical Sources