How to Balance Your Hormones and Lose Weight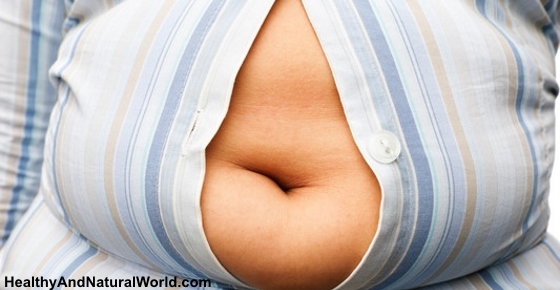 Advertisement
Did you know that there is direct relationship between hormones and weight loss? Your hormones control every aspect of weight loss including your metabolism, where you store your fat, your appetite and even your cravings.
This means that any kind of hormonal imbalance may sabotage your weight loss efforts! Sure, skipping potato chips and hitting the treadmill is a trusted way to lose weight, but if your hormones are out of balance you may struggle to lose weight. However if you understand how they work and how to balance them you will be able to lose weight faster.
What are Hormones?
Hormones are biochemicals that every multicellular organism produces to orchestrate the way your mind and body behaves. They are an essential part of the way males and females get energized, collect fat, combat stress and maintain muscle. Balancing your hormones is a great way to ensure an energetic and happy life, but many people turn to expensive and potentially dangerous supplements to see results.
Dr. Natasha Turner broke ground and gave momentum to a natural wellness movement when she released her book "The Supercharged Hormone Diet".
Turner, a naturopathic expert, has long studied ways to naturally enhance life and weight loss with the right diet and lifestyle changes. In this article I will review some basics behind the complex process of hormone balancing and give a few recipe examples for melting body fat.
It All Starts With Detox
There is a lot to consider when addressing your hormonal imbalances: sleep, exercise, meal frequency, etc. The first thing you should focus on, however, is eating the right foods to flush your body of toxins.
Particular foods cause the digestive tract to become irritated, which in turn sets the balance of your hormones off. When this happens, it encourages random food cravings, even when your body doesn't need the fuel. If you're eating when you shouldn't be and your hormones are already unbalanced, you'll be accumulating fat and preventing it from leaving.
A proper diet can help detox your body with foods that have beneficial anti inflammatory properties. You can find plenty of more information on how to naturally detox your body in my e-book The Detox Guide.
Food to Avoid
Dr. Turner recommends that if you are allergic to any type of food, even on a relatively harmless level, cut it from your diet. You should also keep away from foods that have a high glycemic index, as they will encourage the food cravings described above. These include foods that are rich in carbs and sugar like white bread, soda, baked goods, pasta and most processed foods.
Food to Eat
A rule of thumb, according to Dr. Turner, is to eat food with low glycemic index to keep hormones balanced. Foods that are high in fiber such as bananas, artichokes, raisins, oatmeal, beans and nuts will help keep your digestive tract from irritation.
A rule of thumb when it comes to detox is getting enough water each day. Drinking approximately eight cups every day will help boost your metabolism and give your body a medium to flush out the unwanted toxins in the liver and body.
Targeting Specific Fat Areas
Sometimes people have fat deposits that are more problematic than others. Stubborn areas might seem to always remain chubby because of biological misfortunes. There are certain types of supplements and food that you can use to target individual fat areas. And here is what Dr. Turner recommends:
The Belly
We all have ab muscles, it's the fat on the stomach that keeps them from showing. Studies have suggested that too much cortisol could be a major factor behind the accumulation of stomach fat. Holy basil is an Indian herb that helps maintain healthy cortisol levels and is commonly taken in capsule form. Foods for reducing cortisol include spinach, citrus, nuts, beans and barley.
Further reading: read my previous article about 10 warning signs you have high cortisol level and how to lower it. Also find here exercises to get a flat tummy that you can easily do at home.
The Back
Fat on the back and upper trunk is less common than stomach fat but equally as challenging to take on. It's also a likely indication that you have high insulin levels. Foods containing conjugated linoleic acid such as milk, yogurt, cheese and beef will help. You should also lean toward whole-grain options and green vegetables.
The Butt
Some people like big butts, but everyone has a limit. If you have excess body fat on your bottom, it could be due to high levels of estrogen. Cruciferous vegetables such as broccoli, cauliflower and cabbage are high in estrogen-blocking phytochemicals.
Chia, flax and sesame seeds have polyphenols that get rid of estrogen in the bloodstream. Pomegranates and red grapes are good fruit choices for lower estrogen levels as well.
Further reading: read my articles why you should eat more cruciferous vegetables, and 10 amazing reasons you should eat chia seeds.
Eat Glyci-Med Style
This new type of diet is a twist on the classic Mediterranean diet, which WebMD called "one of the best prescriptions for a long, healthy life", that focuses on the science behind glycemic index and carbs. The diet requires you to focus on the macronutrient (carbohydrates, fat, and protein) balance in your meals.
According to Dr. Turner, a basic approach to the diet is aiming to consume twice as much fat and protein as you do carbs. Doing this will help your stomach feel full and satisfied for longer periods, keeping you away from perilous craving binges. It will also help keep your cortisol, insulin and estrogen at healthy mediated levels. Eating more proteins is also one of the 70 habits featured in my e-book 70 Powerful Habits For A Great Health which will guide you how to take positive steps to improve your wellness and overall health.
Quick Tips
Protein powder is an essential tool for this diet. You can add it into water or milk, mix it into oatmeal, or bake it into recipes to make sure you aren't overloading on carbs with each meal.
Making the transition from sandwiches to salads might be tough, but you can easily take the filing of a sandwich and slice it over lettuce or spinach. Avoiding bread for at least one meal will make it much easier for you to balance macronutrients.
Fruit is fine in moderation, but make sure you choose whole fruit over juices. Most juices have far less fiber and additional sugars.
Keep your eye out for calories in your drinks, many sodas and juices have far more carbs than people realize. Look for calorie free options like flavored water or search for protein rich alternatives such as milk.
Other dietary staples recommended for this diet are roasted nuts, dry red wine, buckwheat, pomegranates and almost any type of vegetable.
Hormone-Balancing Recipes
Try the following hormone-balancing recipes by Dr. Turner:
Goat Yogurt and Blueberry Smoothie – Serves 1
Ingredients
1 serving whey protein isolate
1/2 cup plain goat yogurt
1/2 frozen banana
1/2 cup frozen blueberries
1 tbsp chia seeds
1/2 cup water
Directions
Combine all the ingredients in a blender and purée on high speed until smooth.
Crispy Chicken and Lettuce Wraps – Serves 1
Ingredients
1 small green apple, diced (unpeeled)
1/4 cup diced red bell pepper
1/4 cup diced cucumber
1 tbsp finely chopped red onion
1 boneless skinless chicken breast (approximately 4 to 5 oz each), cooked and diced
1/4 cup low fat Greek yogurt
2 tsp extra-virgin olive oil
Salt and pepper to taste
1 small head of lettuce (4-5 leaves)
Directions
In a bowl, combine all ingredients except for the lettuce. Chill for 1 hour. Place the chicken mixture inside each lettuce leaf, roll into cylinders and serve.
If you suffer from belly fat, you can also find how to lose stubborn belly fat for good without counting calories in my ultimate e-book guide Blast Your Belly Fat
Related articles: