EBooks
Hello and welcome to Healthy and Natural World!
My name is Jenny Hills. I am a writer, natural health researcher and the founder of Healthy and Natural World.
My mission is to share with you the best information about natural health. In my website and in my eBooks I write about topics that empower individuals to make positive changes in their health and be environmentally sensitive.
Do you want to Learn How to Use the Amazing Healing Power of Nature to Re-establish Health and Well-Being ? Check my ebooks below :

Herbal Remedies Guide – Learn How To Use Herbal Medicine Effectively To Heal Away Disease & illnesses
This book covers everything there is to know about Herbal Remedies. In fact, some people have called it the "Herbal Remedy Secret Recipes"!
It's like having your very own herbalist that you can refer and ask questions anytime you need to!
You'll also be able to uncover a wide array of tips including interesting facts about natural cures!
You're going to discover so many things on how to use simple, brief and precise guidelines that will take you step-by-step through using herbal remedies!
The Healing Berry Guide – Learn How To Transform your Health with Berries. In this information packed ebook you're going to learn about the medicinal properties of berries and how you can use them as a medicine to heal yourself and transform your health.
You will discover within its pages the top berries that will transform your health. You will get detailed instructions how to use them followed by easy recipes for nutritious and delicious smoothies, breakfasts salads and much much more…
Magical Aromatherapy – Discover The Most Effective Ways to use Essential Oils to Unlock their Amazing Healing Power.
In this information packed ebook you're going to learn about the remedies you can use to heal yourself naturally using aromatherapy essential oils derived from nature. You will discover within its pages how to naturally treat perspiration, how to create your own organic, chemical free lipstick, eye shadow, concealer, blush and fragrances.
You also get given natural remedies that treat everyday ailments naturally like how to eliminate the pain of a toothache and how to treat everything from acne to warts, burns, cuts, hemorrhoids and more.
T
he Detox Guide – Discover the most Effective Natural methods to neutralize harmful toxins from your body to enhance your vitality and increase your energy levels.
"The Detox Guide" has all the information to allow you to safely detoxify, cleanse and energize your body.
This ebook outlines the steps you need to take to thoroughly detoxify and cleanse your body from disease-causing agents.
You will also learn how to increase your stamina and energy, improve your digestive process and how to strengthen your immune system. You will also learn how to make juices, smoothies and herbal teas to detoxify your body and much more.
Blast Your Belly Fat – Learn What It Takes To Unlock Your Stubborn Belly Fat Using My Step-By-Step Blueprint.
Blast Your Belly Fat is the final result of more than a year of research into the science of belly fat reduction. It consists of TWO all-inclusive parts:
Blast Your Belly Fat, The Ultimate Guide For Losing Belly Fat For Good. The full, authoritative system for dramatic belly fat reduction. AND Blast Your Belly Fat Recipes. The complete recipe book for fast and easy fat burning. I need to make one thing very clear: This is NOT a diet! This is a comprehensive system for reducing belly fat that you can work around any type of diet.
The Natural Health Revolution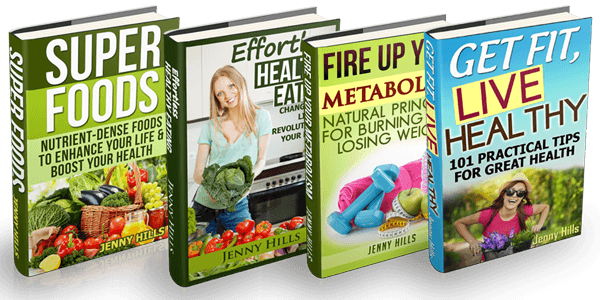 – If you've been struggling to achieve your health or weight loss goals then this 4 eBook system is going to help you!
This life-energizing system is a helpful, actionable guide designed to help you change your life naturally through nutrition with:
SuperFoods: identified, described & illustrated
Metabolism & how food affects your body: explained
More than 60 Deliciously healthy recipes: for all 3 meals, snack, & drinks
Restaurants: what your family needs to be on the lookout for
Health-boosting tips, tricks, & habits you can start applying today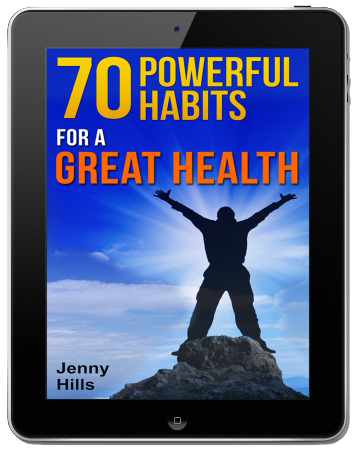 70 Powerful Habits for a Great Health
In '70 Powerful Habits for a Great Health' you will learn about the specific life changes that you can make right now to revolutionize your health and keep it that way for years to come.
In this eBook, you will learn just how easy it is to create a happier, healthier lifestyle, no matter how busy you are. You'll slowly change your life for the better. When you do this for a few months, you'll eat better, feel great and get more energy.
This eBook is based on my extensive research that I've done in the past few years. My aim is to help you to transform your life with minimal effort by introducing small yet powerful life changes!
To Your Health !
Jenny