Delicious Honey & Cinnamon Weight Loss Drink (Evidence Based)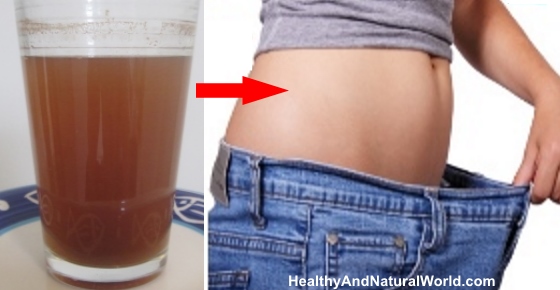 Advertisement
Honey and cinnamon are known for their healing abilities. Plus, they are delicious and nutritious. They should feature in every person's regular diet.  But did you know that the combination of honey and cinnamon can also help you lose weight? While honey and cinnamon will not do the job alone, in conjunction with the right diet and exercise program, this mixture can help you reach your goal faster.
While you're working hard to shed the unwanted pounds, the combination of honey and cinnamon can assist you lose weight in four ways:
1. Honey and Cinnamon can Help You Burn More Fat
If you take the honey and cinnamon drink in the morning on an empty stomach, it can increase your metabolic rate and promote fat burning while providing you with a steady supply of energy.
A research published in American Journal of Clinical Nutrition found that consumption of honey can "can provide beneficial effects on body weight and blood lipids of diabetic patients".
The scientific journal Metabolism reported that cinnamon can help you lose weight because it has a substance called cinnamaldehyde that can help burn fat cells quicker. Researchers found that cinnamon can have an anti-obesity effect and help improve metabolic health.
One small study published in the Asian Journal of Pharmaceutical and Clinical Research found that consuming cinnamon tea helped to lose weight.
Another medical study found that natural honey reduces cardiovascular risk factors, and it does not increase body weight in overweight or obese subjects.
2. Honey and Cinnamon Weight Loss Drink Can Reduce Feelings of Hunger Between Meals
The combination of honey and cinnamon can help you avoid sugar crash. The mixture of honey and cinnamon stops in-between meal nibbling and reduces unhealthy cravings.
Research published in 2007 in the American Journal of Clinical Nutrition showed that cinnamon actually reduces blood sugar levels. As sugar doesn't build up in the blood, this characteristic supports weight-loss.
One peer reviewed study found that honey can help you lose weight because it acts as an appetite suppressant by affecting the hunger hormone ghrelin.
3. Honey and Cinnamon Drink Can Give You More Energy
When taken before workout, honey and cinnamon will give you the energy boost needed to start and complete your exercise session. Increased metabolic rate enhances the effects of the workout.
Pure honey is a healthy and natural sweetener which gives you energy while reducing your consumption of processed sugar.
An interesting scientific study found that honey and royal jelly can reduce feelings of fatigue in people who suffer from cancer related fatigue.
A review of scientific studies about the medicinal benefits of honey says that consuming 15 ml of bee's honey can reduce stress and fatigue.
4. Honey and Cinnamon can Help You Avoid Food Cravings
In the evening, cinnamon and honey help you avoid night time cravings and they also reduce hunger pangs by providing your stomach with some (healthy) substance to munch on.
Scientific studies have shown that cinnamon extract can help you lose weight because how it affects the feeling of hunger.
The mixture of honey and cinnamon is also suitable for diabetic patients in moderation and as part of their diabetes eating plan, as described in the study published in the International Journal of Food Sciences and Nutrition in 2009.
People suffering from diabetes were given honey over a period of eight weeks. They experienced decreases in cholesterol and triglycerides levels and lost body weight more easily compared to the control group. If in doubt, consult your doctor before starting a diet or weight loss program.
Recipe of Honey and Cinnamon Mixture for Weight Loss

Mix half a teaspoon of cinnamon (Ceylon cinnamon is the best) with a cup of hot water. Let it cool down and add a teaspoon of raw, organic honey to the water mixture and stir (cooling to a drinkable temperature will help raw honey keep its nutritional value). Drink the concoction.
When to Take Honey and Cinnamon to Lose Weight?
The mixture can be drunk at different times of the day. For best effects, consider consuming it:
– In the morning, about 20-30 minutes before having your breakfast.
– Between meals, especially if you start feeling hungry and you experience food cravings. The mixture will lessen your appetite and also help you stay focused and alert throughout the day.
– Before your aerobic workout, especially if you feel that your energy levels are low. Try to exercise on an empty stomach and abstain from eating for another 30 minutes (or more) after you've finished with the session. This helps you burn more calories, as the body doesn't need to deal with digestion while working out.
– In the evening, before bedtime, so you can get through the night easier and get a good night's sleep.
Read my previous article on how to use cinnamon as medicine, including which type of cinnamon is the best for you.
Also make sure to read my article about scientifically proven ways to use honey for your health.
For more weight loss drinks, read my article: Flat Tummy Water To Help You Lose Belly Fat: 8 Delicious Recipes.
Adding cinnamon to your diet is also one of the 70 habits featured in my e-book 70 Powerful Habits For A Great Health which will guide you how to take positive steps to improve your wellness and overall health.
If you suffer from belly fat, you can find more information on how lose your belly without counting calories or starving yourself in my e-book Blast Your Belly Fat – this is the ultimate guide for losing belly fat.