Turmeric Ginger Tea Benefits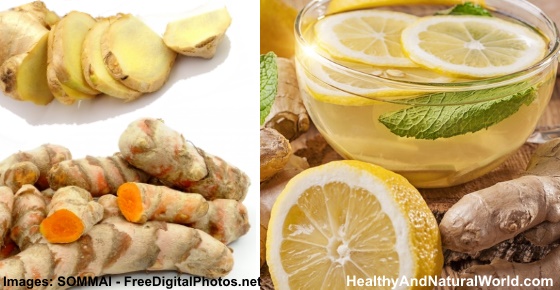 Advertisement
Turmeric and ginger have been used for centuries for their health benefits and to spice up meals. Both ginger and turmeric have powerful anti-inflammatory properties that help relieve pain. The medicinal properties of turmeric and ginger can boost your health and help treat a wide range of health issues. For example, by combining these delicious herbs, you can make a refreshing turmeric ginger tea to help to soothe gastrointestinal problems, reduce inflammation in joints, keep your heart healthy, and even help reduce symptoms of depression.
Inflammation Affects Every Aspect of Your Health
Inflammation plays a vital role in the body's immune system. However, many lifestyle choices increase chronic inflammation in the body and can lead to various diseases. According to Johns Hopkins Health Review, chronic inflammation is behind many diseases like cancer, heart disease, diabetes, arthritis, and possibly depression.1 Because turmeric and ginger have powerful anti-inflammatory properties, they play a vital role in keeping your body healthy.
In this article, you will learn how scientific research has shown the many health benefits of turmeric and ginger in reducing inflammatory responses. At the end of the article, you can get some turmeric ginger tea recipes to try at home.
So why are ginger and turmeric have so many health benefits and are such powerful anti-inflammatories?
The Health Benefits of Turmeric Tea
The main compound of turmeric is curcumin which gives the spice its distinct color and contains most of the health-boosting properties.
The book Herbal Medicine reports that turmeric contains anti-inflammatory and antimicrobial properties and can help to relieve gas and boost liver health. Among the health benefits of turmeric, Herbal Medicine states that it has been used to treat joint inflammation, rheumatoid arthritis, chronic digestive problems, and treat abdominal pain.2
However, curcumin is poorly absorbed by the body. To increase the amount of curcumin the body absorbs, it's important to add black pepper. For example, a study published in the journal Planta Medica reported that by adding piperine (found in black pepper), you can increase the absorption rate of curcumin by around 2000%.3
The Health Benefits of Ginger Tea
Ginger and turmeric belong to the same family (Zingiberaceae family) and contain some similar compounds. The health benefits of ginger come mainly from gingerols which have an anti-inflammatory effect in the body.
The book Herbal Medicine reported that as well as having properties to reduce inflammation, ginger also helps to relieve pain. In fact, some studies have shown that the pain-relieving properties of ginger are as effective as ibuprofen. Among the health benefits of ginger, the book stated that it can treat arthritis pain, rheumatism, osteoarthritis, reduce nausea, stop stomach cramping, and improve cardiovascular health.4
How Turmeric Ginger Tea Boosts Your Health
It is clear that turmeric and ginger have amazing power to boost your health by reducing inflammation and pain. Let's look at the specific health benefits that ginger and turmeric tea provide.
Anti-inflammatory properties of turmeric and ginger
The anti-inflammatory properties of turmeric and ginger have been well researched and documented. By using the herbs separately or in a combination such as in turmeric and ginger tea, you can help reduce inflammation and relieve pain in your body.
The journal Advances in Pharmacological Studies reported that extracts of turmeric have been used for centuries to treat inflammatory conditions. Among some of these are joint swelling, indigestion, irritable bowel syndrome, and rheumatoid arthritis.5
Similarly, ginger is viewed as a medicinal herb with broad anti-inflammatory actions. The Journal of Medicinal Food published information that ginger has a similar effect to non-steroidal anti-inflammatory drugs (NSAIDs) in reducing pain and inflammation. The journal reported that the advantage of ginger over NSAIDs is that there are fewer side effects from using ginger to reduce pain and inflammation.6
Boosts brain power
Turmeric and ginger have a positive effect on cognitive power and have an antioxidant effect against some neurological diseases.
For example, research has found that the compound 6-shogaol in ginger has an anti-inflammatory effect on neurological processes and can help to reduce memory impairment and the symptoms of Alzheimer's disease and dementia.7 Other studies have shown that ginger extracts improve the cognitive function of middle-aged women.8
Turmeric has also shown to have a positive neuro-effect on people with dementia. A study showed that Alzheimer's patients who took turmeric supplements for over a year showed significant signs of improvement.9 Another study reported that in countries where turmeric is used in cooking (for example in India where curry is popular), fewer people suffer from dementia than in western countries.10
Helps digestion
Ginger on its own or a combination of ginger and turmeric can help to relieve many digestion issues.
A study from 2008 found that ginger has a positive effect on your gastrointestinal system and can help food pass through the intestines easier.11 Other studies have confirmed that ginger reduces inflammation in the digestive tract and can prevent and treat indigestion.12
Ginger also helps to prevent nausea and vomiting due to its power to soothe the intestines. This also helps reduce abdominal pain, stomach cramping, and other symptoms of gastric distress.13
Turmeric also has an anti-inflammatory effect on the digestive system. Among the digestive diseases that curcumin has proved to be effective in helping to treat are irritable bowel disease, indigestion, stomach ulcers, gastroesophageal reflux disease (GERD), and Crohn's disease.14  
Improves heart health and lowers blood pressure
A very important health benefit of both ginger and turmeric is their ability to naturally improve cardiovascular health.
The International Journal of Cardiology published studies on how curcumin extracts have protective effects on heart health. Among these are reducing the risk of blood clots, preventing irregular heartbeat, and having an anti-inflammatory effect on the cardiovascular system.15
Ginger also contains many therapeutic compounds that help improve your heart health. Two studies from 2005 found that among the cardio benefits of ginger are its ability to reduce blood pressure and prevent palpitations.16, 17  
Improves blood circulation
Improving your blood circulation naturally is also essential for a healthy heart and in that respect turmeric and ginger tea can help improve blood flow and circulation.
The journal Current Cardiology Reviews reported that ginger improves blood flow and has other cardiac benefits.18 A study into the cardiovascular benefits of curcumin also found that the spice helps blood circulation and prevents oxidative stress on the vascular system.19
Reduces cholesterol
Another way that a combination of ginger and turmeric boosts your heart health is by reducing cholesterol levels in your blood. High cholesterol can lead to heart disease and cardiac arrest.
The Journal of Nutrition found that the antioxidative effect of ginger extracts help to reduce LDL cholesterol ("bad" cholesterol).20 The studies have shown a similar cholesterol-reducing effect of turmeric.18
Helps manage arthritis symptoms
Regularly drinking turmeric ginger tea can help reduce joint inflammation if you have any kind of arthritis. The medicinal properties of turmeric and ginger have also shown to have a proven effect in reducing pain and joint stiffness.
A report on anti-inflammatory herbal medicines that are useful for treating arthritis found that both ginger and turmeric have an anti-arthritic effect. Compounds in ginger help to inhibit inflammation and are as effective as ibuprofen in treating osteoarthritis. Curcumin in turmeric has also been successfully used in treating rheumatoid arthritis and is as effective as phenylbutazone – a pharmaceutical drug used to treat arthritis.5
Stimulates your immune system
Drinking ginger turmeric tea can boost your immune system, and help to improve your body's response to infections.
The International Journal of Preventative Medicine reported that in many countries, ginger is used as a natural ingredient to stimulate the immune system.12 Likewise, curcumin activates the body's immune response and can help prevent various diseases and infections by boosting and strengthening the immune system naturally.21
May help prevent cancer
Research has also been carried out on the different ways that turmeric and ginger can help protect against various types of cancer.
The journal Molecules reported that curcumin has an anti-cancer effect and can help "suppress initiation, progression, and metastasis of a variety of tumors."22  
Studies into the anti-cancer properties of ginger found that it has a role to play in the treatment and prevention of cancer, especially gastrointestinal cancers. Ginger has powerful antioxidant and anti-inflammatory properties that can also help protect against many types of cancers including pancreatic, liver, prostate, cervical, and breast cancers.23
Studies into the benefits of using turmeric and ginger to treat cancer say that more research has to be done to come up with effective ways to use these herbs to prevent and treat cancer.
Aids in diabetes control
Ginger and turmeric are herbs that can help control the complications of diabetes by having a positive effect on blood sugar levels.
For example, it was found that the anti-diabetic properties of ginger help to reduce the levels of fasting blood sugar and reduce oxidative stress.24 Regarding the positive effect of curcumin on diabetes, a study from 2009 found that curcumin suppresses blood glucose levels and helps to control blood cholesterol.25
Assists in weight loss
The compounds gingerol and curcumin in turmeric ginger tea have also shown to promote weight loss and help maintain general health while on a diet. Of course, just by drinking turmeric and ginger tea without making other lifestyle changes you will probably not see effect on your weight loss. However, regularly consuming ginger and turmeric can boost your efforts in losing weight.
For example, the European Review for Medical and Pharmacological Sciences published two studies on the benefits of turmeric and ginger in helping to lose weight. One study found that consuming ginger helped to reduce body weight while at the same time increasing levels of HDL cholesterol ("good" cholesterol).26 Another study reported that curcumin is "well-tolerated and can positively influence weight management in overweight people."27
Antidepressant properties
Turmeric and ginger tea may also help relieve symptoms of depression and boost your mood. Various compounds in both turmeric and ginger have a positive effect on the mind and can help stimulate neurotransmitters associated with feelings of pleasure and happiness.
Curcumin has been shown to stimulate the brain to naturally produce more dopamine and serotonin. These chemicals that the brain produces have an antidepressant effect. A study from 2008 reported that curcumin is "useful and potent natural anti-depressant approach in the management of depression."28
Also, ginger has an anti-inflammatory effect on the brain due to a compound called geraniol. This helps to protect the brain from stress and is important in the treatment of depression.
Drinking turmeric and ginger tea for depression combines the anti-inflammatory effect of both herbs and help turmeric to stimulate natural mood-enhancing chemicals.
Turmeric and Ginger Tea Recipes
It is very easy to make a therapeutic turmeric ginger tea to start enjoying all its health benefits and give your health a well-needed boost.
The recipe for turmeric and ginger tea is as follows:
You will need:
1 teaspoon fresh grated turmeric root (or, if using dried turmeric, 1/3 teaspoon).
1 teaspoon fresh grated ginger root (or, 1/3 teaspoon of dried ginger).
1/4 teaspoon of black pepper (to aid turmeric absorption).
Raw honey and a slice of lemon to taste.
To make the turmeric ginger tea, prepare it as follows:
In a small saucepan, bring a cup of water to the boil. Turn off the heat and add the ginger and turmeric.
Steep with the lid on for 5 minutes (covering with a lid prevents the oils and medicinal compounds escaping through the steam).
Strain the tea remedy and add some honey when the tea has cooled down (as excessive heat will destroy the benefits of honey).
Add the black pepper and stir well.
Enjoy your anti-inflammatory turmeric and ginger tea.
Alternatively, to increase curcumin absorption, you can add a teaspoon of virgin coconut oil instead of the black pepper, as oil too aids in turmeric absorption.
Turmeric tea recipe
If you want to make a simple quick cup of turmeric tea, this is what you should do:
Put 1-2 teaspoon of fresh turmeric root or 1/2 teaspoon of turmeric powder in a cup.
Fill with boiling water, cover and let infuse for 5 minutes.
Add 1/4 teaspoon of black pepper.
Add raw honey and lemon to taste when the tea has cooled down.
Drink a cup a day to help reduce inflammation.
You can also try the recipe of the popular "turmeric golden milk" – a healthy and delicious Ayurvedic drink that can be enjoyed by the whole family.
Ginger tea recipe
Similarly, you can make a cup of ginger tea to help reduce inflammation and stimulate your immune system. Ginger tea on its own has many health benefits to relieve symptoms of cold, flu, or other upper respiratory infection.
To make a delicious ginger tea, follow the recipe for turmeric tea, but replace the turmeric with ginger. You can also leave out the black pepper.
How Heat Affects Turmeric and Ginger
Many people believe that consuming turmeric and ginger in their raw form retains the most health benefits of these herbs. However studies have shown that when curcumin is heated for a short period of time, certain compounds that are not readily available in its fresh form are released. You can get all the details and studies including how to use turmeric and black pepper when cooking in my article about this subject.
Similarly to turmeric, research has also shown that short cooking increases the antioxidant levels of 6-gingerol in ginger – see more information in my article about the amazing benefits of cooked and dried ginger.
Precautions When Taking Turmeric and Ginger
Although turmeric and ginger are natural healing ingredients and are generally safe for normal consumption, the medicinal compounds can interfere with other medications.
You should seek medical advice before taking turmeric and ginger for medical use if you are taking certain medications or have some underlying health issue. You should avoid turmeric and ginger if:
You are taking medications to thin the blood or prevent blood clots.
You take medication for diabetes. However, if you control diabetes through diet only, then turmeric and ginger may help to control blood glucose levels.
You take medication for high blood pressure.
You have a tendency to suffer from gallstones and kidney stones.
Also, consuming these herbs in medicinal amounts is likely unsafe in pregnant and breastfeeding women. See more information in my articles:
Read my other related articles:
Article Sources: