How to Get Rid of Redness on Face: The Most Effective Natural Ways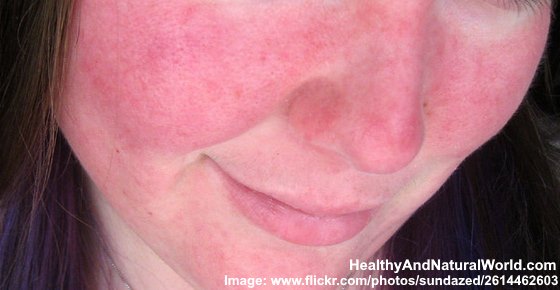 Advertisement
Having some redness on your face is a sign of a healthy complexion, but too much facial flushing can leave you embarrassed and frustrated. But it's not just embarrassment or stress that can turn your face red. Excessive redness on your face can be brought on by rosacea, lupus, acne, eczema, perimenopause, or dry skin on your face. Other factors like extreme weather conditions, drinking too much alcohol, or stress can all contribute to facial redness.
There are many natural remedies to help you get rid of redness on your face. Many home treatments help to reduce inflammation, soothe burning, reduce itchiness, alleviate pain, and shrink the size of blood vessels in your cheeks and can help to reduce redness on face. Some home remedies provide relief from the symptoms of face flushing, but other natural cures can eliminate bacterial or fungal infections that are causing the face redness.
In this article, you will learn how to get rid of redness on your face naturally. First of all, it's important to know the various reasons for facial redness so that you can choose the best natural treatment.
Causes of Redness on Face
Rosacea
Rosacea is one of the most common reasons for redness on the face. Dr. Louise Chang on WebMD says that the condition affects 14 million people in the U.S. alone. Dr. Chang says that rosacea causes redness on the cheeks, forehead, around the eyes and nose. You may notice small blood vessels under the skin and you could develop pimples and skin bumps.1 Rosacea can't be cured, but it can be effectively managed with natural home remedies.
Eczema
Eczema (atopic dermatitis) causes facial redness and itchy patches of skin on the affected area. Doctors from the Mayo Clinic say that skin conditions like dry skin, allergies, reaction to various substances, or bacteria on the skin can contribute to eczema flare-ups.2
Seborrhea
The American Society for Dermatologic Surgery says that seborrhea can cause redness on the face. This condition causes red, itchy, and dry patches of skin on the face, neck, hairline, and ears.3
Acne
Although acne usually causes pimples to appear on the face and back, Dr. Tim Kenny on Patient.info says that inflamed acne can cause redness on the affected skin area.4 There are many natural cures for acne to reduce inflamed pimples and get rid of acne-causing bacteria.
Lupus
Lupus is an autoimmune disease that causes a red rash resembling a butterfly over the nose and cheeks. Doctors from WebMD say that other skin problems associated with lupus are flaky red spots on the face, arms, hands, or back. You may also have a purple or red raised rash on the face.5
Lupus can also cause mottled skin with net-like purple patches, as well as tiny red spots on the skin which are called petechiae. This is due to lupus interfering with clotting mechanisms in the blood.
Dry skin
One of the symptoms of dry skin is red patches of itchy, flaky skin.6 Dry skin can be caused by using harsh soaps, taking long hot showers, cold winter weather, or other underlying conditions like dermatitis or rosacea.7
Broken capillaries on face
Small broken blood vessels on your face can leave your face with a red, blotchy appearance. The burst capillaries on your face don't pose any health risks but they are unsightly and can affect your self-confidence. I have a specific article on how to treat and prevent broken blood vessels on face.
Other Causes of Redness on the Face
There are some other reasons for facial flushing that aren't related to underlying medical conditions.
Sunburn. Too much exposure to the sun can cause redness on the face. Doctors at the Mayo Clinic say that sunburn can cause red, peeling skin on the affected area.8
Cold weather. Doctors from the Mayo Clinic also say that the cold can cause red itchy hives on the face if it's been exposed to extreme cold.9
Heat. According to dermatologist Dr. Daniella Duke, facial flushing and redness can also be brought on by being in hot environments.10
Alcohol. Dermatologist, Dr. Susan Simpkin says that overconsumption of alcohol can lead to facial redness and flushing. It can also aggravate other conditions that cause facial redness like rosacea and seborrheic dermatitis.11
Stress. The journal Brain published information linking sweating and facial flushing with the nervous system.12
Natural Ways to Get Rid of Redness on Face
Depending on the root cause of facial redness, there are many effective natural ingredients to help get rid of it.
Kanuka honey face mask
Kanuka honey has anti-inflammatory and antibacterial properties that can help to relieve redness from your face. Kanuka honey is similar to Manuka honey and its medicinal properties can help to reduce red facial skin caused by rosacea, dermatitis, and acne.
The journal BMJ Open published a study on using medicinal-grade kanuka honey for treating rosacea. At the end of the study, the researchers found that a combination of kanuka honey and glycerin was more effective than a pharmaceutical cream used to treat dry skin conditions. They concluded that kanuka honey "is an effective treatment for rosacea."13
If you can't get kanuka honey, Manuka honey can also be used as a natural treatment for redness on the face. Manuka honey also has powerful antibacterial properties that can help to clear skin infections and provide a protective barrier on the skin.14
Make a honey facial mask to get rid of face redness and protect your skin from infections. Here is how to make a healing honey face mask:
Mix one tbsp. honey with one tbsp. virgin coconut oil and add 2-3 drops of lavender essential oil (or tea tree oil).
Mix the ingredients well and apply to your face.
Leave on for 20 minutes before rinsing off.
Repeat using the honey face mask 2 times a week to help reduce the appearance of redness on your face.
You can also use honey face masks to treat acne naturally. For more information on how to use honey to keep your skin looking healthy, please read my article on the top 10 honey face masks for all skin types.
Aloe vera
Use the soothing effect of aloe vera to get rid of face redness naturally. Pure aloe vera gel is well-known for its healing effect on the skin. The gel from aloe vera contains anti-inflammatory properties that can help to reduce inflammation, irritation, and dry skin.
A study published in journal Pharmacognosy Magazine found that aloe vera helped to reduce skin redness and keep dry skin hydrated. The study also found that aloe vera gel was just as effective as 1% hydrocortisone cream in helping to reduce inflamed skin. Hydrocortisone creams are often recommended by doctors for skin inflammation.15
Other studies have shown that aloe vera can help reduce skin redness caused by sunburn.16
To use aloe vera to soothe reddened facial skin, it's important to use aloe vera gel with as few added ingredients as possible.
Apply the natural aloe vera gel to the red skin on your face 2-3 times a day. Repeat the process until the facial redness is reduced and you no longer have any itching, soreness, or discomfort.
Use aloe vera gel to help treat the symptoms of rosacea, acne, sunburn, and dry skin on your face. You can also add a few drops of tea tree oil to the aloe vera gel to help boost its medical properties. You can also use aloe vera for treating rashes, skin inflammation, and infections after waxing hair removal.
Tea tree oil
Tea tree oil is one of the many essential oils you can use for skin care due to its antibacterial and anti-inflammatory properties.
Tea tree oil can't be applied to large areas of skin undiluted. It has to be mixed with ingredients like aloe vera or coconut oil to help reduce face redness. You can use tea tree oil to treat redness on the face that is caused by inflamed acne, seborrheic dermatitis, eczema, and rosacea.
In a study carried out in 2013, researchers found that tea tree oil has strong antimicrobial properties that are useful for skin care. Tea tree oil was shown to kill off bacterial, fungal, and viral infections that can affect the skin and cause redness. Tea tree oil also helps to manage inflammatory skin conditions.17
Virgin coconut oil
Another natural remedy for getting rid of redness on your face is to use the soothing properties of virgin coconut oil. Coconut oil is great for getting healthy skin because it contains fatty acids which have antimicrobial properties and help to protect and hydrate the skin. This provides a protective barrier on the skin to prevent irritation and redness.
The journal Dermatitis published 2 studies showing the beneficial effect of coconut oil in getting rid of red, blotchy skin. One study showed that coconut oil is also antiseptic and can help treat dry skin conditions18 (which can cause skin redness). Another study showed that coconut oil is an effective natural remedy for dermatitis and kills germs that cause bacterial skin infections.19
To use coconut oil to get rid of facial redness, all you have to do is apply a little virgin coconut oil regularly to the affected skin area. Because coconut oil has a tendency to block pores, you just need a little to treat your skin condition.
You can also boost the healing power of coconut oil by adding tea tree oil to create a healing salve. To make the natural salve, add 2-3 drops of tea tree oil to 1 tbsp. of coconut oil. Apply the remedy 2-3 times a day after washing your face to get rid of red cheeks.
Coconut oil is an effective home remedy to reduce redness on the face caused by eczema, allergic skin reactions, acne, dry skin, and rosacea.
Apple cider vinegar
You can use raw apple cider vinegar (ACV) to help reduce itchiness and redness on your face. The acidic properties of ACV help to disinfect the skin from germs that can cause inflammation and redness. The low pH level of vinegar also aids in reducing skin itchiness and irritation.
The journal PLoS One reported that a solution containing acetic acid (apple cider vinegar contains high levels of acetic acid) can help to prevent skin infections.20
To use apple cider vinegar to wash your face and reduce redness, you should dilute raw unprocessed ACV with equal parts of water. Use a clean cotton ball to apply the apple cider vinegar to your face. Use this natural toner as part of your daily facial skin care routine.
When using apple cider vinegar to keep your facial skin healthy, there are a few precautions that you should remember. The first few times when you use it, you should rinse the ACV mixture off your face after 5 minutes. In time, you can apply the ACV remedy and leave it on. It is also best to apply apple cider vinegar at night as it can make your face more sensitive to the sun's UV rays. Also never apply undiluted ACV to your face.
You can also mix some apple cider vinegar with aloe vera to soothe red, inflamed skin. Or you can add a few drops of tea tree oil to help and reduce facial acne.
Witch hazel
Witch hazel is a useful home treatment for reducing skin redness, itchiness, and infections. The astringent and cleansing properties of witch hazel make it perfect for keeping your skin looking and feeling great. Witch hazel is also a great natural remedy for sunburn, keeping your skin hydrated, and reducing a buildup of bacteria on the skin.
The effectiveness of using witch hazel to reduce redness and inflammation was shown in a study published in 2013. Researchers found that witch hazel contains tannins which help to inhibit inflammatory responses in the skin.21
Another study in the journal Skin Pharmacology and Applied Skin Physiology found that witch hazel was as effective as hydrocortisone creams in reducing skin redness caused by sunburn.22
Apply witch hazel directly to the skin to reduce face redness. You can also boost the antibacterial activity of witch hazel to treat acne by adding 2-3 drops of tea tree oil for every 1 oz. witch hazel. Use witch hazel twice a day to help cleanse your skin to get rid of any signs of inflammation.
For more practical ways of using witch hazel to keep your skin free from blemishes and irritation, please read my article on how to use witch hazel to clear up acne.
Oatmeal
Oatmeal is a soothing remedy for the skin which makes it another effective home treatment for clearing face redness. Oatmeal contains anti-inflammatory and anti-itch compounds which help to reduce symptoms of irritated and dry skin. Oatmeal also helps to protect the skin from further irritation.
The Journal of Drugs in Dermatology reported that colloidal oatmeal (ground oatmeal) is an effective treatment for skin rashes, dry skin, and irritated skin. When an application of oatmeal was applied to the skin, the patients' inflammatory skin conditions were greatly improved.23
To reduce redness on your face, you can make a facial mask using oatmeal. All you need to do is grind oatmeal and mix it with water. Here is how to make the anti-inflammatory oatmeal mask:
Mix ground oatmeal with enough water to form a thick paste.
Apply the oatmeal remedy to the red skin on your face. (Avoid rubbing the oatmeal on your face to prevent more irritation).
Leave for 15-20 minutes before rinsing off with warm water.
Repeat the remedy daily until you no longer have redness on your face.
After cleansing your face with the oatmeal mask, you can apply a little coconut oil to lock in moisture and keep your skin hydrated. This will help to prevent further outbreaks of face redness.
Cold compress
To quickly get rid of redness on cheeks caused by rosacea or another inflammatory skin conditions, use a cold compress. A cold compress is often used to reduce bruising, swelling, and pain after an injury. However, many people use a cold compress to alleviate facial redness.
The journal Archives of Dermatology found that a cold compress helped to alleviate symptoms of rosacea in around 70% of patients. The ice compress helps to reduce facial flushing and inflammation and is viewed as a safe natural treatment for inflammatory skin conditions.24
To make a cold compress to reduce redness on your face, put some ice cubes or crushed ice into a bag and wrap in a clean towel. Place the compress on the red area of skin on your face to reduce inflammation. Hold for a few minutes and then remove for a few minutes. You can repeat this a few times until the redness has gone.
If you don't have any ice, you can dip a towel in cold water and hold to your skin to reduce facial redness.
It's important to remember, never to put ice directly onto your skin. This can cause more irritation and result in damage to the outer layers of your skin. This home remedy isn't suitable if your facial redness is caused by cold weather.
Cucumber mask
You can also make a cooling mask to reduce redness by using a sliced cucumber. Cucumber contains many vitamins and minerals that help to keep the skin healthy. Also, the cooling effect of cucumber acts in a similar way to a cold compress.
The journal Fitoterapia reported on the fact that cucumber has a soothing effect on the skin and helps to alleviate skin irritations and swelling. Cucumber is also a natural remedy for sunburn pain.25
To help get rid of face redness, slice a cucumber that has been cooled in the refrigerator. Place the slices directly onto the affected skin area and leave for 20 minutes. Apply the cucumber mask every day when you have flare-ups to reduce redness.
Other Ways to Prevent Redness on Face
Because many conditions that cause redness on the face can't be cured, it's important to take steps to prevent facial flushing. So, it's helpful to identify triggers that can aggravate inflammatory skin conditions.
Avoid harsh soaps and chemicals that can cause skin irritation and redness.
Always remove makeup before going to bed to prevent a buildup of dirt and bacteria.
During sunny days, wear a wide-brimmed hat, keep your face in the shade, and use high factor sunscreen.
Avoid foods and drinks that can trigger outbreaks of rosacea. Some of these are spicy foods and alcohol.
Try to reduce stress in your daily life to avoid skin redness.
Drink plenty of water to prevent the consequences of dehydration.
Read these related articles:
Article Sources: