11 Things to Do After Waxing to Prevent Rash and Irritation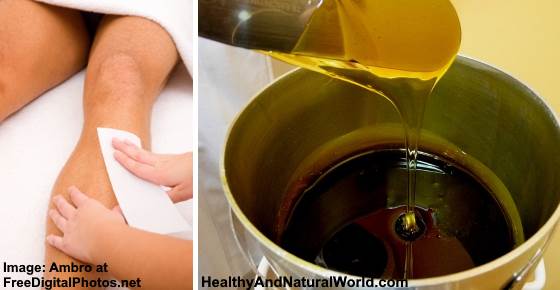 Advertisement
Waxing is a common way to remove unwanted hair from the legs, armpits, the bikini area, and the face. Unfortunately, waxing can cause irritation and a rash on the skin which can leave you with discomfort long after the waxing process. To prevent a rash and irritation after waxing, it's important to prepare the skin properly before hair removal. However, knowing what to put on skin after waxing is just as important. After waxing care with the proper skin care procedures minimizes the risk of rashes and red patches of skin developing.
Immediate after waxing care for your skin involves applying soothing natural ingredients to reduce inflammation and prevent an irritating rash from occurring. Some of the best natural remedies to help prevent red bumps on your skin and red skin patches developing are aloe vera, Manuka honey, tea tree oil, and a soothing cucumber mask. Many remedies include natural ingredients that don't just reduce irritation but contain compounds to promote skin healing.
In this article, you will find out 11 home remedies for after wax care to prevent skin rash and irritation. We will also look at the science behind why these remedies work to treat inflammation and irritation in your skin. You will also find out the importance of exfoliating before waxing and after waxing to make sure that your skin looks and feels silky smooth.
How Waxing Affects Your Skin
Waxing is a way to completely remove hair from hair follicles. Many women and men choose to wax to get rid of unwanted body hair because hair usually takes longer to grow back. It is also an effective method to remove hair from large areas of the body like the legs, chest, and back. Waxing can also be used to remove hair from smaller areas like armpit hair, upper lip hair, around the eyebrows, and around the genitals.
However, removing hair by waxing can cause some complications, not to mention the pain when the hair is pulled from the follicles. For example, the International Journal of Dermatology stated that epilation by waxing can sometimes cause folliculitis – outbreaks of itchy red bumps on the waxed area.1
As waxing is a way of removing hair by pulling them out at their roots, this can cause irritation on the skin and also open up the pores to bacterial infections. The journal Clinical Infectious Diseases stated that bacterial infections of the genitalia after "Brazilian" waxing are very common.2
Men and women also report that waxing often causes irritating rashes and bumps on the skin. Another reason why you should have a good after waxing skin care regime is that the increase in friction between the skin can cause irritation. Therefore, waxing armpits, buttocks, and the inner thigh can cause skin chaffing and infections. Some people also report that they've experienced burns because the applied wax was too hot.3
Dr. Stephanie Gardner from WebMD reports that ingrown hair are common after waxing. This happens because the hair that regrows in the follicle is more likely to get trapped under the skin's surface and grow back in. This can cause bumps and secondary infections in your skin.4
How to Prepare Your Skin for Waxing
Because waxing can traumatize the skin, it's important to prepare the area before waxing. This can help to prevent complications after epilation by waxing. Also, making sure that your skin is softened before the waxing and has been exfoliated so dead skin cells have been removed. These can prepare the skin before waxing and help to prevent skin rashes and irritation after waxing.
To prevent skin irritation that can cause rashes, ingrown hair, and skin infections, most beauty salons recommend the following steps to prepare your skin:
Let your hair grow so that is about 1/4 to 1/2 inch
Don't shave in the 2 weeks prior to waxing
Gently exfoliate your skin a day or two prior to your wax session to remove dead skin cells and lift hair from the skin.
Don't exfoliate on the day of your wax hair removal
Apply a good natural moisturizer after exfoliating the skin to help soften the skin and make hair removal easier
Natural Exfoliator to Prepare Skin for Waxing
In order to prevent skin irritation and an unsightly rash developing after your waxing session, you should use a natural exfoliator to remove dead skin cells and soften your skin. Here is a simple recipe you can make at home:
Mix together 3 tablespoons olive oil or sweet almond oil and 1/4 cup fine sugar.
Rinse the area you want to exfoliate with warm water and pat dry.
Gently rub the mixture into your skin for about 5 minutes using circular motions.
Leave on your skin for another 5 minutes to allow your skin and the hair to soak in the moisturizing oil.
Rinse off and dry.
Use the exfoliating remedy a day or two before your appointment. This will help to remove dead skin cells and moisturize your skin to be ready for waxing. Remember not to exfoliate on the day of the waxing as your skin may be too sensitive.
Choose the Best Time to Wax
Apart from preparing your skin to help prevent skin rashes and irritations developing after waxing, you should also choose the best time to wax. This is especially true for women who wax their upper lip, legs, arms, or bikini line.
A study from 2014 reported that women's pain perception and anxiety levels increase during the menstrual cycle. In the study, many women reported higher levels of pain when they had their period. Therefore, the researchers recommended that procedures that cause pain be scheduled for after or before the period.5
You should also avoid waxing skin if it is already irritated or inflamed. In fact, many beauty salons refuse to perform waxing on skin that shows signs of inflammation, skin rashes, bumps, and infection. The waxing procedure could aggravate the skin condition and even cause a serious infection.
11 Things to Do or to Avoid After Waxing
To reduce the risk of developing a mild to severe rash after waxing, it is also important to treat your skin properly post waxing. Many natural remedies are great for soothing irritated skin and reducing irritation and inflammation. Also, the proper after-wax treatments will also prevent infections from causing bumps and pus-filled spots to develop.
1. Apply cold water to reduce irritation
One of the easiest and cheapest ways to prevent irritation and discomfort after waxing is to apply a cold wet compress. The cold water helps to constrict blood vessels and prevent inflammation and swelling in the affected skin area.
According to doctors from the Mayo Clinic, cold compresses are a great way to reduce irritation and soothe inflamed skin. These can help to calm various types of skin irritation, including irritation caused by waxing.6
How to use:
To use a cold compress to take the discomfort out of reddened skin that has been caused by waxing, you should do the following:
Moisten a clean wash cloth with cold water and wring out the excess water.
Hold against the skin irritation for 15 to 20 minutes.
If necessary, dampen the cloth with cold water when necessary to keep the compress cool.
Repeat several times a day to reduce post-waxing skin irritation.
2. Apply aloe vera to prevent skin bumps
Aloe vera contains compounds which are excellent for nourishing and repairing damaged skin. After a waxing session, you should apply aloe vera regularly to your smooth skin to prevent rashes developing and reduce any skin irritation.
The Indian Journal of Dermatology reported that aloe vera contains enzymes and antioxidants that help repair irritated skin. These compounds also boost collagen production in the skin and help skin retain its elasticity. It also has a moisturizing effect on the skin which is very important after waxing to prevent irritation.7
How to use:
To use aloe vera for treating rashes, skin inflammation, and infections after waxing, this is what you should do:
Take some pure aloe vera gel or squeeze aloe vera gel from an aloe vera leaf.
Gently massage into the waxed area after waxing.
Apply 2-3 times a day to help relieve any irritation in your skin and prevent bumps and infections.
Continue applying until you have silky smooth skin with no signs of redness.
Aloe vera is also a great home remedy for sunburn that will help repair sun damage and promote healing.
3. Tea tree oil
Tea tree oil will not only help to prevent irritation after waxing but will also treat any infection in your skin. Tea tree oil contains anti-inflammatory and antibacterial properties that repair skin and prevent symptoms of folliculitis, inflamed pores, or skin irritation.
Applying tea tree oil with a carrier oil is also a great natural way to moisturize waxed skin. For example, one company that sells waxing products recommends using a tea tree oil-based moisturizer as part of your after waxing skin care program. Also, the journal Clinical Microbiology Reviews reports that tea tree oil helps to reduce inflammation.8
How to use:
To use tea tree oil after waxing to moisturize skin and prevent rashes developing, you should dilute it in a carrier oil. This is how to make your own moisturizing tea tree oil after waxing treatment:
In one tablespoon carrier oil (such as sweet almond oil, olive oil, grapeseed oil, or coconut oil) mix 2-3 drops tea tree oil.
Apply the homemade remedy to the waxed skin to prevent irritation and help the skin heal.
Use the tea tree oil mixture 2-3 times a day after waxing.
Continue applying the diluted tea tree oil until you no longer have bumps, a red skin rash, or inflammation.
Tea tree oil also kills off any infection from waxing around the pubic area and also prevents ingrown pubic hair infections and pimples after waxing. Using coconut oil as a carrier oil will also aid in treating skin infections as coconut oil is also a natural anti-inflammatory agent and has antibacterial activities.
You can also substitute tea tree oil with lavender oil. Studies have shown that lavender essential oil has a calming effect and is antimicrobial and effective at relieving skin irritation.9 Just add 2-3 drops of lavender essential oil to 1 tablespoon carrier oil and use the same way as the tea tree oil method.
Lavender oil also makes a great natural deodorant which will help prevent armpit rash after having your underarm area waxed.
4. Witch hazel to reduce irritation after waxing
Witch hazel is another natural remedy you can use after waxing for preventing rashes and skin irritations. The anti-irritation actions of witch hazel are thanks to the level of tannins which act as astringents. These reduce inflammation and have an antiseptic effect on the skin.
The Journal of Inflammation reported that witch hazel is used to alleviate skin inflammation and will also help prevent skin infections getting worse.10
How to use:
To help prevent patchy red skin that itches after you have had your skin waxed, you should use witch hazel this way:
Soak a cotton pad in pure witch hazel extract.
Apply to the waxed area of skin to soothe irritation and prevent infections causing a bumpy rash on your skin.
Repeat 2-3 times a day until the skin irritation has gone for good.
If you have had your upper lip waxed, you can apply a small amount of witch hazel after waxing to reduce any redness on your face.
5. Take an oatmeal bath to exfoliate waxed skin
Oatmeal is an excellent treatment for your skin after waxing because it helps to exfoliate your skin and soothes irritation. Oatmeal contains anti-inflammatory properties that also have a cleansing effect on the skin. The coarse texture of ground oatmeal is also excellent for removing dead skin cells from waxed skin.
According to the Journal of Drugs in Dermatology, oatmeal has a proven effect in reducing itching and irritation in various skin disorders. It can be used in skin preparations as a cleanser, moisturizer, and natural skin irritation treatment.11
How to use:
To quickly get rid of the symptoms of irritated skin after waxing your legs or larger areas of your body and stop rashes from developing, you should use oatmeal this way:
Draw a bath of warm water and add 2 cups of ground oatmeal under the running water.
Mix the oatmeal around the water to help extract the natural healing agents.
Relax in the bath for 20 minutes.
You can also soak a handful of oatmeal in the water and press onto waxed patches of skin that are especially irritating.
Rinse off in the shower and pat yourself dry.
Repeat the process for the first 2-3 days after your waxing appointment.
To help soothe smaller areas of waxed skin from irritation, soreness, and redness, you can make a simple paste of oatmeal and water. Apply the mask to the waxed skin on your armpit, face, or bikini area and leave for 10 minutes before rinsing off. Repeat daily until your skin irritation problem has been resolved.
6. Honey to heal skin
After having your skin waxed, you can apply raw honey or Manuka honey to relieve any irritation and help your skin heal quicker. Manuka honey has been used for centuries to relieve skin inflammation and treat various infectious skin disorders.
Research into the healing properties of honey has shown that its antibacterial properties also have a role in skin healing. The research found that honey helps tissue to repair itself quicker, reduces inflammation, and assists in healing skin wounds and soothing irritations quicker.12
How to use:
To promote skin healing with honey after waxing and reduce the risk of a serious skin rash developing, this is what you should do:
Wash your hand and take a little honey on your fingers.
Apply the honey remedy to waxed areas that are showing signs of irritation and gently massage into your skin.
Leave to dry and then rinse off with cool water.
After 2-3 days, you should notice that signs of your rash and skin irritation are better.
Continue using until all symptoms of irritation from waxing have gone.
7. Apply a cucumber mask to prevent rash and soothe irritation
One excellent way to prevent breaking out after waxing is to apply a cooling cucumber mask. The way that cucumber helps to prevent rashes and skin irritation after removing hair with wax is due to its antioxidant properties.
According to the journal Fitoterapia, cucumber contains compounds that have a cooling effect on the skin. It also contains various vitamins that help to nourish skin and promote quicker healing.13
How to use:
Cucumber soothing masks are especially useful to prevent and treat rashes and irritation on your face after removing facial hair with waxing. This is what you should do:
Take a cucumber from the fridge and cut it into slices
Place the sliced cucumber on your waxed upper lip area or eyebrow area or any other part of your face that is showing signs of irritation.
Leave for 20 minutes.
Apply the cucumber remedy every day, 2-3 times a day for instant relief from skin irritation caused by waxing.
Cucumber can also be used on your face to naturally get rid of puffy eyes and reduce facial swelling.
8. Wear loose clothing
After waxing, it's important to wear loose clothing so that you don't get skin rashes and irritate your skin even more. Clothing that rubs against waxed skin can cause friction that will cause your sensitive skin to become more irritated.
Another reason to wear loose clothing and cotton underwear after a bikini wax or hair removal from other body parts is that your skin can breathe easier. This prevents excess sweating and a buildup of bacteria that could cause clusters of small infected bumps after waxing.
9. Avoid using soap on waxed areas
For the first few days after waxing, you should avoid using harsh soaps and cleansers on the waxed areas. Soap can irritate sensitive skin even more and cause a lot of irritation. Harsh soaps can also hinder the healing process.
According to Dr. Alan Rockoff on MedicineNet, soaps can actually cause a rash, especially if you already have sensitive skin. This is because soaps can strip the skin of its natural oils that form a protective barrier against irritation.14
10. Stay out of the sun
Another thing that you should do if you have just had a part of your body waxed is to stay out of the sun. Waxing causes your skin to become extra sensitive and direct sunlight in the first 12 hours after waxing could damage the outer layer of your skin.
The best advice is to cover up parts of your body that have been waxed because even sunscreen could irritate the follicles of waxed skin and cause you to develop a nasty rash.
11. Exfoliate your skin after waxing
As your skin continues to recover after waxing, you can prevent infections and ingrown hair by continuing to look after your skin.
One important way to care for waxed skin it to exfoliate your skin every 2-3 days. To do this, you can use a gentle exfoliating brush or glove to remove dead skin cells. This will prevent follicles getting blocked that could cause some pimples to form or a hair to grow back in on itself.
What You Should Never Do After Waxing
Apart from the above things you should do after waxing to prevent irritating skin conditions that could lead to a rash or infection, there are also some things you should avoid. Some of these are:
For the first 24 hours after a waxing session, stay out of chlorinated water like swimming pools.
Also, avoid spas or saunas in the first 24 hours after waxing any part of your body.
Avoid touching the waxed area and if you need to do so, always wash your hands.
Read my other related articles:
Article Sources
Advertisement