Coconut Oil Secrets for Beautiful Glowing Skin and Shiny Hair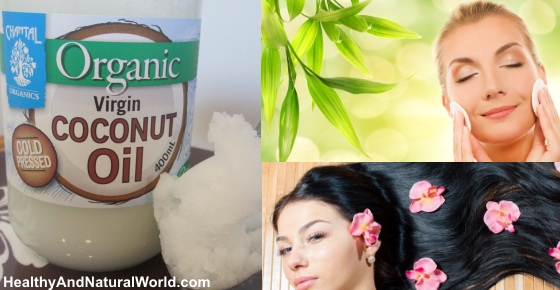 Coconut oil is so versatile and is a staple in many kitchens. Coconut oil has been a common sight in Asian and Pacific households for ages, but received in the past a bad reputation in Western society due to its saturated fat. But now it is gaining popularity in the West and being recognized for its health benefits (and you can read my previous post about coconut oil's many health benefits).
Using more virgin coconut oil in your daily routine is one of the 70 habits featured in my e-book 70 Powerful Habits For A Great Health which will guide you how to take positive steps to improve your wellness and overall health. I shared with you in the past how to make your own natural coconut oil deodorant, some great homemade scrubs with coconut oil and sugar, as well as 15 everyday uses for coconut oil.
Now it's time to make it work for your hair and skin. So maybe it's time to replace your expensive commercial hair and skin products with a cheaper and natural alternative – you've got nothing to lose.
Which coconut oil to use?
To get the best results, use unrefined coconut oil (often labeled as "virgin" coconut oil) which is processed without chemicals that damage its natural compounds that make it so good for your hair and skin. You can find it in some supermarkets, health food stores or online.
Coconut oil for shiny hair
Coconut oil contains medium chain fatty acids (MCT), in which lauric acid is the most well-known of them. These fatty acids nourish and moisturize the scalp and hair. A study published in 1999 in the "Journal of Cosmetic Science" found that applying coconut oil to the hair reduced hair breakage.
How to Use coconut oil for shiny hair
Coconut oil is solid at cold temperatures but melts at 76 degrees F (24.5 C) or above. So if your coconut oil is solid, measure a few tablespoons of coconut oil (depends on your hair length) in a cup and heat in the microwave until it has melted (or place the cup in a bowl of warm water to melt it).
You can add a few drops of your favorite essential oil into the coconut oil to add a nice scent or to enhance the benefits for your hair (read my article about the best essential oils for healthy hair). If you are interested to learn more about essential oils you can find useful information in my e-book Magical Aromatherapy which will help you to discover the power of essential oils and the most effective ways to use them.
Massage the coconut oil into your scalp and hair. You can apply the oil to a dry or damp hair, but it is easier to spread the oil when the hair is damp. You can also apply the oil only over the ends of the hair rather than over your scalp.
Then wrap your hair with a shower cap or towel so that your hair is completely covered, and wait for at least an hour or two, or preferably overnight (the longer you wait, the more conditioned your hair will be).
Then wash your hair twice with your shampoo (you can use this natural shampoo) until all the oil has been completely removed. If you want you can do apple cider vinegar (ACV) hair rinse afterwards (see more details in my previous article why you should wash your hair with ACV). Let the hair dry to see it soft and shiny.
Repeat this treatment when your hair starts feeling dry (depending on how dry the weather is or how often you use hair iron). It can be done once a week or less often.
For other ideas, read  my post about the 8 ingenious ways to use coconut oil on your hair.
Coconut oil for glowing skin
Coconut oil is a natural moisturizer not only for the hair, but also for the skin. It helps to soften the skin and is especially good for dry skin. It may also help to treat eczema due to its anti inflammatory properties.
Coconut oil is better than many commercial moisturizers that contain petroleum-based ingredients and a lot of water. The water content makes you feel as if your skin is being moisturized, but when the water dries, your skin becomes dry again. Coconut oil, on the other hand, is a deep moisturizer that nourishes the deeper tissues. You can also boost the benefits of coconut oil by combining it with one of the top essential oils for skincare.
How to Use coconut oil for the skin
Apply the coconut oil after a shower or after washing your face. When applying coconut oil on your face, use it as you use your normal moisturizer. Start with a small quantity (a pea size) and apply around your eyes and face, and even your lips if they are dry and chapped. At first it tends to have a greasier consistency, but it quickly absorbs into the skin. Let it absorb into your skin for few minutes before applying your makeup.
You can also use coconut oil instead of a body lotion to hydrate the rest of your body. There are many other uses for coconut oil on your face and you can read about them in my article about the 10 secret ways to use coconut oil on your face.
Read these related articles:
RELATED ARTICLES
Advertisement