The Best Essential Oils For Skincare & Healthy Hair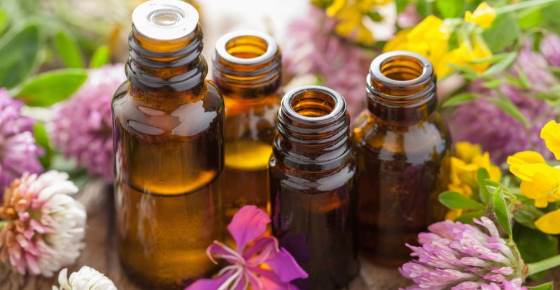 Essential oils can help you achieve great skin, which is well moisturized, soft and elastic. A healthy glowing skin will contribute to your self confidence and appearance, and you can get all these with the help of aromatherapy. Essential oils have great penetrative properties that make them excellent moisturizers. 
Wssential oils can also contribute to great looking hair. We all want to have a gorgeous healthy hair that can define our style and image. Hair can reflect our health – when we have emotional or physical problems, it can be soon seen on our hair which lacks bounce or shine. Caring for your hair both inside and outside with a well balanced diet will keep your hair in peak condition.
The role of essential oils for healthy hair is important. Using essential oils with their remarkable properties, can work wonders on your hair and scalp. They can be used to cleanse the scalp, strengthen hair, control irritation and dandruff, stimulate hair follicles, improve circulation and even promote hair growth. This article will focus on scalp massage oils for dry hair, greasy hair and normal hair, as well as for some of the common hair problems.
Essential Oils for Skincare Vs. Moisturizers
The wide range of their properties means that you can always use the right oil for the right condition. Essential oils help to cleanse the tissue and stimulate the lymphatic system, and can be used as a daily skincare routine and to treat specific problems.
Whereas most moisturizers sit on the surface of the skin, essential oils penetrate to the inner skin layer. The essential oils need to be mixed with base oil, such as sweet almond, apricot kernel and jojoba. The good thing about essential oils is that they are light enough to be absorbed by the skin without clogging up the pores.
You can simply add a few drops of the essential oil or oils from the list below to a teaspoon of base oil and apply on your face before going to sleep.
Maintaining healthy skin is one of the 70 habits featured in my e-book 70 Powerful Habits For A Great Health which will guide you how to take positive steps to improve your wellness and overall health.
Essential Oils for Different Skin Types
Skin types can vary, for example skin may be drier in winter or more oily around the time of your period, and it can change several time between puberty and menopause, so review the oils that you use and change them according to your changing needs.
Essential oils for dry and sensitive skin
chamomile, geranium, lavender, hyssop, rose, patchouli, sandalwood, ylang-ylang, neroli.
Essential oils for oily skin
bergamot, cedarwood, cypress, lemon, juniper, frankincense, sage, fennel.
Essential oils for normal skin
chamomile (also for dry/sensitive), fennel (also for oily), geranium (all skin types), lavender (all skin types), lemon (also for oily), patchouli, rose, sandalwood (all of them also for dry/sensitive).
If you have combination skin (oily on the forehead, nose and chin area, and normal or dry elsewhere), use oils for oily skin on the greasy areas and oils for normal skin on the rest of the face.
How to Use Essential Oils in your Skincare Routine
Masks
You can use either clay or oatmeal which are ideal for any face mask. If you use powdered clay, mix it into a paste with a hot water (read more about clay in my previous article how to use clay for body detox and great skin). Cool and then add yogurt for a smoother consistency.
Alternatively, you can use finely ground oatmeal mixed into a paste and leave to cool. Add 15 drops of essential oils to suit your skin type per cupful of paste. Apply the mixture on your face, leave to dry slightly and then sponge off. If you have particularly dry or sensitive skin, add one tablespoon of evening primrose base oil for a more moistening mask. Avoid the eye area when applying.
Toners
Essential oils are a gentle way to tone up the skin. Ideal bases for fresheners are rose water for normal or dry/sensitive skin, or witch hazel for oily skin. You can apply them with cotton wool or spray them on the face for a more refreshing toner.
Herbal tea infusions are also excellent toners. You can use herbal tea bags if you can't get hold of the herbs. Boil a cup of water and infuse chamomile, marigold, rosehip or nettle teas. For normal skin add two drops of orange or lavender essential oil and leave to cool. For oily skin use juniper or lemongrass essential oils, and for dry skin use rose or sandalwood essential oils.
Facial steam
If you want a soothing steam add five drops of chamomile or lavender essential oil, or for a stimulating steam use peppermint, thyme or rosemary. You can use comfrey or fennel essential oils for their healing properties.
Cleansers
Choose the correct essential oils for your skin type and blend them with base oil, unscented cleanser, mild liquid soap or tissue-off lotion/cream and they will rebalance the skin.
Essential Oils for Common Skin Problems
Acne
I've mentioned in a previous article that essential oils have anti bacterial and anti inflammatory properties, hence are good treatments for acne sufferers. If you suffer from acne, use a daily sensitive skin type cleanser and moisturizer and add two drops of tea tree essential oil which has antiseptic properties.
Apply a deeper clay type mask once a week, adding a few drops of the essential oil to heal and sooth the skin. Tea tree and lavender essential oils are commonly used to treat acne as they have anti-bacterial properties.
Both oils can be applied directly to pimples with a cotton swab for an effective and natural acne treatment. Leave for a few hours or overnight. If you find that pure, undiluted essential oil is a little too harsh or drying on your skin, simply mix a couple of drops of the essential oil into a few teaspoons of aloe vera gel or carrier oil or honey and apply directly onto the pimple you wish to get rid of.
Cold sores
These are small blisters on the lips and around this area which are caused by the virus herpes simplex. Any persistent lip sore should be treated medically, but if you have a common lip sore apply undiluted tea tree oil.
Broken veins
These are small and red spider like veins that appear on the surface of the skin around the chick area, and affect usually people with delicate skin type. The solution is to protect the skin from losing excess moisture and to apply essential oils such as parsley, geranium, chamomile, lavender, rosemary or cypress in a heavy base oil.
How to Use Essential Oils for Healthy Hair
Same as for skincare, essential oils for healthy hair need base oils such as sweet almond, apricot kernel, avocado, jojoba or olive oil. For one scalp treatment you can choose one or more essential oils, using total of 15 drops for two tablespoons of base oil. For very long hair you will probably need more oil.
Warm the blended oils by placing the container over a bowl of boiling water, and then massage into the scalp. Wrap with a hot towel, leave for at least 15 minutes and then shampoo.
Scalp massage
Scalp massage works from front to back, from the forehead, frontal hairline, temples and sides, over the crown of the head to the base of the neck. Keep dipping your fingertips in the treatment oil to spread through the hair while massaging. Pull any extra oil through the hair, starting from the roots to the tips. Make sure all the hair is oiled and then wrap with a towel for at least 15 minutes and then shampoo.
Dry hair
Essential oils for dry hair: rose, sandalwood, ylang-ylang, lavender and geranium.
Dry hair is thick in texture and rough to touch. Avoid chemical colorants and perms and choose instead shampoos and conditioners with jojoba and almond oils. Hot oil treatments allow the essential oils to absorb easily and treat the hair. After massaging warm oil into your scalp, wrap the head in a warm towel and leave on for half an hour.
Greasy hair
Essential oils for greasy hair: Basil, eucalyptus, cedarwood, tea tree, chamomile, lemon, lemongrass, cypress, sage and rosemary.
Greasy hair tends to look dull and lifeless. This can be due to environmental elements or hormonal imbalance. Check your diet and avoid harsh degreasing shampoos. Choose light conditioners and try a scalp massage to regulate the oil producing sebaceous glands.
Normal hair
Essential oils for normal hair: geranium, lavender, lemongrass and rosemary.
Normal hair is shiny with good body and bounce. An essential oil scalp treatment will keep it looking good and healthy.
Dandruff
There are several essential oils that are known to help treat dandruff, but probably the best known among them is tea tree oil which is a natural antiseptic.
Shampoos with at least 5% tea tree oil have been shown to effectively treat dandruff.
Another option is to buy tea tree essential oil on its own and add it to your regular shampoo.
To add the tea tree oil to your existing shampoo, add 10 drops for every eight ounces of shampoo in the bottle. Then shake the shampoo bottle to distribute the tea tree oil thoroughly. Rub the tea tree oil shampoo into your scalp and let sit for 5 minutes. Rinse with water, repeating once per day.
It goes beyond the standard dandruff solution to give you soothing itch relief and reduce flakes in only a matter of days. Click here to find top 5 medicinal uses for tea tree oil.
Grey hair
Grey hair is more porous and needs extra conditioning, especially if it's chemically treated or colored. Use a scalp formula for dry hair while adding essential oil enhancers like chamomile to lighten or sage to darken any discolouration.
Hair loss
Hair loss can result due to hormonal imbalance, stress or anxiety. Therefore the first step is to learn to relax. If you have unusual thinning patch, get a medical advice, but as a general remedy use a scalp message with rosemary essential oil. See more information in my articles on how to use rosemary for treating hair loss. and on how to use peppermint oil to stop hair loss.
If you are interested to learn more about essential oils you can find useful information in my e-book Magical Aromatherapy. This e-book will help you to discover the power of essential oils and the most effective ways to use them:
Advertisement