How to Get Rid of Pimples: Top 12 Natural Ways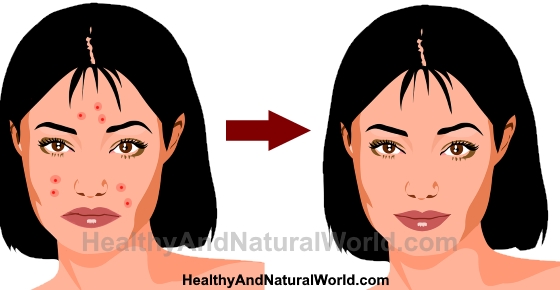 Advertisement
The appearance of pimples, spots, or acne on the skin can range from being an annoyance to a traumatic experience. We always want to look our best and make sure that our appearance reflects how we feel about ourselves. However, pimples and spots can affect our self-esteem and how others view us, and as a result most people are interested in how to get rid of pimples, acne and other spots.
What can you do to get rid of pimples naturally? Fortunately, there are many natural methods to treat pimples.
Acne vs Pimples
Sometimes the term acne and pimples are used interchangeably and there can be confusion as to the difference.
Acne is a term referring to localized inflammation of the skin which is caused by clogged hair follicles (pores) and the buildup of too much sebum under the skin. The result of this is infection and inflammation which manifests itself by different kinds of spots on the skin.
Acne can be caused by different underlying medical factors like hormonal changes, genetics, stress, and the use of anabolic steroids.
Pimples are generally milder than a full-blown acne attack. But the reason for both skin conditions is the same – clogged pores.
What are some of the causes of pimples?
Pimple Causes
There are various reasons why men and women can suffer from outbreaks of pimples. Some of these can be:
Hormonal imbalances. Persistent acne and pimples are one of the signs of hormonal imbalance. Many women know that they have more pimples before their period. Sometimes, however, it can be due to too much testosterone which stimulates an over production of sebum, leading to blocked pores.
Bacteria. When a pore gets blocked by too much sebum, bacteria can multiply rapidly causing infection and the result is acne as well as whiteheads.
Dead skin cells. Dead skin cells can also cause pores to get blocked. If a person has overactive sebaceous glands the pores can get blocked quicker, leading to more acne outbreaks of pimples.
Let's have a look at how to get rid of pimples.
Treatments for Getting Rid of Pimples
There are many ways to naturally treat and reduce the inflammation and infection that pimples cause. Most of the remedies for acne also work just as well for treating pimples.
1. Essential Oils
There are many essential oils which have antibacterial and anti-inflammatory properties to help get rid of pimples naturally. Essential oils should not be applied directly to the skin. They should be mixed with a carrier oil like jojoba oil, castor oil, coconut oil, or sweet almond oil. Alternatively you can also mix essential oils with aloe vera and witch hazel (see more information about it below).
Here are the best essential oils that you can use to get rid of pimples and acne:
Tea tree essential oil
Tea tree oil is well known for its antibacterial, antiseptic, and anti-inflammatory properties.1 It can effectively unblock clogged pores and also help reduce inflammation and infection to lessen the number of pimples. It is also one my top ten essential oils for acne.
To use tea tree oil as a facial cleanser for curing whiteheads and pimples, dilute it in a carrier oil. For 2% concentration use 10-12 drops of tea tree oil per 1 ounce (30 ml) of carrier oil. Your mixture shouldn't contain more than 5% essential oil. Dip a cotton ball in the tea tree oil mixture and gently cleanse the skin. Leave for about 30 minutes.
Unlike the other essential oils (apart from lavender oil), tea tree oil can be applied directly to the pimple without diluting it. Use a Q-tip with a little tea tree oil and dab directly onto the pimple. But be aware that when applying essential oils on a larger skin area it is always recommended to dilute them due to their high concentration. For more information, read my article on how to treat acne and pimples using tea tree oil.
Lavender essential oil
Lavender oil is best known for its calming effect on the mind, however, it also contains many antibacterial properties that can be beneficial for treating pimples .2 You can use lavender oil in the same way as tea tree essential oil.
Lemon essential oil
Lemons are a natural astringent and adding some lemon oil to a carrier oil will help to cleanse the pores to eliminate pimples, whiteheads and blackheads. Lemon oil has the added benefit in helping reduce the appearance of acne scars because it helps to make the skin lighter and is especially good for oily skin.
For more information on other essential oils to get rid of acne, like geranium, rosemary, oregano, and frankincense please read my article about the best essential oils for acne. There you can also find recipes about how to mix them with carrier oils for facial oil cleansing.
If you are interested to learn more about essential oils you can find more useful information in my e-book Magical Aromatherapy.
2. Oil Cleansing Method to Cure Pimples
Don't worry about using oils on your face if you have acne because good quality oils will cleanse and rejuvenate your skin. Using the oil cleansing method as part of your anti-acne skincare routine is less harsh than using commercial facial cleansers which tend to strip away the skin's protective layer.
Natural oils also contain many properties that benefit the skin and help to cleanse it, moisturize it, and keep it looking healthy.
Here are some of the best oils to use in an oil cleansing routine to get rid of pimples:
Castor oil is an amazing oil to deeply cleanse the skin. In fact, it is one of my top oils for healthy skin. It can be used as part of an oil cleansing facial or you can dab a few drops directly onto the pimple. Castor oil tends to be quite thick, so you can mix it with another oil like jojoba oil.
Jojoba oil is very close in structure to sebum and this makes it a great oil for balancing sebum levels in the skin. It also has antibacterial and anti-inflammatory properties to help reduce redness and swelling.
For the oil cleansing method you need to use a mixture of castor oil and jojoba oil. But if you don't have jojoba oil, you can also use other cold pressed vegetable oil such as olive oil or almond oil (these oils are some of the best natural oils for skin care).
Here is how to oil cleanse your skin so that you get great looking skin, reduce acne, and to get rid of pimples:
Put a generous amount of the oil mixture on your hand and massage this into your face until you feel the skin is saturated with oil.
Soak a flannel in hot water, wring it out then place on your face until it cools. This will open and clean your pores.
Gently wipe the oil from your face.
For more detailed information (plus a video) on how to oil cleanse your skin, please check out my article on how to rejuvenate your skin using oil cleansing.
3. Clay
You can also make a healing face mask from clay and jojoba oil. This is a scientifically proven method of reducing the number of pimples.3 Here is how to make the face mask:
Mix a small amount of clay, such as bentonite, white, or green clay with some jojoba oil and make a paste.
Gently apply to the skin and leave for 15 minutes.
Gently rinse off with water.
Apply a small amount of jojoba oil to moisturize the skin.
For more detailed information, read my article on how to use clay for body detox and great skin.
4. Witch Hazel
Nowadays witch hazel is a component of a variety of commercial skincare products. It contains tannins which are organic compounds which serve as an astringent. Witch hazel is also a great natural remedy for chest acne and back acne.
In my e-book The Herbal Remedies Guide, I've already mentioned witch hazel as a remedy for several skin conditions.
Witch hazel is excellent for general skin care because of its anti-inflammatory, antibacterial and astringent properties. You can use witch hazel to soothe outbreaks of pimples by dabbing some directly on the affected area. Or you can combine with tea tree or lavender oil. Witch hazel is also one of the best natural treatments for blind pimples, and you can also use it for treating sebaceous cysts.
5. Willow Bark Extract
One of the primary ingredients in topical acne treatments is salicylic acid. However, these treatments can cause the skin to peel and become red. But it is possible to use a natural source of salicylic acid from willow bark extract to fight pimples and without the side effects. You can buy willow bark extract from online stores (like this one) and you can apply some direct to the affected area.
6. Baking Soda
One of the simplest and cheapest ways of tackling pimples and acne is by using baking soda. Baking soda cleanses the skin and also helps unclog the skin's pores. Here is how you can make a face mask from baking soda:
Mix 2 tablespoons of baking soda in a bowl with some warm water. The paste should be moist enough to spread easily over the skin without dropping off.
Leave for 15 to 30 minutes then rinse off.
Repeat weekly to prevent pimples.
For more detailed information and instructions (plus recipes), read my article on how to use baking soda for gorgeous skin and face.
7. Sulfur
Sulfur has been used for centuries to help treat various skin conditions such as pimples and to improve skin health. It is a gentle cleanser which helps to remove dead skin cells from the skin and dry out inflamed pores.
It is a gentler option than many of the topical acne medications prescribed by doctors and it has been proven in studies to help treat mild to moderate acne.4 You can buy sulfur ointment (like this one) online or in drug stores.
8. Manuka Honey for Curing Pimples – Facial Mask
Another ancient natural skin treatment for getting rid of pimples is the use of honey on the skin.
From the different kinds of honey available, Manuka honey is one of the best ones that you can use for your skin. It has the most powerful antibacterial and antifungal properties of any honey and can help clear pores and prevent acne.
To use Manuka honey to clear pimples, all you have to do is gently massage in a small amount of Manuka honey to the affected skin area, cover with a warm damp towel and leave for around 30 minutes. Rinse off the honey with warm water.
Some people add cinnamon to the honey for added benefits, as cinnamon also has anti-microbial properties and can halt the growth of bacteria and fungi that cause pimples. To make your own cinnamon and honey anti-pimple treatment, mix 1 tbsp. of honey with 1/3 tsp. cinnamon powder. Leave the mixture on your face for 30 minutes before rinsing it off with warm water.
If you want to learn more about how to make other facial masks with honey for great skin, then read this article.
9. Turmeric Face Mask for Eliminating Pimples
Turmeric contains a powerful compound called curcumin which has powerful antioxidant and anti-inflammatory properties. It has many health benefits including being great for the skin. It can help reduce redness on the skin and it promotes skin healing, thus, it's beneficial for treating pimples.
You can easily make a turmeric face mask for pimples by mixing 1 tsp of turmeric, 1 tsp of raw organic honey, and 1 tsp of milk or natural yogurt and a few drops of tea tree oil if you want. The paste should be thick enough to be applied to the skin without dropping off.
There are many other uses of turmeric for the skin which I have written in my article about it.
10. Apple Cider Vinegar (ACV) for Face
Apple cider vinegar can be used to make a great skin toner to cleanse the skin and help reduce skin inflammation, reduce breakouts, and to get rid of pimples.
You should remember that ACV should always be used diluted on the skin. You should use equal amounts of ACV and water. You can also add some witch hazel, aloe vera, or green tea to really enhance your toner. You can also experiment with some of the essential oils that I've already mentioned.
For more information, read my article on why you should wash your face with Apple Cider Vinegar.
11. Papaya for Acne and Pimples
Papaya is now becoming a popular ingredient in acne treatments. Recent research has shown that extracts of the pulp have antibacterial activities.5 However, you don't have to part with a lot of cash to get the benefits of papaya on your skin.
It is very easy to make a soothing facial mask for pimples with mashed up papaya. All you have to do is mash the pulp of a papaya, place on the face and leave for 10 to 15 minutes.Repeat daily until your pimples are completely gone.
The great thing about papaya is that you can also enjoy its delicious taste and also use its seeds.
12. Aloe Vera
Aloe vera is well-known for its power in reducing skin inflammation and it is one of the most popular remedies for sunburn, acne, whiteheads and blackheads.
Aloe vera is effective in soothing the acne-affected skin and promoting new cell growth. The best way to use aloe vera to prevent pimples is to apply some pure aloe vera gel on your skin straight after washing. This will help control further breakouts of pimples.
Read these related articles
1. The Best Home Remedies to Get Rid of Whiteheads and Blackheads
2. The Best Essential Oils for Acne
3. DIY Face Wash For Acne, Pimples And Blackheads
4. How To Get Rid Of Keratosis Pilaris: The Best Home Remedies
Resources: