The Most Amazing Benefits of Jojoba Oil for Your Hair and Skin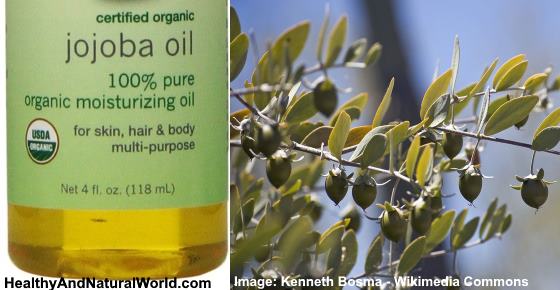 Advertisement
Over the past few years the popularity of jojoba oil for skin and hair has grown and it seems that just about every cosmetic product contains it. There is actually good reason why jojoba oil has become so popular. Jojoba oil contains many properties which are beneficial for the skin and hair.
What is great about jojoba oil is that you don't have to buy expensive cosmetic products to get its benefits. It can be used as a natural product directly on the skin and hair.
How can you benefit from the many wonderful soothing and healing properties of jojoba oil? First of all, let's look at what jojoba oil actually is.
What is Jojoba Oil?
Technically jojoba oil is a wax, but because it has a low saturated fat content it is usually in a liquid state. The wax is extracted from a nut which grows on the jojoba shrub (Simmondsia chinensis), a desert plant that grows in the American South West and in Northern Mexico.
One unique property of jojoba oil is that it closely resembles sebum. Sebum is an oily substance which our skin produces to keep the skin moist. When we have too much sebum on the skin, then we can suffer outbreaks of acne, and if we have too little, then our skin dries up and cracks.
Because jojoba is a wax, rather than an oil, it means that it doesn't leave the skin feeling greasy. Jojoba oil also contains vitamin E and B, as well as minerals to protect skin from the effects of aging and the environment.
Let's have a look at the benefits of jojoba oil to naturally take care of your skin and hair. I am also going to explain how to use jojoba oil for your face and specifically how to use jojoba oil for acne.
Jojoba Oil for Skin
As I've already mentioned, our skin needs a layer of sebum to moisturize and protect it. In order to keep healthy, good-looking skin we need to keep a layer of sebum on our skin.
However, the problems can arise when we cleanse our skin because that strips a layer of sebum away. Our skin is then exposed to many environmental conditions which can damage and dry out our skin.
The best way to protect your skin is to keep it moisturized, and for that, jojoba oil is perfect for it. Jojoba oil acts as a two-way barrier on the skin. It protects the skin from harsh environmental factors and also locks in moisture.
In fact, research backs this up. A study showed that jojoba extract together with glycerol can help keep the skin moisturized for up to 24 hours.1 The fact that it closely resembles sebum means that it works perfectly on skin.
To get the moisturizing benefits of jojoba, all you have to do is rub a few drops of jojoba oil between your hands and then gently massage onto your skin after washing.
The amazing moisturizing properties of jojoba oil means that it can help treat a number of skin complaints. Here are a few cases where jojoba oil can not only provide relief for the condition, but also treat it.
Jojoba Oil for eczema and psoriasis
These skin conditions are usually associated with dry, itchy, and flaky skin which can become inflamed and affected.
The moisturizing effect of jojoba oil help protects the skin from irritants and infections. However, jojoba oil can also help reduce inflammation. The journal Pharmacological Research published studies on the anti-inflammatory effects of jojoba liquid wax. It was found that jojoba oil is effective in reducing inflammation.2
Another interesting fact to do with jojoba oil is that it contains a large quantity of iodine3, which is a natural antiseptic. Therefore, it can also help in reducing infections and provide needed relief to dry and itchy skin conditions.
If you suffer from eczema or psoriasis, read my articles about natural treatments for eczema, the best essential oils for eczema and 12 natural ways to relieve psoriasis.
Jojoba Oil for dry hands and cracked feet
Our hands and feet don't contain any sebaceous glands and because we use them so much every day, they are prone to dry out and get cracked. Also, frequent hand washing, while essential for good hygiene, can cause the hands to dry out.
By massaging a little jojoba oil into your hands after washing and whenever they feel dry, you can help to keep them in good condition. If you suffer from cracked heels, then rub a little jojoba oil in for needed relief and also check these natural remedies for cracked heels.
Wound healing
Jojoba oil has been used for centuries by Native Americans as a way to treat and heal wounds. There has also been a research published on the wound healing properties of jojoba oil. It said that jojoba oil can help heal wounds in clinical settings.4
You can also mix jojoba oil with other oils that help with wound healing such as Niaouli essential oil and Frankincense essential oil.
Sunburn
I shared with you in the past the video showing what the sun really does to your skin.
If your skin has suffered some sun damage, then the vitamin E and the soothing effect of jojoba oil can provide relief and speed up recovery.
Jojoba oil will provide a layer of protection to your skin, protecting it from further damage and also locking in moisture so that the skin heals quicker. Its anti-inflammatory properties will also help reduce redness.
You can also mix jojoba oil with rosehip oil which is an anti-inflammatory oil, so you should feel immediate relief when rubbing the oil directly on the burn.
Razor burn
When used as a pre-shave and after-shave treatment, Jojoba oil can also help prevent and treat razor burn.
Shaving cuts away at the protective layer on our skins. Many shaving creams and foams contain harsh chemicals which strip even more protection from the skin.
So, before shaving, make sure the skin is soft by applying warm water. Then massage a small amount of jojoba oil to the area you will shave. The oil will act as a natural lubricant. After shaving, massage a small amount into the skin to keep the skin moist.
Another idea is to use coconut oil as this will make the skin softer and less irritated – this is one of the reasons you should keep coconut oil in your bathroom.
Makeup remover
Because jojoba oil is great at unclogging pores and reacts very well with the skin, it is a great makeup remover. It is so gentle that it can even be used around the eyes (although take care not to let any of it get into your eye).
You just have to put a few drops of jojoba oil on a cotton pad and then gently remove makeup from your face. After you have finished, you don't even need to wash your face, but let the jojoba oil soak into your skin to leave it soft and moisturized.
Jojoba Oil for Acne
Acne is a problem that can affect adults as well as adolescents, and one of the reasons for acne is that the skin produces too much sebum. The pores can become blocked and then infected, leading to spots and boils.
Many may think that the last thing the skin needs if there is too much sebum is to put more oil on the skin. However, the amazing properties of jojoba oil make it one of the best ways to help treat acne flare-ups. Some studies on extracts of the jojoba plant have shown that it contains antibacterial properties which can help fight skin infections.5
This is how jojoba oil is good for acne:
It works to deeply cleanse the pores, unclogging them from impurities.
The antibacterial and anti-inflammatory properties help fight bacterial growth and reduce redness and swelling.
Interesting studies have also been carried out which have shown that a clay mask using jojoba oil can also help reduce acne flare-ups.6
If you suffer from acne, read my articles about the best essential oils for acne which you can mix with jojoba oil.
You can complement your jojoba oil treatment for acne with my DIY face wash for acne. And if you suffer from scars, read my article on how to get rid of acne scars naturally.
Jojoba Oil for Hair
Jojoba oil is one of the best natural oils for your hair. Jojoba oil works just as well for your hair as it does for your skin. There are many ways that it can benefit both your scalp and your hair.
Obviously, the fact that jojoba oil contains anti-inflammatory and antibacterial properties along with being a great moisturizer means that it can do amazing things for your scalp. It can help control and treat dandruff, relieve itchiness, and clear up eczema.
Jojoba oil as a hair mask
You can apply some jojoba oil to your scalp and leave for about 20-30 minutes before washing it out. Alternatively, you can apply it before going to bed and then wash it out in the morning. Do this once or twice a week.
Use jojoba oil with your conditioner
You can add some jojoba oil to your conditioner to help detangle hair and reduce frizz. Try adding just a few drops and it will protect your hair from drying up. You can experiment with the amount you add until you find the perfect amount for your hair.
Add jojoba oil after shampooing
Add a few drops of jojoba oil to your hands and then apply to the ends of damp hair.
Jojoba oil for hair growth
Jojoba oil has also been shown to be effective in stimulating hair growth.
One study showed that in trials, jojoba oil showed some positive effects in helping hair grow.7
However, it wasn't as good as peppermint oil, which was proven to be even more effective than Minoxidil – the most popular chemical in hair re-growth treatments.
If you would like to find out a natural way how to combine jojoba oil with peppermint oil for hair growth, then read my article about peppermint essential for hair growth.
Read my other related articles:
1. 8 Ingenious Ways to Use Coconut Oil on Your Hair
2. How to Use Sweet Almond Oil for a Great Hair, Skin and Health
3. How to Use Vitamin E to Benefit Your Skin, Hair and Health