How to Get Rid of Whiteheads on Nose and Chin Quickly and Naturally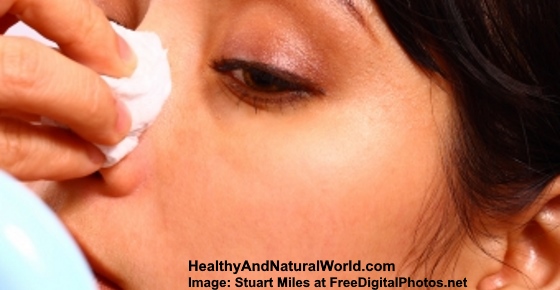 Advertisement
Whiteheads are a form of acne that look like small white bumps on the skin. Whiteheads are commonly found on the face, especially around the nose, chin, cheeks, and forehead. Generally, whiteheads are not inflamed red bumps on the skin that are filled with pus. For many people, having one or two whiteheads is not usually a cause for worry, however, having many whiteheads on your nose and chin can make you feel very self-conscious. You may also have shiny, oily skin that is greasy to touch.
There are many effective home remedies that can help you get rid of whiteheads quickly and effectively. Natural acne treatments that include tea tree oil, witch hazel, and lavender oil help to kill off acne-causing bacteria and reduce any skin inflammation. Other natural remedies for treating whiteheads use baking soda to remove dead skin cells that clog pores. Even if you have a lot of whiteheads on your nose and chin, you should be able to remove them easily using the following natural treatments.
Causes of Whiteheads on Nose and Chin
Whiteheads are a form of acne that results when excess sebum (the oil the skin produces to protect itself and keep it from drying out) and dead skin cells clog hair follicles. In fact, the cause of blackheads and whiteheads is exactly the same. However, the reason that whiteheads stay white and don't turn black is because the hair follicles remain closed and the clogged oil and bacteria don't oxidize when exposed to the air.
Whiteheads tend to appear on the nose and chin more frequently than other parts of your face because your nose and chin produce more oil. We also tend to touch our noses and chins more frequently, and this can cause more bacteria to infect the pores on the nose and chin.
There are other reasons for whiteheads and some of these are:
Hormonal imbalances can interfere with how much sebum the skin produces and this can cause more pores to become blocked, resulting in more whiteheads and blackheads.
Stripping the skin of its natural protection by using harsh facial cleansers or too much exfoliating can allow whiteheads to form. This is because it causes the skin to produce too much oil and damages the outer layer of the skin.
Bacteria and dead skin cells clog up the pores and cause small white lumps to form on your nose and even inside.
Whiteheads or pustules?
Many people confuse whiteheads and pustules. While both are forms of acne and are caused by clogged skin pores, pustules form when the clogged pores become infected and inflamed. The result is a sore red bump that is filled with yellow discharge (pus). There will usually be a white tip or white head on the swollen red pimple.
If you notice whiteheads forming on your nose, chin or forehead, it's best to treat them as soon as possible to prevent them becoming infected and turning into pustules.
Natural home remedies can help unclog the blocked hair follicles and prevent them become infected and becoming more severe acne. Let's have a look some of the best home remedies to get rid of whiteheads.
The Best Natural Treatments for Getting Rid of Whiteheads
There are many ways to naturally treat and get rid of bumpy-looking skin that whiteheads cause. Here are some of the best natural treatments that have helped many people get rid of whiteheads.
Baking Soda
Baking soda is a very simple and easy way to unclog pores and get rid of whiteheads naturally. Its grainy texture naturally exfoliates the skin to loosen and remove dead skin cells and reduce the buildup of sebum. This will make your skin look less shiny and oily.
Research into baking soda has found that it has antibacterial properties which can help to kill off various strains of bacteria.1
It is very easy to make a baking soda face mask to reduce the number of whiteheads on your nose and chin. Here is how to do it:
In a bowl, mix 2 tbsp. baking soda and enough warm water to make a thick paste.
Gently massage the baking soda remedy to your chin and nose.
Leave for 15 to 30 minutes and then rinse off.
Apply the anti-acne face mask 1-2 times a week to help reduce the appearance of whiteheads.
Although baking soda is great for most people's skin and is an effective treatment for whiteheads, it may be too harsh for people with sensitive skin. If you have sensitive skin, you should try one of the other home remedies for whiteheads in this article.
Manuka honey
Manuka honey is another natural treatment for helping to rid your nose and chin of whiteheads. Although most raw honey contains antibacterial properties, Manuka honey contains a more potent concentration of compounds that can kill the bacteria causing whiteheads and other forms of acne.
Renowned dermatologist, Dr. Debra Jalilman says that many people use Manuka honey as an alternative anti-acne treatment. It contains wound-healing properties that help to rid the skin of free radicals.2
You can apply Manuka honey directly to your skin to help clear acne-causing bacteria and get rid of whiteheads faster.
Massage a small amount of Manuka honey to the whiteheads.
Lay on your back and place a warm damp towel over your face and leave for 20-30 minutes.
Rinse off with warm water.
To help unclog dead skin pores and remove excess oil from your skin, you can add sugar to the honey to make an exfoliating face mask. To make the honey/sugar scrub, please do the following:
Mix some raw sugar with 1 tbsp. Manuka honey to form a thick paste.
Using circular motions, massage the face scrub to your chin and nose areas.
Leave for 15-20 minutes before rinsing off with warm water.
Use the acne facial scrub 1-2 times a week to help keep your skin clear of whiteheads, blackheads, and pimples.
If you are interested in other home recipes to make a natural face mask using honey, please read my article about making great and easy homemade honey facemasks.
Apple cider vinegar for whiteheads
The antiseptic properties of apple cider vinegar (ACV) make it a great home treatment for removing whiteheads. Apple cider vinegar is an effective natural ingredient for cleansing your skin from a buildup of bacteria and sebum. Diluted apple cider vinegar helps to regulate the skin pH levels and can help prevent an outbreak of whiteheads.
A study published in the journal Burns showed that acetic acid (apple cider vinegar contains high levels of acetic acid) is an effective antiseptic. Acetic acid was effective in killing off a number of bacteria strains that can cause skin infection as well as whiteheads.3
To make a skin toner to help quickly get rid of whiteheads on your face you should dilute ACV with equal parts of water. Dip a cotton ball in the mixture and apply to your skin where you have whiteheads and blackheads. Use the ACV remedy daily until you no longer have bumpy skin caused by whiteheads.
Getting rid of whiteheads on your face is just one good reason to use apple cider vinegar, there are much more reasons to wash your face with apple cider vinegar.
Witch hazel
Use witch hazel to help to get rid of acne and remove whiteheads from around your nose and chin. Witch hazel is effective in helping to treat acne because it cleans out bacteria from clogged pores and reduces inflammation.
The Journal of Inflammation stated that the tannins in witch hazel make it a natural astringent and it also contains antioxidant properties. Because of this, witch hazel is an effective topical acne treatment. It also helps to kill off harmful bacteria from the skin.4
All you have to do to help reduce the appearance of whiteheads is to dab some witch hazel on your nose and chin with a cotton ball. Use witch hazel as part of your daily skincare routine to keep your skin clean and prevent any more outbreaks of whiteheads and blackheads.
You can also add some witch hazel to the apple cider vinegar recipe to help clear up your skin. Or you can boost its antibacterial properties by adding some essential oils.
Essential oils
Many essential oils contain antibacterial and anti-inflammatory properties that can help you get rid of whiteheads faster. When using essential oils on your skin, you should remember to always add them to a carrier oil. This prevents the powerful compounds of the essential oils damaging the barrier on your skin. Some of the best carrier oils are coconut oil, jojoba oil, almond oil, rosehip oil, and castor oil.
Here are some of the best essential oils for getting rid of whiteheads:
Tea tree oil is great for skin complaints and has been well documented for its antibacterial and anti-inflammatory properties. For example, the journal Clinical Microbiology Reviews stated that tea tree oil efficiently kills off a number of bacterial strains that cause skin infections. It also helps to reduce swelling, redness, and inflammation on the skin.5 In fact, one study showed that tea tree oil was as effective as a popular anti-acne topical medication.6
For more information, please check out my article about the best ways to use tea tree oil to cure acne naturally.
Lavender essential oil is similar to tea tree oil in that it is a powerful antibacterial ingredient for eliminating whiteheads. Information published in the journal Phytotherapy Research showed that lavender oil is effective for destroying harmful skin bacteria.7
Did you know that lavender oil is also one of the essential oils that can help prevent acne scars?
Lemon oil can help to cleanse your skin and also remove any bacterial infections which can cause whiteheads. Studies have shown that lemon oil has antioxidant properties that can help destroy free radicals and keep your skin looking great.8
Other great essential oils for acne are rosemary, geranium, frankincense, and oregano. You can find out more information in my article about treating acne using essential oils. There you can also discover some practical recipes you can make at home for facial oil cleansing.
How to use essential oils to get rid of whiteheads
To use essential oils for removing whiteheads, you only need a small amount in a carrier oil. Add 2-3 drops of tea tree oil to 1 tbsp. carrier oil. Using a cotton ball, cleanse the area around your nose and chin and leave for about 30 minutes. Rinse off with warm water. Repeat daily until you no longer have any whiteheads or blackheads on your skin.
Using essential oils will help to cleanse your skin from acne-causing bacteria.
Oil cleansing method
For healthy, great looking skin you can use good quality oils to rejuvenate and cleanse your skin. Although it may seem contradictory to put oil on your acne-prone skin, oils actually help to nourish your skin and can reduce the production of sebum. The oil cleansing method for getting rid of whiteheads is better for your skin than using harsh commercial facial cleansers which can irritate your skin and cause acne breakouts.
Many natural oils also contain properties which are needed to get rid of pimples, whiteheads, and blackheads.
For your oil cleansing routine to get rid of whiteheads, here are some of the best oils to use:
Castor oil is one of my top oils for healthy skin because it can help to deeply cleanse the skin. You can use castor in an oil cleansing facial. Because it is quite thick, you can mix it with jojoba oil.
Jojoba oil helps to balance oil levels on the skin because it is very close to the structure of sebum. Jojoba oil is also antibacterial and can help to reduce the bacteria on your skin that causes acne and whiteheads.
Here is how to cleanse your face with oil and reduce outbreaks of whiteheads:
Mix equal amounts of castor oil and jojoba oil.
Put a generous amount of the mixture on your hand and massage it into your face.
Soak a washcloth in hot water and wring out excess water.
Place the cloth on your face to allow the pores to open.
Leave the cloth until it cools.
Gently remove the oil from your face with some clean tissues.
Repeat the oil cleansing method 1-2 times a week until you no longer have whiteheads or blackheads on your nose, cheeks, or chin.
Alternatively, you can use coconut oil in your facial oil cleansing routine. Instead of using castor oil and jojoba oil, replace them with raw, organic coconut oil. Find out about the many reasons why you should use coconut oil for acne.
Clay facial mask for whiteheads
Clay can help to dry out excess oil from pores and help reduce the appearance of small bumps caused by whiteheads. When you combine clay with jojoba oil, you can make your own effective face mask for pimples.
A study in 2012 found that a mixture of clay and jojoba oil was effective in treating outbreaks of acne. The acne sufferers found that when the mask was applied 2-3 times a week, they saw a significant reduction in their acne symptoms.9
To make a face mask to combat whiteheads, you will need bentonite, white, or green clay. Here is how to make the facial mask:
Mix a small amount of clay some and jojoba oil and make a paste.
Apply to your nose, chin, cheeks, forehead and other skin areas susceptible to whiteheads and leave for 15 minutes.
Gently rinse off with warm water.
Apply a small amount of jojoba oil or coconut oil to moisturize the skin.
Apply the anti-whiteheads face mask 2-3 times a week to keep the pores on your skin unclogged and free from bacteria. You should notice that after a few weeks, the number of whiteheads on your face will have greatly reduced.
If you would like to know more about how clay masks can help to get great looking skin, please read my article on how clay masks can help to detox your skin.
Other Natural Remedies for Whiteheads on Nose and Chin
There are many other natural remedies that you can use to remove whiteheads from your face. You can try these if some other remedies aren't as effective for you.
Sulfur
Apply some sulfur ointment to your nose, chin or cheeks to get rid of whiteheads. Studies into the effects of sulfur on the skin have shown that it can help to treat many forms of acne and other skin conditions.10
Aloe vera
Aloe vera is great for keeping your skin healthy and free of blemishes such as whiteheads. This is because it helps to remove harmful bacteria from the outer layer of the skin and soothes inflamed skin. Aloe vera can also help to prevent acne scars forming because it boosts the skin's collagen production.
Studies have shown that aloe vera has an anti-acne effect on the skin and can be used on its own or you can add a few drops of tea tree oil to boost its antibacterial properties.11  Aloe vera is also a great home remedy to get rid of pimples in the nose.
Read these related articles:
Article Sources