12 DIY Face Masks for Blackheads and Tightening Pores (Including Peel Off Masks)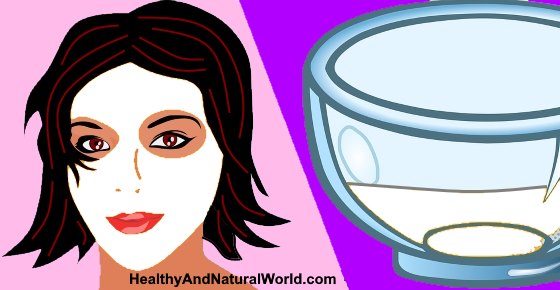 Advertisement
DIY face masks for blackheads are very easy to make and they are effective at tightening pores, helping you get skin free from blemishes. The best homemade face masks to get rid of blackheads contain ingredients that help remove bacteria, excess sebum, and exfoliate dead skin cells. Blackhead peel off masks also help to unclog pores and give your skin a firmer look and a clearer complexion.
Common places where blackheads appear on your face are around your nose, forehead, cheeks, and chin. These small black spots can give your skin a darker look that may even appear dirty. Blackheads can occur with other signs of acne like whiteheads and pimples. Using homemade face masks for blackhead removal will also help get rid of other types of acne pimples.
Effective face masks for pore cleansing should contain ingredients that have astringent, antiseptic, and skin-nourishing properties. Face masks for blackheads should include natural ingredients such as witch hazel, tea tree oil, activated charcoal, and cucumber juice to clear your skin of blackheads. Homemade blackhead peel off masks usually contain egg white or gelatin to extract blackheads and clean your pores deep down.
In this article, I will look at the best DIY face masks for blackheads removal and for tightening pores. You will also find recipes for easy peel-off blackhead face masks to help give you blemish-free skin. So, if you have ever wondered how to make your own peel off mask for blackheads, you will find plenty of ideas here.
What are Blackheads?
Blackheads appear when pores become clogged with sebum, which is the protective oil the skin produces. The clogged sebum in the pores reacts with oxygen in the air which turns the oil to a dark color – a process called oxidation.
According to MedicineNet, the medical name for clogged pores that turn black is open comedones. Sebum, dead skin cells, and bacteria block pores causing them to become larger. The black color is not dirt but clogged sebum and bacteria that has turned black due to oxidation with the air.1
Blackheads generally affect the facial area, back, and you can even get blackheads in your ear.
The difference between whiteheads and blackheads are that whiteheads are closed comedones and the sebum doesn't oxidize with the air.
What Causes Blackheads?
Blackheads are a type of acne that can affect youth and adults of any age. Dr. Gary Cole on MedicineNet explains that there are many factors that can cause blackheads to appear. The most common reason is high secretions of sebum that block up pores on the cheeks, nose, forehead, and other areas of the face.2
However, there are other reasons why you may notice blackheads appearing on your face. For example, Dr. Cole says that sun damage can affect the skin's elasticity causing more blackheads to appear in those areas. Also, medications, hair and skin products, or certain pollutants can cause skin pores to become clogged and blackheads to appear.
The Best Kinds of DIY Face Masks for Blackhead Removal
You can make your own DIY face masks to help extract and prevent blackheads from returning. The best kind of homemade blackhead removal face masks should help to tighten pores, improve the skin's elasticity, nourish, and moisturize your skin.
Here are some of the best homemade face masks for blackheads and for shrinking pores.
1. Activated Charcoal and Gelatin Blackhead Removal Peel-Off Mask
This DIY blackhead face mask uses activated charcoal to help absorb impurities from your skin and also reduce the number of acne-causing bacteria.
According to research published in the journal I&EC Research, activated charcoal has antibacterial and adsorption characteristics. In tests on the skin, charcoal was effective in eliminating various Staph. strains of bacteria. The adsorption properties of charcoal help impurities in pores adhere to the charcoal mask.3
Gelatin is added to this blackhead peel-off mask to help form a solidified mask that is easy to peel off. Studies have also shown that gelatin helps to restore elasticity to the skin and boosts collagen in the skin,4 all of which are essential for healthy-looking skin that is pimple free.
How to make a DIY peel-off face mask with activated charcoal:
Natural ingredients you will need:
1 tbsp. unflavored gelatin powder
2 activated charcoal capsules
Tea tree oil (optional)
Directions:
Put the unflavored gelatin in a small heatproof glass bowl and add 2 tablespoons pure water.
Place the bowl in a larger bowl that is filled with hot water.
Stir the gelatin vigorously until the mixture starts to thicken (make sure that the hot water doesn't get into the gelatin mixture).
When the mixture starts to thicken, open the 2 charcoal capsules and empty the contents into the DIY face mask mixture.
Add 2 drops of tea tree oil and mix well.
Leave the mixture until it is warm.
Using clean fingers, apply the warm face mask to your nose, cheeks, or forehead where you have blackheads. (Remember to avoid the areas around your eyes or mouth).
Leave for 10 minutes to allow the charcoal face mask absorb bacteria and skin impurities.
Gently peel off the charcoal DIY blackhead mask to remove the black plugs from your pores.
Rinse your face and apply your favorite natural moisturizer to keep your skin well moisturized.
To help keep your blackheads under control, use the charcoal homemade face mask twice a week.
2. Egg White DIY Peel-Off Mask for Blackheads
This peel-off face mask contains egg white that helps blackheads disappear fast by drawing out excess sebum from blocked pores and tighten the skin. This is a very simple and cost-effective way to remove blackheads from your cheeks, nose, or forehead.
How to make your own blackhead peel-off mask with egg whites:
Natural ingredients you will need:
One egg
Some tissue paper
Directions:
Separate the egg white from the egg yolk and put the egg white in a small bowl.
Beat the egg white until it is frothy to help the mask stick to your face.
Use a makeup brush to apply the egg white to the areas on your face where you want to remove blackheads.
Put a single layer of tissue paper on your face and "paint" on more of the egg white mixture. Cover with a second layer of tissue paper and top coat with egg white.
Leave the egg white mask to solidify and become hard.
Carefully peel off the face mask to extract the blackheads.
Repeat 2 times a week for best results and keep your skin blackhead-free.
You can get more ideas about using egg white in my article about 7 effective egg white face masks for various skin issues. You don't need to throw the egg yolks away – please read my article on how to use egg yolks to get beautiful shiny hair.
3. Homemade Clay Mask for Tightening Pores
One way to make sure that you eliminate blackheads from your face for good is to use a DIY clay mask to tighten pores. Clay is a wonderful natural product to help get rid of excess sebum and balance oily skin.
A study published in 2012 found that clay masks with jojoba oil were effective for treating both non-inflammatory acne and inflammatory acne. The clay mask helped to reduce the number of comedones and improve skin appearance.5
Some types of clay you can use for blackhead face masks are bentonite clay, green clay, white clay (kaolin), and Fuller's earth.
To make a face mask for acne and blackheads, this is what you should do:
Use 2 tablespoons of your favorite clay and mix with enough water to form a thick paste.
Apply the DIY mask to your forehead, nose, cheeks, and chin where blackheads tend to appear.
Leave to dry (should take about 20 minutes).
Rinse your face with cool water to remove the clay and impurities from your skin.
Apply the clay mask once or twice a week to prevent blackheads forming.
4. Baking Soda DIY Blackhead Removal Mask
Baking soda helps to tighten skin's pores and also destroy bacteria that can result in blackheads and acne pimples. The grainy texture of baking soda means that you can use it both as a DIY face mask for blackheads and as a natural exfoliator to unclog pores.
Research carried out in 1997 found that baking soda has antibacterial properties against various strains of bacteria.6
How to make a homemade baking soda face mask for blackheads:
Natural ingredients you will need:
2 tbsp. baking soda
1 tsp. lemon juice
Water
Directions:
In a bowl, mix the baking soda, lemon juice, and water to form a thick paste.
Apply the baking soda to your face using gentle circular motions to remove dead skin cells.
Leave for 10 minutes to allow the baking soda to kill off the acne-causing bacteria.
Rinse with warm water, dry your face, and apply a natural moisturizer.
5. Homemade Honey Face Mask for Blackheads and Acne
To help eliminate blackheads from your face and prevent them from returning, you can use a homemade mask with honey. Raw, natural honey contains many nourishing nutrients that help to keep your skin looking and feeling great.
According to the Journal of Microbiology, Immunology, and Infection, honey has broad-spectrum antibacterial properties that can be beneficial to treat skin conditions like acne. It can help reduce redness in inflamed pimples and help speed up the healing process.7
Honey face mask recipe for blackheads:
Natural ingredients you will need:
1 tbsp. raw honey
1 tbsp. organic plain yogurt
1 egg white
Directions:
Mix the raw honey, yogurt, and egg white in a bowl (adjust the proportions to get a paste that will stick to your face).
Apply to your face.
Leave for 20-30 minutes to kill off acne-causing germs and help improve your complexion.
Rinse off with warm water.
For more ideas on how to use honey to get gorgeous looking skin, please see my article on the top 10 natural honey face masks for all skin types.
6. Lemon Juice and Oatmeal Face Scrub for Blackheads and Tightening Pores
Lemon juice has natural astringent properties and can be used as a natural remedy to help shrink pores and remove blackheads from your problematic areas. Lemon juice also has the ability to lighten skin and even skin tone.
A study published in the British Journal of Pharmacology and Toxicology found that lemons have both astringent properties and antibacterial activity. Researchers stated that lemon juice can help to keep skin free of infection and help maintain healthy-looking skin.8
Studies into the effects of oatmeal on your skin have found that oatmeal also has anti-inflammatory properties and can help get rid of the signs of acne.9
How to make a DIY lemon juice face mask to shrink pores:
Natural ingredients you will need:
2 egg whites
Juice of ½ lemon
Some ground oatmeal
Directions:
Whisk the 2 egg whites and add the lemon juice.
Fold in enough ground oatmeal to make a paste.
Apply to your face using circular motions to help gently exfoliate your skin and unclog pores.
Leave on your skin until it dries.
Rinse off with warm water.
For best results when it comes to blackhead removal and prevention, use twice a week.
7. Tea Tree Oil Face Mask
Tea tree oil is a natural remedy for combating blackheads and other symptoms of acne due to its antimicrobial properties. Adding a few drops of tea tree oil to any DIY blackhead mask can help to boost its effectiveness in combating and preventing blackheads and controlling oily skin.
The Medical Journal of Australia reported that tea tree oil can help remove various forms of acne. Researchers found that a 5% topical application of tea tree oil was just as effective as benzoylperoxide in treating acne pimples and spots.10
How to make a tea tree oil face mask for whiteheads and blackheads:
This tea tree oil blackhead mask incorporates aloe vera for its many benefits in nourishing and protecting the skin.
Natural ingredients you will need:
A few drops tea tree oil
2-3 tsp. aloe vera gel
Directions:
Mix together the aloe vera gel and 2-3 drops tea tree oil in a small bowl.
Apply the DIY face mask to areas on your face where blackheads are a problem.
Leave for 10 to 15 minutes to help kill off bacteria and impurities on your skin.
Rinse with warm water and dry.
Repeat twice a week to help prevent blackheads on your nose, cheeks, chin, or forehead and rejuvenate your skin.
Other essential oils that treat acne include lavender oil, lemon oil, eucalyptus oil, chamomile oil, and bergamot oil.
8. Apple Cider Vinegar DIY Blackhead Removal Mask
The natural antiseptic and cleansing properties of raw apple cider vinegar (ACV) make this a great remedy for blackheads and other forms of acne. I've already written about the many benefits of ACV for the skin in my article on why you should wash your face with ACV which include reducing age spots, removing excess oil from the skin and unclogging pores.
In my article on why apple cider vinegar is good for acne, you can read about 5 scientifically-based reasons to use ACV to fight acne. The 5 reasons are:
Apple cider vinegar kills off bacteria that cause acne
It is a natural peeler to remove dead skin cells
Balances pH levels of the skin
Reduces inflammation
Helps to reduce scarring
There are many ways to use apple cider vinegar on your face, but here is one way to make your own pore cleansing mask for blackheads.
Natural ingredients you will need:
1 tsp. raw apple cider vinegar
2 tsp. green tea
1 tsp. raw honey
Directions:
Mix the honey, apple cider vinegar, and green tea in a bowl to form a smooth mask.
Use clean fingers to apply the blackhead face mask to your problem areas.
Leave for 10 minutes to help dissolve the blackheads and tighten pores.
Rinse with warm water and apply a natural moisturizer.
Repeat 2-3 times a week to help keep your skin blemish free without unsightly blackheads.
9. Homemade Cucumber Juice Face Mask
Cucumber juice is a great natural ingredient to remove blackheads from sensitive skin. Cucumber has natural cooling properties and can help to give your skin a fresher look.
The reason that cucumber juice is great for removing blackheads naturally is that it also acts as an astringent to shrink pores. Research has also shown that cucumber extracts help to reduce the amount of sebum the skin produces. This means that there is less chance that blackheads will form. In fact, researchers have found that cucumber extracts have an anti-acne effect.11
How to make a simple DIY face mask for blackheads:
Extract the juice from one fresh cucumber.
Use a cotton ball to apply the fresh cucumber juice to your skin to cleanse it and remove bacteria.
Leave for 15 minutes to help rejuvenate your skin before rinsing off with cold water.
Repeat every 2 or 3 days to help keep your facial skin free from blackheads.
10. Yogurt and Turmeric Face Mask
Make a blackhead-busting DIY face mask using a combination of turmeric and yogurt. Turmeric has many properties that make it beneficial for skin care. For example, its anti-inflammatory properties help to even out skin tone naturally.
A review of the effects of turmeric on skin health found that it can help address a number of skin issues. The journal Phytotherapy Research reported that a topical application of turmeric (curcumin) can naturally treat acne outbreaks, dermatitis, psoriasis, and reduce skin itching.12
How to make a DIY face mask to eliminate blackheads:
Natural ingredients you will need:
1 tsp. turmeric
1 tsp. natural yogurt
1 tsp. raw honey
Directions:
Mix the turmeric, honey, and yogurt in a bowl until you get a thick paste (adjust the ingredients as necessary).
Cleanse your face and apply the turmeric face mask evenly on your face.
Let the mask dry for about 20 minutes.
Wash off with cool water.
Other optional ingredients you can add to the mask are a few drops of lemon juice and a few drops of tea tree oil.
Remember that turmeric will dye fabrics and clothing a yellow color, so take precautions to prevent dripping.
11. Homemade Witch Hazel Face Mask
Witch hazel is an excellent natural astringent with skin cleansing properties that will quickly remove blackheads from your face. Applying witch hazel to your face can help to tighten pores and make them look smaller.
A study published in the Journal of Inflammation reported that witch hazel is a natural anti-acne treatment. Witch hazel also helps to boost collagen in skin cells and destroy free radicals that can damage the skin.13
How to make a witch hazel DIY mask at home:
This homemade face mask includes avocado oil for its skin-nourishing properties.
Natural ingredients you will need:
1 tsp. witch hazel
2-3 drops tea tree oil
1 tsp. raw honey
1 tsp. avocado oil
Directions:
Thoroughly mix all the ingredients in a bowl.
Apply the mask to your forehead, nose, chin, and cheeks.
Leave for 15 minutes to nourish your skin and destroy any bacteria and germs on your skin.
Rinse off with warm water and pat your skin dry.
12. Homemade Sugar Scrub
This DIY face mask for eliminating blackheads incorporates many effective ingredients that will rejuvenate your skin. The ingredients in this mask help to even out skin tone, unclog sebum from pores, and tightens pores.
The sugar scrub is a natural exfoliator to remove dead skin and unblock pores naturally. The grainy texture of sugar helps to remove excess sebum and loosen dirt that can lead to acne. The natural scrub for acne also uses tea tree oil for its antimicrobial properties and lemon juice to help peel off dead skin cells.
How to make your homemade blackhead face mask:
Natural ingredients you will need:
1/4 cup of brown sugar
Juice from 1/2 a lemon
1 tbsp. raw honey
2-3 drops tea tree oil
Directions:
Thoroughly mix all the ingredients in a bowl. Adjust the quantities so that the scrub is thick.
Gently massage onto your face for 2-3 minutes.
Leave on your face for 10-15 minutes to help boost the health of your facial skin.
Rinse off with warm water.
Use 2 times a week to say goodbye to blackheads for good.
Skin Gritting for Blackheads Removal – What is it?
Skin gritting is another way for blackhead removal that gained a recent popularity. It is a three step process that combines oil cleansing with a clay mask to remove grits – blackheads, excess dirt, oil, and dead cells that accumulate around the pores.
Oil cleansing – what is it?
Oil cleansing uses a specific combinations of natural oils to clean and balance your skin. It is usually used for your face and can be combined with gentle steaming.
Advocates of the oil cleansing say that as strange as it might sound, when you apply natural oils to your skin, the skin actually becomes less oily. Unlike commercial soaps and facial cleaners, natural oils don't destroy the skin's innate protection mechanisms, but promote self-healing and cleaning. When applying many commercial skin care products, they aggressively strip the oil (sebum) out of your skin. In turn, your skin tries to over-compensate for the loss and produces even more oil, making your skin look greasy. As a result, you use even more of the drying products, creating a vicious cycle.
People who use the oil cleansing method follow one of chemistry's basic principles: like dissolves like and oil dissolves oil. If you use the right oils, you will help remove the dirty oils and cleanse your pores of dirt and bacteria.
In my article on how to rejuvenate your skin using oil cleansing you can find detailed instructions including a video on how to do this technique at home. This information will help you to perform the skin gritting method for blackheads removal.
Skin gritting to extract blackheads
Gritting blackheads involves massaging the skin with oil which gently removes dirt, then applying a clay mask to further draw out all the dirt from within the pores to the skin surface, and then massaging the skin a second time with oil to remove dead skin cells and for a greater cleanse of the pores.
The important thing is to remember not to overly scrub your skin, which can be too aggressive for your skin, causing more harm than good.
You can try the blackheads gritting methods once or twice a week to see if it works for you in your battle against blackheads.
Read my other related articles:
Medical Sources