Sunspots on Skin: Causes, Home Remedies and Prevention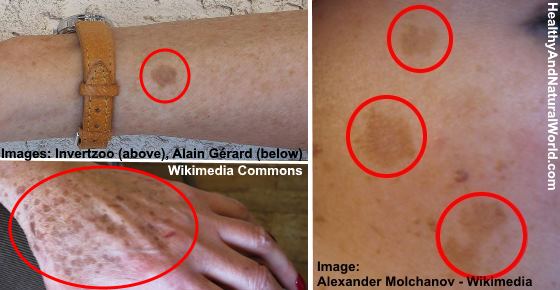 Advertisement
Aging causes many changes to the skin, and the appearance of sunspots on the skin is just one of these changes. Sunspots are changes in the skin's pigmentation and generally occur on areas of the skin that has been exposed to the sun. Therefore, sunspots on the face, back of the hands, arms, and shoulders are very common among older people.
For many people, patches of uneven skin tone caused by the sun are unsightly marks or blemishes on the skin. Therefore, you may want to know how to get rid of sunspots naturally without using harsh treatments. Some natural remedies that help to reduce the appearance of sunspots include lemon juice or apple cider vinegar which contain compounds found in many commercially available skin-lightening products.
Because both commercial and natural treatments for sunspots take patience and perseverance to work, preventing sunspots is essential. You can help prevent sunspots by using a high SPF sunscreen or covering exposed areas of skin when you are in the sun. This will also help prevent skin damage that could lead to skin cancer or signs of premature aging.
In this article, you will learn about what exactly causes sunspots on your skin and how to tell sun spots apart from freckles. The article also examines various natural home remedies to treat sunspots on your face, hands, or arms.
What are Sunspots on Skin?
Sunspots on the skin are medically referred to as solar lentigines. They are usually caused by exposure to the sun and appear as darkened patches of skin. Many people refer to skin sunspots as "liver spots" from the mistaken view that they are caused by liver malfunction. However, according to Dr. David Swanson on MedlinePlus, sunspots have nothing to do with your liver health.1 Some people call sunspots "old age spots," "age spots," or "senile freckle."
Sunspots can look like large freckles and come in various shades and sizes. Consultant dermatologist, Dr. Bob Chan says that solar lentigines or sunspots are harmless and may range in color from light tan to dark brown or even black skin spots. Sunspots also vary in size – some can be as small as a few millimeters or be as large as several centimeters in diameter and may feel like a slightly raised bump on the skin.2 
Most dermatologists say that sunspots generally appear when a person is over 40 years old and they mostly affect fair-skinned people, although they are also not uncommon in darker-skinned people. Common places where sunspots appear are on your face, forehead, back of your hands, and shoulders. If you have a bald head, then sunspots may show up on your scalp.
What Causes Sunspots on Skin and Face?
The small dark sunspots on your skin are the result of ultraviolet light from the sun's rays causing changes in the skin's pigmentation. According to doctors from the Mayo Clinic, prolonged sun exposure is to blame for the majority of sunspots on the face and other areas of the body. Tanning beds can also cause sunspots on your body.3
Aging also plays a role in the appearance of sunspots because aging skin can't repair the damage to the skin, and melanin (the dark pigment that gives skin its color) clumps together to form patches of light to dark brown-colored skin.
Sunspots on Skin vs. Freckles
Even though sunspots on the skin look like large freckles and are the result of pigmentation, there are differences between sunspots and freckles.
For example, freckles are very common in red-haired people and appear in childhood. According to Dr. Amanda Oakly from DermNet New Zealand, freckles are generally an inherited condition whereas sunspots are not.4
Although both freckles and sunspots are made darker by the sun, Dr. Oakly also says that freckles are not caused by sun damage but are a natural skin characteristic in many light-skinned people. Sunspots, on the other hand, are caused by sun damage and can be prevented. Also freckles are more prominent in summer but fade considerably or disappear in winter whereas sunspots tend to persist for long periods and don't disappear in the winter (although they may fade).
Another way to tell sunspots apart from freckles is when they appear. Freckles tend to fade with age and become less noticeable, however, the number of sunspots increases with age.
How to Get Rid of Sunspots on Skin Naturally
There are many home remedies that may help to get rid of sunspots over time. Of course, if you are concerned about a new patch of dark skin appearing on your body, you should visit a dermatologist to get the dark skin lesion checked out.
Just like commercially available products, using home remedies for treating sunspots require persistence and patience to naturally lighten your skin tone. For example, doctors from the Cleveland Clinic say that it is necessary to apply sunspot treatment regularly "over the course of several weeks or months" to achieve noticeable results.5
Here are some of the best natural sunspot treatments that are backed up by scientific research.
Lemon juice for sunspots
Lemon juice is a common natural treatment for getting rid of age spots because it helps to lighten skin tone. Lemon juice is rich in vitamin C which boosts your skin's health and the citric acid content helps to treat uneven skin tone.
For example, the International Journal of Molecular Sciences reports that lemon extracts are powerful skin lightening agents.6 Dr. Susan Evans on WebMD says that lemon juice can be used to lighten patches of dark skin and is generally safe to use.7
The skin-lightening potential of lemon juice is due to high levels of citric acid. According to the U.S. Food & Drug Administration, citric acid is an alpha hydroxy acid that is commonly used in skin peeling products to help improve skin tone and condition.8
How to use lemon juice for sunspots:
To create a homemade skin lighting treatment to help reduce the appearance of sunspots using lemon juice, this is what you should do:
Squeeze some lemon juice in a bowl and dip a cotton ball in the liquid.
Apply the remedy to the sunspots and leave for 10-15 minutes to help lighten the darkened patch of skin.
Rinse off and apply your favorite natural moisturizer.
Use in the morning and evening and continue applying the lemon juice remedy until the sunspot fades.
Using a moisturizer after applying lemon juice to get rid of sunspots on your face is important because its acidic content can dry out your skin.
Apple cider vinegar for sunspots on face
Apple cider vinegar (ACV) may help to remove sunspots from your face, hands, and shoulders. Like lemon juice, the acidic content of apple cider vinegar acts as a natural skin peeling agent to lighten uneven skin tone and improve the appearance of skin. In fact, apple cider vinegar can be used as a natural facial toner to keep your skin looking healthy and cleansed.
Apple cider vinegar contains acetic acid. Research into the effects of acetic acid on skin tone has shown that it can help lighten skin pigmentation. The International Journal of Molecular Sciences reported that acetic acid is an alpha hydroxy acid (AHA) and can improve skin color and tone. When applied to pigmented areas of skin for 6 weeks, there was a noticeable decrease in melanin levels in the skin.9
How to use apple cider vinegar for sunspots on face:
To use apple cider vinegar to remove sunspots from your face, hands, or other pigmented areas of your body, these are the steps to follow:
Dilute equal amounts of raw, unprocessed apple cider vinegar with water.
Using a cotton ball, apply the solution to the sunspots and leave for around 5 minutes.
Rinse off and apply a natural moisturizer.
Use 2 times a day until you see improvement in your skin tone and the age spots start to fade.
When using apple cider vinegar to get rid of sunspots from your face, you may have to dilute it in more water at the start and test on a small area of skin. When your facial skin gradually gets used to the apple cider skin treatment, you can increase the proportions and leave on your skin for longer than 5-10 minutes.
You can also use apple cider vinegar to get rid of skin tags naturally or apply apple cider vinegar to your skin to treat outbreaks of acne.
Turmeric
Turmeric has skin-lightening properties that can help fade sunspots and other hyperpigmentation patches of skin. The health and skin benefits of turmeric are due to the compound curcumin that gives the herb its distinct color and flavor. As well as helping to lighten dark skin spots, curcumin has anti-inflammatory and antibacterial benefits for your skin.
Research carried out in 2012 showed the potential of turmeric to lighten skin tone and improve the appearance of dark skin patches. Researchers found that compounds in turmeric help to suppress melanin in skin cells and can be useful in products designed to lighten the skin.10
How to use turmeric for sunspots:
To make a topical turmeric paste to lighten sunspots and help them fade, this is what you should do:
In a bowl, combine 1 teaspoon turmeric, 1 teaspoon raw honey, and some natural yogurt to make a paste.
Wash the area of skin where you have sunspots.
Apply the turmeric sunspot remedy to the sunspots and leave for 20 minutes.
Rinse off and pat your skin dry.
Use every 2-3 days to help even the tone of your skin and reduce the appearance of sunspots.
Please remember that turmeric will easily stain fabric and clothes, so make sure and prevent the turmeric paste dripping onto any fabric.
You can add more ingredients to this basic turmeric face mask recipe as I've mentioned in my article "Turmeric Face Mask Recipe for Glowing Skin, Acne, Rosacea, Eczema and Dark Circles".
Aloe vera
Aloe vera has many beneficial skin applications and applying aloe vera gel to sunspots daily can help them fade or disappear. Aloe vera is usually applied to the skin to treat the effects of sunburn, irritation, or reduce the appearance of scars naturally. If you have sunspots, you should regularly apply aloe vera to help sunspots gradually fade.
Studies into the medicinal properties of aloe vera have shown that it can help treat hyper-pigmentation issues in the skin. Researchers have found that a compound in aloe vera extracts has the potential to lighten darkened patches of skin that are caused by melanin and can help "depigment" skin.11
How to use aloe vera on sunspots on skin:
The easiest way to use aloe vera is to buy aloe vera gel that has as few added ingredients as possible. If you have an aloe vera plant at home, you can just squeeze some of the gel from a leaf. This is how to apply aloe vera to make sunspots fade:
Gently massage a little aloe vera gel into the sunspot until it is completely absorbed by the skin. You can leave it on the skin without rinsing it.
Repeat the aloe vera skin treatment 2-3 times a day.
Continue using until you see an improvement in the tone of your skin and sunspots start to fade.
You can also use aloe vera as a great natural moisturizer to keep your skin healthy and well-nourished. Aloe vera is also gentle enough to treat blistered skin and help to naturally heal skin damaged by burning.
Milk / Yogurt
Believe it or not, some dairy products like milk or yogurt are excellent for helping sunspots fade and improving skin tone. Milk and yogurt contain lactic acid which has been used for centuries to keep skin looking beautiful.
According to studies into the benefits of applying milk to your skin, researchers have found that the lactic acid in dairy products help to even out skin tone. Tests showed that applying treatments containing milk helped to lighten pigmentation patches and visibly lighten the skin.12
How to use milk for lightening sunspots:
You can easily make a paste to treat sunspots by combining milk powder and milk. Here is the method:
Make a thick paste by mixing a little milk with 1 teaspoon of milk powder.
Apply the paste to sunspots on your face or back of your hands and leave for 20 minutes.
Rinse off and pat your skin dry.
Apply the skin mask every 2 days to help get rid of skin sunspots for good.
How to use yogurt for sunspots:
If you have sunspots on your forehead, cheeks, or other areas of your face, then a yogurt mask will not only help lighten the pigmented areas but also keep your skin looking youthful. This is what you should do:
Mix a tablespoon of plain yogurt with a little water so that it has a consistency of a paste (but not too runny).
Lay down and apply the yogurt mixture over your face and relax for 20-30 minutes.
Rinse off and pat your face dry.
Use the mask 2-3 times a week to help improve your skin tone and remove sunspots.
Black tea
Black tea bags make great mini-compresses to help treat the look of uneven skin tone that has sunspots. Black tea contains many beneficial properties that help to cleanse your skin and improve its appearance. The antioxidants and astringents contained in black tea will keep your skin healthy and toned.
The Journal of Veterinary Science published research in 2015 into the use of black tea to lighten skin. Researchers found that in clinical trials, black tea extracts can induce depigmentation on human skin without negative side effects. The study concluded that the properties of black tea have the potential to be used to lighten pigmented skin.13
How to use black tea for sunspot removal:
It is very easy to use black tea to help gradually fade age spots and get a better even skin tone. This is what you should do:
Put a black tea bag into a boiling cup of water and let it infuse for a minute to release the compounds.
Remove the tea bag and allow to cool.
Hold the tea bag directly on the sunspots for a few minutes, then remove and allow the tea liquid to dry on your skin.
Rinse off and pat dry.
Repeat the process 2 times a day to help improve your skin tone and reduce the appearance of sunspots.
Rosehip extract
Another natural ingredient that helps get rid of sunspots on your skin and boosts your skin health at the same time is rosehip. Rosehip is rich in vitamin C and helps to remove free radicals from your skin that are associated with aging and blotchy skin tone.
Interestingly, some studies into the effects of rosehip on pigmented skin show that it can be effective when taken orally as well as applied topically. For example, a study from 2011 found that extracts from rose hips had a skin-lightening effect when taken orally.14
Vitamin C
Vitamin C has the ability to lighten sunspots and is a component in many skin lightening products. For example, the Indian Dermatology Online Journal reported that vitamin C interacts with enzymes in the skin and inhibits melanin formation in skin cells. However, vitamin C is an unstable compound and is difficult to deliver into the dermis. The study pointed out that the best kind of skin products for treating hyper-pigmented, uneven skin should contain both vitamin C and vitamin E.15
Licorice cream
Licorice is a natural ingredient that is used in natural products to lighten skin tone and remove sunspots. Licorice creams can also be used to treat skin conditions like eczema and psoriasis.
According to a dermatology journal, licorice has compounds that help to inhibit the skin's production of melanin. Licorice creams containing 20% licorice extracts have been shown to help to reduce dark skin spots in 4 weeks.16
Other Ways to Remove Sunspots on Face
Even though many natural ingredients help to lessen the appearance of sunspots and achieve even skin tone, some people prefer to try commercial products that are promoted as skin lightening agents. Here are a few that some dermatologists recommend:
Hydroquinone preparations. Researchers from the Cleveland Clinic say that hydroquinone preparations can be bought over the counter and can help sunspots fade over time. These are some of the most popular non-prescription home treatments for sunspots. However, some people report that these can cause skin irritation,5 and concerns have been raised in regards to its potential for carcinogenicity.20
Chemical peels. There are some chemical peels that help to remove the outer layer of skin and can gradually help to lighten sunspots. Doctors from the Mayo Clinic say that chemical peels may require several treatments to remove the dark pigmented patches of skin.17
Freezing. Dermatologists can also freeze areas of skin affected by sunspots to destroy the extra pigments. When the skin heals it will have a lighter appearance, although there is a risk of temporary irritation or light scarring.17
Laser and IPL treatments.  Laser and intense pulsed light (IPL) therapies destroy melanin-producing cells (melanocytes) and typically require a few sessions. 3
Doctors from the National Health Service say that some of the side effects of skin-lightening treatments like chemical peels, hydroquinone preparations, and laser treatments are skin irritation, bruising, and skin scarring. In some cases, laser treatment can even turn the sunspot even darker.18
How to Prevent Sunspots on Skin
Because sunspots can take a long time to remove when using commercial products or natural home remedies, it is best to prevent sunspots on your skin.
One of the best ways to prevent sunspots on your face, hands, shoulders, and arms is to prevent the sun's rays getting to your skin. The American Society for Dermatologic Surgery recommends using a broad-spectrum sunscreen on exposed areas of skin.19
Wearing a wide-brimmed hat on sunny days can help to prevent sunspots on your face and neck without having to put on sunscreen.
It is also known that smokers are at most risk for developing sunspots. So, to prevent and treat sunspots successfully, you should stop smoking. You will not just save yourself from unsightly sunspots on various parts of your body, but you will reduce your risk of getting lung cancer.
Sunspots on Skin – When to See a Doctor
Sunspots are harmless pigmented skin patches. However, they can also look similar to some forms of skin cancer. Therefore, if you notice changes in the appearance of your sunspots or you notice new darkened patches of skin appearing, you should speak to a dermatologist about it.
Doctors from the Mayo Clinic say that some of the warning signs of skin cancer to look out for are the following:3
Dark skin spots that increase in size.
The darkened blotch on your skin has an irregular border.
You can notice uneven colors in the pigmented spot.
The dark spot is itchy, bleeds, or is tender to touch.
Read my other related articles:
Article Sources