How to Use Saw Palmetto to Stop Hair Loss and Promote Hair Growth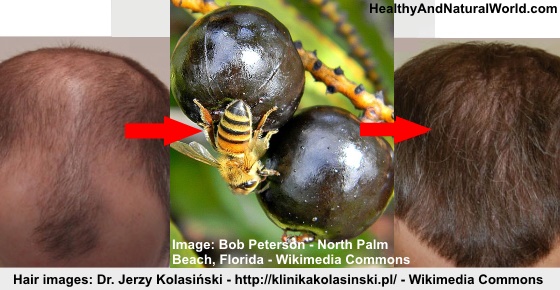 Advertisement
Hair loss is an issue that many people, both male and female, experience at some point during their lives. Many people turn to natural or herbal remedies to slow down hair loss or even encourage hair growth.
And indeed I introduced in the past several methods to treat hair loss using castor oil, onion juice, garlic and rosemary. In this article I would like to introduce you to another treatment for hair loss using saw palmetto.
What is Saw Palmetto?
Saw palmetto is a plant that looks like a miniature palm tree, but produces berry fruit instead of coconuts or dates. Some studies have shown that saw palmetto is useful in treating benign prostatic hyperplasia (BPH) thanks to the plant fatty acids, sterols and flavonoids it contains, and the sugars (called polysaccharides) contained within its berries can be useful as an anti-inflammatory and immune system booster.
Animal research has shown that saw palmetto was able to halt the growth and progression of prostate cancer cells, and it may also be useful for treating urinary tract infections, thyroid problems, boosting libido and respiratory issues.
How Saw Palmetto can Help with Hair loss
Saw palmetto has been used in folk medicine for a variety of purposes for some time, and in recent years has begun to be studied empirically.
One of the key ingredients in saw palmetto berries acts as an inhibitor for the body's production of DHT, a chemical associated with prostate enlargement and with testosterone-related hair loss. By blocking the production of DHT, saw palmetto berry extract can also help with blocking hormone-related hair loss (also called androgenetic alopecia or AGA).
Saw Palmetto for Hair Loss – the Research
A 2002 double-blind and placebo-controlled study which was published in the Journal of Alternative and Complementary Medicine showed that 60% of the people receiving saw palmetto extract in the study responded positively to the treatment.1
Men with moderate cases of male pattern baldness were given a saw palmetto oral supplement to take twice daily for a few months. They were asked to rate their balding patterns before and after the study, sixty percent reported that their condition improved.
Further research performed by Indian researcher Sundaram Murugusundram and published in 2009 in the Journal of Cutaneous and Aesthetic Surgery found that topical application of saw palmetto extract in lotion and shampoo base for three months led to 35% increase in hair density.2
How to Use Saw Palmetto for Hair Loss
If you are interested in using saw palmetto to treat your own hair loss, it's important to know the best way to go about it.
Saw Palmetto Dosage for Hair Growth
Although saw palmetto can be brewed into a tasty tea, the likelihood of it helping with hair loss is minimal, as the key ingredients that work on hair loss are not soluble in water. Liquid extracts and whole berries could also be used (either taken internally or applied topically), but the research into the efficacy of whole saw palmetto berry and liquid saw palmetto extract is limited.
Thus, capsules and tablets containing saw palmetto extract are the best bet for using this plant's power to treat alopecia. The recommended adult dosage is between 160 milligrams and 200 milligrams per dose, taken twice daily. Many formulations can be purchased online (like this one) or in brick-and-mortar health food or nutritional supplement stores.
Saw palmetto treatment isn't an instantaneous cure-all. Allow for at least two months of daily use for results to appear. Within 60 days, you should be able to see whether hair loss has lessened and whether the thickness of existing hair has improved. Full results should be seen within six months to a year after beginning treatment.
Saw palmetto may be more effective when combined with other botanical treatments and natural remedies. Check out my articles on how rosemary, onion, garlic and castor oil can be used to halt hair loss and promote hair growth.
Possible side Effects of Saw Palmetto
As with all remedies both natural and synthetic, it's important to consider possible side effects and drug interactions before using saw palmetto to treat your hair loss. Side effects of saw palmetto usage may include:
Headache
Upset stomach
Diarrhea
Feeling dizzy
Increased bleeding
Interference with iron absorption—not appropriate for anemic people
In very rare cases, saw palmetto may also damage the liver or pancreas, so please do not exceed dosage recommendations and always consult with your doctor before taking any new supplement.
Saw palmetto has the potential to interact with finasteride, which is the drug used in both Proscar (used for treating enlarged prostate) and Propecia (used to treat alopecia). If you are taking finasteride, you are not advised to take saw palmetto simultaneously without first asking your prescribing doctor about it.
Because saw palmetto can increase bleeding and thin the blood, people who use an aspirin regimen (or other blood-thinning regimen) should avoid using this treatment for hair loss. If you are scheduled for surgery, you need to stop using saw palmetto for two or more weeks before and after surgery to ensure that excessive bleeding during surgery doesn't happen.
Because saw palmetto can affect hormonal receptors, people using hormonal therapies such as hormone replacement therapy or hormonal birth control methods should not use saw palmetto as a hair loss treatment.
Women who are pregnant or breastfeeding should not use saw palmetto for hair loss until after weaning.
Other Natural Remedies for Hair Loss
As I mentioned previously, you can increase the effectiveness of saw palmetto by combining it with other natural ingredients that can promote hair growth:
– You can use rosemary to treat hair loss and promote hair growth – follow the instructions in my article on how to use rosemary for treating hair loss.
– Castor oil can be beneficial for hair growth – find out how to use castor oil to improve and regrow your hair.
– Onion can be used as a natural remedy for growing hair – learn how to use onion to regrow your hair.
– You can use garlic to encourage hair growth – how to use garlic to promote hair growth
Make sure you are also aware of the common causes of hair loss: 10 Causes of Hair Loss and How to Treat Them
Resources: