How to Use Rosemary for Treating Hair Loss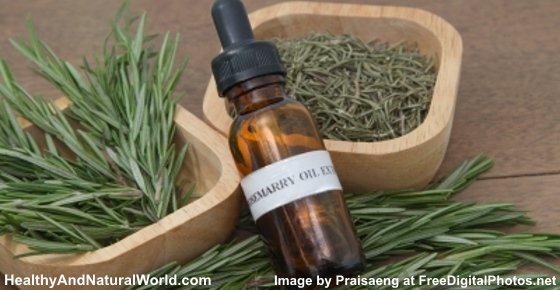 Advertisement
We all desire healthy and lush hair, so hair loss or progressive thinning of the hair can affect us quite badly. Hair loss (alopecia) is more common in men, and can be a result of many factors but according to a research rosemary can be used effectively for treating alopecia.
Alopecia – Common Causes
Alopecia can be caused by several factors such as: genetic factors, hormonal imbalance, skin conditions, thyroid problems, nutritional deficiencies, chronic stress, harsh dyes, side effects of certain medications as well as other causes (you can read more about it in my article about 10 causes of hair loss in women).
So it is therefore important to treat the underlying cause of the hair loss and not just the symptom itself. There is also natural hair loss which often occurs due to aging process when the hair follicles begin to shrink and produce thinner hair with a shorter life span.
Rosemary Oil for Treating Hair Loss – The Research
A randomized controlled trial tested 100 men with androgenetic alopecia – male pattern baldness. In the trial, 50 of the men were treated with 2% topical minoxidil which is a synthetic drug used to stimulate hair growth. The other 50 men were treated with rosemary oil.
The men in both groups were tested with hair count analysis which is the most objective measure of treatment for baldness.
After three months, neither of the groups showed any significant increase in hair counts.
But when tested at six months, the researchers found that both treatments significantly increased the overall hair counts among the men.
This means that rosemary oil is as effective as minoxidil – but safer. The researchers found adverse effects such as scalp itching – significantly more frequent among the minoxidil group. But it's important to mention that scalp itching was found among the rosemary group as well.
If you have sensitive skin you may not tolerate rosemary oil as well as others but this may be resolved by simply diluting the oil with a carrier oil.
How to Use Rosemary for Promoting Hair Growth
Although it's not clear how rosemary works for hair loss, applying it to the scalp increases blood circulation. So how can you use rosemary to stimulate hair growth? Here are several options:
1. Daily Shampooing
For nourishing your hair on a daily basis add rosemary essential oil to your shampoo or conditioner. Use 10-12 drops of oil for every ounce of shampoo or conditioner.
Alternatively you can use the herb itself. Place approximately 1 qt. of distilled water in a large saucepan. Bring the water to a boil and stir 1-2 large handfuls of dried rosemary leaves into the boiling water (if you use fresh rosemary you need to double the amount of herb as dried herb is more concentrated).
Turn off the heat and allow the rosemary to steep in the water for at least 5 hours. Pour the rosemary infusion into a dark-colored glass jar and store it in your refrigerator. Use the rosemary infusion to make basic rosemary shampoo by mixing 1/4 cup of the infusion with 1 cup of liquid Castile soap.
2. Daily Massage
For a daily massage to stimulate new growth, add 3-4 drops of rosemary oil to one tablespoon of carrier oil such as jojoba oil. Rub into the scalp for a few minutes and leave for at least 30 minutes. You can also combine it with peppermint essential oil (which can also promote hair growth).
3. Hot Oil Treatment Once or Twice a Week
Once a week use a hot oil treatment for your hair and scalp. Mix a few tablespoons of a carrier oil (such as coconut oil) and a few drops of rosemary essential oil (about 3-4 drops of rosemary oil to one tablespoon of carrier oil) in a small glass jar that can be sealed. Place the jar in a bowl of hot water until the oil is warm.
Gradually massage the entire amount using your fingertips into your dry scalp for several minutes. Make sure to apply a little blend down the length of your hair until the ends. Wrap your hair with plastic wrap or plastic shower cap, and then cover it with a very warm damp towel.
Replace with another warm towel once the first one has cooled. Leave the blend for at least 30-45. You can stay with it overnight, and if you do this, remove the plastic wrap and sleep with a dry towel on your pillow to absorb the oil. Then rinse and lightly shampoo your hair with a chemical free shampoo. Follow with conditioner if you want.
Other Natural Remedies for Hair Loss
– Castor oil can be beneficial for hair growth – find out how to use castor oil to improve and regrow your hair.
– According to a research, garlic can help to regrow hair – learn how to use garlic to regrow your hair.
– Onion can be used as a natural remedy for growing hair – learn how to use onion to regrow your hair.
– Peppermint was found to have noticeable hair growth effects according to a research – how to use peppermint essential oil for hair growth.
– Studies reveal: this natural ingredient can stop hair loss and regrow hair.
If you are interested to learn more about essential oils you can find useful information in my e-book Magical Aromatherapy which will help you to discover the power of essential oils and the most effective ways to use them.
There is another way to regrow you hair using one natural ingredient: