The Best Essential Oils & Carrier Oils To Combat Wrinkles Naturally + Recipes (Research Based)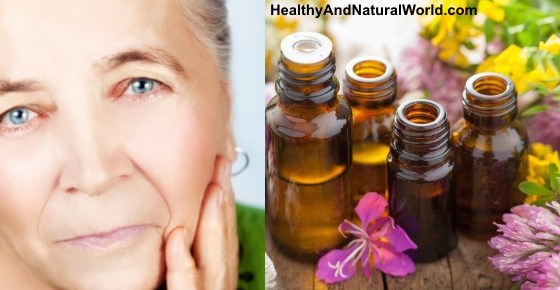 Advertisement
Essential oils are great natural ingredients to include in skin treatments to banish wrinkles and reduce the appearance of aging. Using essential oils in homemade anti-wrinkle skin treatments help to firm your skin, keep it well-moisturized, and boost the skin's production of collagen. Many essential oils also have antioxidant properties that help rid your skin of free radicals to reduce the visible signs of aging and sun damage.
One of the benefits of using essential oils as part of your anti-aging skin care regime is that they are relatively cheap in comparison to many other commercial creams and easy to use.
Most essential oils are too concentrated to be used directly on the skin. To make your own anti-wrinkle treatments, essential oils are diluted with carrier oils. Carrier oils like sweet almond oil, jojoba oil, grapeseed oil, and coconut oil help to keep the skin moist and supple to regenerate your skin. Many natural oils are also anti-inflammatory in nature and the fatty acid content helps to improve the skin's elasticity.
In this article, you will learn about the best anti-aging essential oils for skin care. You will also find great, easy to use recipes to combine essential oils with carrier oils to help treat aging skin and reduce the appearance of wrinkles naturally. First, let's look at the reasons why essential oils can help to give your skin a firmer appearance.
How Essential Oils Combat Aging Skin
One of the best reasons to include essential oils as part of your anti-wrinkle skin care is that they have antioxidant properties. The journal Ethnicity & Disease reported that many essential oils have free radical scavenging activity. Therefore, essential oils can help prevent and reduce the oxidative damage caused by pollution, the sun, and other harmful substances.1
Many natural oils also do a great job of helping the skin retain its moisture. For example, olive oil, avocado oil, and coconut oil all have a great moisturizing effect on the skin. The journal Dermatitis reported that, for example, coconut oil is an effective and safe moisturizer and can help treat various skin conditions.2
Another important factor in naturally slowing down the signs of aging is to maintain the skin's elasticity in postmenopausal women. The journal Clinical Interventions in Aging reported that Argan oil has an anti-aging effect on the skin. The study showed that applying Argan oil topically helped to increase collagen and elastic fibers in the skin.3
Why Does the Skin Wrinkle with Age?
As we age, various factors combine which result in the visible signs of aging like wrinkles around the eyes and mouth, or saggy, wrinkly skin on your hands.
One of the main reasons that wrinkles appear with age is the drop in collagen production. Collagen helps to give your skin its elasticity and a youthful appearance. According to the Dartmouth Undergraduate Journal of Science, our bodies no longer produce collagen when we pass our forties. This results in skin that has a saggy appearance with wrinkles and fine lines.4
The journal Dermato-Endocrinology reported that among the processes that contribute to skin aging are a loss of elasticity, damage by the harmful sun's UV rays, slower wound healing, reduction in collagen production, and a slowing down of cell growth in the epidermis.5
To make effective anti-aging creams, moisturizers, and serums, you should include natural ingredients that form a protective skin barrier. The journal Dermato-Endocrinology recommended using products that contain antioxidants, moisturizing agents, and anti-inflammatory compounds in skin treatments to slow the aging process. This helps to encourage new cell growth, improve skin tone and firmness, boost skin elasticity, and minimize the appearance of fine lines and wrinkles.5
The Best Essential Oils for Wrinkles
Lemon essential oil
Lemon essential oil is a great essential oil for preventing wrinkles around the eyes and mouth. Lemon oil contains large amounts of vitamin C which is a natural antioxidant that destroys free radicals from the skin, thus reducing the appearance of fine lines, wrinkles, and crepey skin.
Studies into the therapeutic effect of lemon oil have shown its effectiveness in skin care treatments. For example, a study from 1999 showed that lemon oil has strong antioxidant activity and can prevent the symptoms of oxidative stress on the skin. The researchers concluded that lemon oil is an effective anti-aging skincare ingredient.6
Lemon oil is also an effective oil to help reduce the appearance of scars naturally.
Sandalwood oil
Another essential oil that is excellent for mature skin is sandalwood essential oil. Extracts from sandalwood have great moisturizing properties and can help smooth skin that shows signs of aging.
The European Journal of Cancer Prevention published a study showing the anti-inflammatory effect of sandalwood oil on the skin. The researchers found that sandalwood oil helped to reduce the number of papillomas and could have a use in protecting against skin cancer.7
Clary sage essential oil for wrinkles
You can add clary sage oil to anti-aging skin treatments to help get rid of fine lines and wrinkles on your face and around the eyes. Clary sage is a popular essential oil to combine with other oils to heal skin wounds, prevent infections, and moisturize the skin.
According to research published in the journal Advances in Dermatology and Allergology, clary sage is effective for anti-aging skin preparations because of its antimicrobial and antioxidant properties.8
Frankincense for aging skin
Frankincense essential oil helps to promote the growth of new cells, keep your skin elastic and firm and also helps reducing age spots.
The benefits of frankincense to help slow down the signs of aging were outlined in the journal BMC Complementary & Alternative Medicine. Studies have shown that frankincense helps to boost the skin's elasticity and prevent skin aging. Frankincense can help you firm up the skin on your face and hands if you regularly use it as part of your anti-aging skincare.9
It's not just aging skin that frankincense can help combat. It is a great ingredient to reduce the symptoms of eczema and other inflammatory skin conditions.
Carrot seed oil
Carrot seed oil contains beneficial compounds that can help smooth your skin and repair damage to the epidermis. Carrot oil is rich in flavonoids which have an antioxidant and anti-inflammatory effect on irritated skin.
The journal Pharmacognosy Review published a report on how various plants can be used to protect the skin from the signs of sun damage, premature aging, and free radical activity. Researchers have found that carrot oil contains apigenin and luteolin which have anti-inflammatory activity.10
Lavender oil to combat wrinkles
One excellent way you can rejuvenate your skin to reduce the appearance of aging and wrinkles is to add lavender oil to your skin cream. Lavender oil is well-known for its soothing properties and can help to soothe tired-looking skin.
Thanks to its antioxidant properties, lavender oil is a great essential oil to combats wrinkles. The journal Psychiatry Research reported that the free radical scavenging activity helps to reduce the effects of oxidative stress.11
In fact, even inhaling lavender oil can help reduce wrinkles and the signs of aging by reducing psychological and emotional stress. This can have a positive effect in your battle against aging skin and wrinkles.
For example, the journal Inflammation & Allergy Drug Targets found that stress and premature skin aging are connected. Researchers found that chronic stress increases inflammatory responses which can increase the appearance of wrinkles and fine lines.12
Lack of sleep is also a factor in skin aging, and you can read my article on how lavender can help treat insomnia and sleep deprivation.
Geranium oil
Geranium essential oil is commonly used in skin care products for its antibacterial properties and pleasant aroma. Geranium oil can also help to smooth out wrinkles on your skin and give your skin a firmer look.
In a scientific review about essential oils used in aromatherapy, it was reported that geranium oil is a common ingredient in anti-aging cosmetics for its therapeutic effect on aging skin.13
Patchouli oil
To help prevent premature skin aging because of the sun's rays, you can protect your skin by adding patchouli oil to your natural anti-wrinkle cream. Among the many beneficial skin benefits of patchouli oil are its antioxidant and anti-inflammatory properties. In addition, it also protects the skin from bacterial and viral infections.
Clinical studies into the protective effect of patchouli oil have found that it can prevent photoaging. Photoaging describes the effect that the sun has on making the skin show more fine lines and wrinkles. The researchers found that patchouli oil helped keep the skin firmer and prevented premature skin aging.14
Myrrh oil
Myrrh oil has been used for centuries to help keep skin free of infection and promote healing. One of the benefits of using myrrh for skin aging treatments is its ability to reduce inflammation.
The journal Biomedical Papers reported that myrrh oil was used since Bible times as a medicine and wound dressing. It was first described in the Chinese medical literature and is used today in Chinese medicine to treat wounds and relieve painful swelling. In more recent times myrrh extracts have found to contain a potent antiseptic effect and can help reduce tissue inflammation when applied topically.15
Ylang ylang
Help rejuvenate your skin and help make it look more youthful by adding ylang-ylang to your homemade anti-wrinkle cream. Ylang ylang essential oil helps to smooth away wrinkles and fine lines on your face and around your mouth thanks to its antioxidant properties that protect skin cells.
Scientists know that premature skin aging is often caused by free radicals damaging the skin. Extracts from ylang-ylang contain powerful antioxidants that effectively kill off skin-damaging free radicals. This also helps prevent premature aging caused by overexposure to the sun's UV rays and the effects of pollution.16
Rose essential oil for younger looking skin
Rose essential oil is one of the best essential oils for dry skin and for boosting your skin's elasticity. Rose oil helps keep your skin moist and is great to use as a moisturizer on your face or hands.
However, rose essential oil doesn't just lock moisture into aging skin, but it actively encourages new cell growth. For example, the Iranian Journal of Basic Medical Sciences reported that rose oil contains free-radical scavengers, protects the skin from the effects of oxidation, and reduces inflammation.17
Another reason for using rose oil in anti-aging skin solutions is that it has a pleasant fragrance and its aroma also has an antidepressant effect.
Pomegranate seed oil
Another essential oil that is anti-aging and helps to reduce wrinkles on your face and around the eyes is pomegranate seed oil. Pomegranate seed oil encourages new skin growth and helps to reduce wrinkles and other signs of skin aging. The benefits of pomegranate oil in reducing wrinkles are thanks to its antioxidant activities.
A study in the journal Advanced Biomedical Research reported that pomegranate oil can protect the skin from DNA damage and slow down the effects of skin aging. Other studies have shown that pomegranate oil also has a preventative effect against certain skin cancers and can help to boost skin health.18
The same report also said that pomegranate seed oil can help reduce high blood pressure, lower cholesterol levels, and protect against cardiovascular disease.
Rosemary oil
Use rosemary oil together with other anti-wrinkle essential oils in your skin care regime. Rosemary essential oil is a great essential oil for wrinkles and can help to give your skin a firmer appearance.
Rosemary is a great essential oil for wrinkles that also has many uses in cosmetic dermatology. The International Journal of Tissue Reactions published a study into the effect of rosemary extracts on slowing down the signs of aging. Researchers found that rosemary essential oil has antioxidant compounds and inhibit oxidative damage to skin cells.19
The Best Carrier Oils for Wrinkles
To get the full benefit to your skin from anti-aging essential oils, you should dilute them in carrier oils. Many carrier oils also have antioxidant activities that can help prevent the appearance of the signs of skin aging. Natural oils also provide deep skin moisturization to nourish and protect your skin from further damage.
Grapeseed oil
One of the most popular oils to use as a skin rejuvenator is grapeseed oil because it is relatively inexpensive. Grapeseed oil contains many fatty acids and vitamins that nourish your skin cells and regenerate your skin.
Grapeseed oil contains compounds that protect DNA cells from damage. The journal Pharmacognosy Review said that the antioxidant effect of grapeseed oil was as potent as vitamin E. Regular application of grapeseed oil can help repair skin that has been damaged by free radicals.10
Apricot kernel oil
The nourishing and antioxidant properties of apricot kernel oil make this a great natural oil for wrinkles. The anti-aging effect of apricot kernel oil is due to its high content of fatty acids and vitamin E.
Research into the beneficial effects of apricot kernel oil on the skin found that the oleic and linoleic acids help make this an effective skin treatment. The study concluded that topical formulas contain apricot kernel oil can be used as moisturizing creams for dry skin.20
Sweet almond oil
You can use sweet almond to combat skin aging because it delivers essential nutrients to help nourish aging skin. Using sweet almond oil together with anti-aging essential oils helps the skin retain its moisture and tightens skin to reduce wrinkles.
According to the journal Complementary Therapies in Clinical Practice, almond oil helps to smooth fine lines and rejuvenate skin. Its chemical composition means that it's an effective emollient and will improve complexion and skin tone.21
Avocado oil
Some of the amazing uses of avocado oil include using it as a base for anti-wrinkle recipes. Avocado oil is used to treat many skin conditions like psoriasis and to improve the appearance of the skin.
A study from 2013 showed the benefit of avocado oil in treating wrinkles and aging skin. Researchers found that the fatty acid content in avocado oil boosted the density of collagen and reduced inflammation in skin cells. This helped wounds to heal quicker and reduced the appearance of scars.22
Rosehip seed oil
One way to reverse skin aging and have a healthier complexion is to use rosehip seed oil. Rosehip oil helps boost collagen in the skin due to its high vitamin C content. Rosehip oil also contains vitamin A which gives the skin a smoother look which tightens the skin and reduces the signs of aging.
Many of the benefits for the skin from using rosehip seed oil come from its high levels of vitamin C. The journal Pharmacognosy Review reported that rosehip is an herb that provides skin protection from the damaging effect of free radicals. Applying rosehip extract helps tone the skin and slows down other signs of aging.10
Other studies into rosehip seed oil have found that taking it orally can be useful as a skin whitening agent.23
Evening primrose oil
Evening primrose oil is high in antioxidants and is a good anti-aging oil to apply to your facial skin. Evening primrose oil is also good to treat inflammatory skin conditions like eczema and atopic dermatitis.
The Journal of Agricultural and Food Chemistry published a study showing that extracts from evening primrose are a major source of antioxidants.24 Other studies have shown that evening primrose oil moisturizes dry skin, reduces skin itching, and soothes inflammatory responses.25
Jojoba oil
One of the best anti-aging oils to moisturize your skin and give it a firmer appearance is jojoba oil. The main benefit to your skin that comes from jojoba oil is that it closely resembles sebum – the oily substance the skin produces to keep it moist. However, there is more to jojoba oil than just being a great moisturizer for mature, aging skin.
The journal Pharmacology Research found that jojoba is rich in anti-inflammatory properties.26 This can help to improve overall skin condition and make your skin appear younger and healthier.
Argan oil
Argan oil improves skin elasticity in older people and helps tighten up saggy skin. Argan oil is a skin revitalizer for aging skin by either taking it orally or applying it topically. The benefit of Argan oil for mature skin is that it helps to improve the structure of skin cells and gets rid of free radicals from the skin.
A study published in 2015 in the journal Clinical Interventions in Aging found that Argan oil has a marked anti-aging effect on the skin. The study was carried out on postmenopausal women and researchers found that Argan oil boosts skin elasticity.27
Olive oil
Olive oil is great as a natural anti-aging skin treatment to reduce the appearance of wrinkles around eyes and on the face. When combined with other essential oils for wrinkles, the results on improving skin tone and reducing fine lines are impressive.
Olive oil also helps to prevent skin damage caused by the effects of free radicals. For example, clinical trials have shown that olive oil helps to repair skin damaged by UV rays. The antioxidant effect of olive oil prevented DNA damage in skin cells.28
Vitamin E oil
Vitamin E oil is a well-known and well-studied oil for its antioxidant effects protecting the skin from damage. Applying vitamin E to the skin will also help to encourage new cell growth in older people, thus tightening skin and reducing wrinkles.
Research has discovered that topical vitamin E helps protect the skin from the damaging effects of the sun's rays.29 Other studies into the role of vitamin E in protecting your skin, show that it can help reduce the effects of damaged skin. In fact, applying vitamin E oil may also help with skin pigmentation and age spots.30 
Coconut oil
A blend of virgin coconut oil and various essential oils can have an anti-aging effect on your skin and help to give a smoother look to your skin. Coconut oil has many practical uses when it comes to skin care because of its anti-inflammatory, antimicrobial, and moisturizing effects.
A study published in the journal Skin Pharmacology and Physiology reported that the antioxidant effect of coconut oil helps wounds to heal quicker. This was because coconut oil increased the amount of collagen in the skin.31 Other studies have found that the moisturizing effect of coconut oil helps to moisturize dry skin and prevent skin infections.32
Another great way to use coconut oil for your skin is to use it as a makeup remover. This way you can use the cleansing power of this natural oil and nourish your face and cleanse it at the same time.
How to Use Essential Oils to Combat Wrinkles
Whatever you decide to do, remember some basic rules:
Dilution – To apply the oils on your face, mix a few drops of essential oil in a teaspoon of carrier oil. A good rule of thumb when making a 2% dilution (which is ideal for most adults in most situations and is a good dilution for daily skin care) is to add 12 drops of essential oil to each fl. ounce (30 ml) of carrier oil.
Skin test – Before applying the diluted oil to your face, first apply it to the back of your forearm to ensure that it does not cause any allergic reaction. This skin area is as sensitive as your face, but you can easily cover it to protect and hide it.
Apply small amounts – Essential oils are, well, oily, so you can get away with using very small amounts. It does not wash off easily, so use only what fits on your finger. Apply it to a small area of your body, and go back for more if it is not enough.
Protect your eyes – Take special care to protect your eyes from the essential oils which are very concentrated. As the worst wrinkles normally materialize below and beside your eyes, you must keep them tightly closed to prevent the oil reaching your eyes.
Anti-Wrinkle Essential Oil Blend Recipe
It is very easy to make your own anti-wrinkle essential oil blend to help tone up sagging skin and get rid of fine lines. In general, you can use one or a mixture of any of the anti-wrinkle essential oils mentioned on this page. However, because essential oils are very potent, you should stick to the recommended amounts of essential oils in the anti-wrinkle recipe below.
Here is how to make your own aging skin treatment for mature skin to reduce the appearance of aging. For the recipe, you will need:
Mix 30 ml (1 oz.) of grapeseed, sweet almond oils, jojoba oil or any other carrier oil.
4 drops of carrot seed oil
4 drops of sandalwood oil
4 drops of rose oil or lavender oil
Mix all the ingredients together and store in a small glass jar in a dark cool place. Apply a few drops to your face every evening after washing your face to help reduce fine lines and wrinkles in your face.
Of course, you can mix and match the essential oils until you find the perfect recipe to help rejuvenate your skin.
Recipe for Hydrating Anti-Wrinkle Essential Oil Mist
You can also use essential oils to get rid of wrinkles and refresh your face at the same time. For this anti-wrinkle anti-aging hydrating treatment, you will need a small spray bottle (the size that you can carry in your handbag).
To make the mist for aging skin, this is what you should do:
Fill a small spray bottle with 1 oz. water.
Mix 12 drops of your favorite anti-aging essential oils.
Before use, shake well to mix the oils and water together.
Keeping your eyes closed, spray the refreshing mist on your face a few times to keep your skin hydrated.
Do this regularly throughout the day to help combat the appearance of aging and wrinkles on your face.
The Ultimate Anti Wrinkle, Anti Aging Treatment using Essential Oil Blend
Below is one of my favorite anti-wrinkle blends which seems to have worked wonders for anyone I've shared it with.
This recipe has been taken from The Complete Book Of Essential Oils & Aromatherapy by Valerie Ann Worwood (available in Amazon here). It is my favorite book on the topic of essential oils in the world with over 600 recipes for absolutely everything. Get yourself a copy if you'd like to learn more about ways you can use essential oils. The Ultimate Anti-Wrinkle Treatment Essential Oil Blend:
    Neroli oil – 10 drops
    Lavender oil – 10 drops
    Frankincense oil – 10 drops
    Rosemary oil – 2 drops
    Fennel oil – 10 drops
    Lemon oil – 3 drops
    Carrot oil – 10 drops
    Evening primrose oil – 10 drops
Directions – Dilute in two tablespoons of sweet almond oil and massage onto your face and neck every night.
When you look at all of these ingredients you may think this recipe is very expensive, but it's not. Once you have all the bottles of essential oil you can make it up in minutes and create a huge number of batches from your one bottle.
You can get approximately 20-25 drops per 1ml of essential oil so from a regular 10ml bottle you get between 200-250 drops of oil – enough to make at least 20 batches of this anti-aging blend. Try it as an alternative to an expansive anti aging treatment.
You can find all of these essential oils on Amazon. If you'd really like to give your essential oil collection a boost then try this Essential Oil Collection. It contains some of the oils you need for this recipe (apart from neroli oil, fennel, and frankincense) and a whole host more that you can use for yourself or gift to friends.
If you are interested to learn more about essential oils you can find useful information in my e-book Magical Aromatherapy. This e-book will help you to discover the power of essential oils and the most effective ways to use them.
Oil Cleansing Method
Another great way to treat aging skin, keep it well-moisturized, and improve skin tone is by using the oil cleansing method. The oil cleansing method for mature skin uses specific oils to remove impurities from your skin and balance your skin.
In my article on how to use oil cleansing for great-looking skin, you can find specific recipes for oily skin, normal skin, and dry skin. You can also add some of your favorite essential oils for wrinkles to help regenerate your skin naturally.
Related articles:
Article Sources