How to Get Rid of Stretch Marks: The Most Effective Natural Ways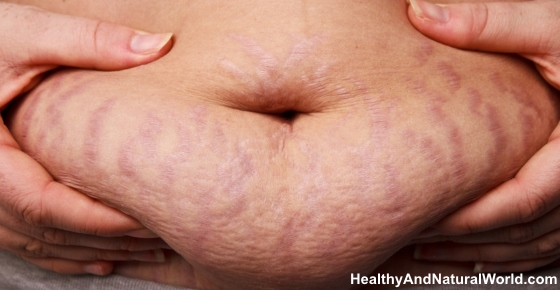 Advertisement
Stretch marks (also called striae distensae) are usually associated with pregnancy because the growing baby stretches the mom's tummy. In fact, doctors say that most pregnant women will get some form of stretch marks on their tummy, breasts, thighs, arms, or buttocks. However, stretch marks can also affect many men and also women who are not pregnant because of weight gain, rapid increase in muscle mass, or extreme weight loss which can also cause stretch marks.
Causes of Stretch Marks (Striae Distensae)
Medical studies found that Stretch mark scarring (the medical term is striae distensae) happens when the skin expands and the dermis (the middle layer of the skin) stretches so much that it breaks leaving a scar.
The first sign of a stretch mark will usually be a reddish streak visible just under the skin, which, in time, may turn purple. When the scar heals, you may be left with scars resembling white streaks and your skin may have a bumpy appearance. People with darker skin will notice that stretch marks appear as dark brown scars.
Stretch Mark Treatment
The best stretch mark treatment is to prevent them from occurring in the first place. In fact, stretch mark prevention is the only way to make sure that you have no permanent scars left under the surface of the skin.
Thankfully, there are many effective home remedies to help the skin retain its elasticity and not stretch so much that reddish or pink streaks appear on your abdomen and breasts during pregnancy. These homemade stretch mark creams and lotions moisturize the skin to keep it soft and supple so that red or purple stretch mark scars don't form in the dermis.
Other remedies for scars caused by stretched skin can help lighten the skin to get rid of old stretch marks.
The Best Natural Remedies for Stretch Marks
At the first sign that your skin is starting to stretch, you should start using these natural remedies immediately to prevent the scars and help the skin to heal faster. If you are pregnant, you can prevent stretch marks by applying the stretch mark home remedies as soon as you notice your 'bump' appearing.
1. Bitter Almond Oil
Massaging bitter almond oil is a proven natural treatment for the prevention of stretch marks in pregnancy.
A scientific study published in the journal of clinical nursing concluded that a 15-minute massage using bitter almond oil during pregnancy reduced the development of pregnancy related stretch marks (striae gravidarum).
The participants in the study were divided into three groups: pregnant women who applied bitter almond oil with massage, women who hardly applied bitter almond oil and women who were in the control group and did nothing.
The women in the group who applied the bitter almond oil with a massage had significantly less stretch marks than the women in other two groups.
2. Copaiba Oil
Copaiba essential oil is a pale-colored liquid that is distilled from the resin of Copaifera trees. Copaiba oil has a long history of use in traditional medicine in South America. However, recent research has shown that there is scientific basis for many of its traditional uses.
One study from 2017 reported that the beneficial effect of copaiba on the skin may help reduce stretch marks and scars. In fact, many commercially available stretch mark creams include copaiba extracts.
Read more about the benefits of copaiba oil in this article.
3. Aloe Vera
At the first sign that you notice reddish marks appearing on stretched skin, you should apply pure aloe vera gel to the affected area to prevent stretch marks.
Aloe vera is one of the best medicinal plants for your skin. In fact, studies have shown that aloe vera gel helps skin to heal quicker because it boosts the production of collagen in the skin. Aloe vera also contains hyaluronic acid which has been called the "fountain of youth" because of its beneficial effect in helping the skin retain its elasticity. Aloe vera also contains vitamins A, C, and E which are antioxidants and help kill off free radicals that can damage skin.1
Apply pure aloe vera gel to your stretched skin to prevent stretch marks from occurring and to heal small scars that have already appeared. Use the aloe vera remedy 2 to 3 times a day to keep your skin properly moisturized and soft.
You can also read my article about the best uses of aloe vera for great and healthy skin.
If you want to learn more about aloe vera as well as other herbs that you can use on your skin, you can find more useful information in my e-book the Herbal Remedies Guide. This guide will teach you how to treat common ailments using herbs.
4. Olive oil
Olive oil is rich in vitamin E, which neutralizes free radicals in your skin, keeping it supple and it also accelerates scar healing. In addition, olive oil has moisturizing properties that soften the skin and help to reduce the stretch marks.
You can apply olive oil directly to the affected skin area to help moisturize the skin and prevent the formation of stretch marks.
Read here more about the amazing health benefits of olive oil.
5. Coconut oil
Coconut oil is another great natural oil that can be used to get rid of stretch marks. One of the benefits of using coconut oil on the skin is that it effectively locks moisture into the skin, thus preventing the formation of scars in the skin tissue.
One study showed that coconut oil was an effective and safe way to keep the skin soft and also treat various skin conditions. Added to that, coconut oil is also antibacterial and antifungal so it can also help keep the skin clear of any infections.2
Apply coconut oil to your skin if you notice changes in your skin when it is starting to stretch, or if you see small red lines appearing under stretched skin. You should apply coconut oil 2-3 times a day to reduce the appearance of stretch marks. This will help to keep your skin soft and may help to prevent the red marks developing into larger scars.
You can also add some vitamin E oil to coconut oil to enhance its moisturizing and healing properties. You should add a few drops of vitamin E oil to 2 tablespoons of coconut oil. Apply directly over your stretch marks 2-3 times a day until you see that the stretch marks are less visible.
6. Egg white
Applying whipped up egg whites is a natural and easy treatment for stretch mark removal. Egg whites are rich in amino acids and protein which can do wonders to feed and nourish your skin.
To make an egg white treatment for stretch marks, you should do the following:
Whip up the whites of 2 eggs in a bowl until they form soft peaks.
Apply a thick layer of the egg white remedy to the stretch marks with a soft makeup brush.
Let the mixture dry completely.
Rinse off with warm water, pat dry and apply some coconut oil or olive oil to lock moisture into your skin to speed up the removal of stretch marks.
Do this 2-3 times a week to help heal stretch marks.
7. Potatoes
The juice from potatoes is rich in vitamins and minerals that can help rebuild skin cells and fade stretch marks.
Use sliced fresh potatoes on your skin as a natural remedy to prevent red scars forming under the skin. As soon as you feel that your skin is becoming stretched, you should start using potatoes to prevent the appearance of stretch marks.
To use the potato method for stretch marks, you need to slice one potato into thick slices. Rub the potato gently onto the stretch marks, making sure to thoroughly cover the entire affected area. Leave for a few minutes so that the potato juice absorbs into the skin, then rinse off with warm water. Repeat daily to make sure that stretch marks never appear on your tummy while pregnant.
8. Sugar scrub
Sugar is a natural ingredient which effectively exfoliates the skin and can help to get rid of stretch marks anywhere on your body. In fact, many people say that a sugar scrub home remedy is one of the best treatments for removing stretch marks.
The sugar exfoliation helps to loosen dead skin cells and can boost the skin's production of collagen which is important in healing scars.
To help great rid of stretch marks using the sugar scrub method, this is what you should do:
Mix together ½ cup sugar with the juice of one lemon and a teaspoon of almond oil.
Use the scrub to exfoliate the area of skin where you have stretch marks while in the shower.
Leave on the skin for 10 minutes before rinsing off.
Exfoliate your skin with the sugar scrub remedy every time you take a shower to get rid of your stretch marks.
9. Lemon juice
You can use lemon juice as an easy natural remedy to lighten scars and to fade old stretch marks. Lemon juice is a natural method to reduce the appearance of any kind of scar you have on your skin.
All you have to do to reduce the appearance of scars with lemon juice is to rub the juice of one or two lemons onto the stretch marks. Let the lemon juice dry on your skin for 10 minutes before rinsing off with warm water.
Lemon juice has many great health benefits and you can use lemon juice daily as a medicine.
10. Cocoa Butter
Cocoa butter is great for skin because it is rich in therapeutic compounds that are absorbed easily into the skin and can help to remove stretch marks and heal wounds. Using cocoa butter for stretch marks will also help your bumpy skin to feel smoother and smell great.
Studies into the benefits of cocoa butter for the skin show that it contains polyphenols which help to heal skin and rid the skin of free radicals, which can damage the outer layer of skin.
However one scientific study concluded that cocoa butter "does not appear to reduce the likelihood of developing stretch marks."
To get rid of existing stretch marks and prevent new scars from forming in the dermis, you can make a cocoa butter ointment for stretch mark removal. This is what you should do:
Mix 1/2 cup cocoa butter with 1 tbsp. wheat germ oil, 1 tsp. tea kernel oil, and 2 tsp. grated beeswax.
Place all the ingredients in a small pan and gently heat until the mixture melts.
When the mixture is liquid, pour into a sealable glass jar.
Apply the cocoa butter ointment to your stretch marks 2-3 times a day.
Repeat until your stretch marks are gone completely. It should take around 2 months to see a visible reduction in the appearance of scars.
11. Shea butter
Similar to cocoa butter, shea butter is an excellent natural remedy that could quickly heal stretch marks and reduce the appearance of scars. The fatty acid content acts as an anti-inflammatory agent and also helps to deeply moisturize uneven and bumpy skin.
A study published in the American Journal of Life Sciences showed that compounds in shea butter can help combat the visible appearance of wrinkles. The report also said that shea butter can be used directly onto affected skin to lock in moistures and reduce inflammation.3
You can combine shea butter and cocoa butter to create a rich cream for stretch marks. This home remedy can be safely used for stretch marks on your tummy, breast, thighs, or arms. Here is what you have to do:
Mix 2 tsp. shea butter, and 2 tsp. cocoa butter in a small pan and melt them.
When the two butters have melted, add 1 tsp. vitamin E oil and mix well.
Pour into a sealable glass container.
Apply the natural shea butter remedy to your stretch marks 2 times a day and every time after showering.
The shea butter stretch mark treatment can help to lighten stretch marks quickly. So, if while you are pregnant, you notice red or pink marks starting to form on your tummy, try using the shea butter remedy to get rid and prevent stretch marks.
12. Castor oil
Castor oil has many health uses and if you gently rub it directly on your stretch marks, you will see a reduction over time in the appearance of scars and bumpy skin.
All you need to do is massage some castor oil for 15 minutes onto your abdomen area where you have stretch marks. After massaging the castor oil into your skin, cover or wrap the area with a warm cloth for half an hour to let the castor oil absorb into your skin. After some time, you will notice that the discolored marks are less visible.
13. Glycolic acid
Glycolic acid is a natural chemical exfoliant found in sugar cane and grapes and can be used to help get rid of the unsightly appearance of stretch marks after pregnancy. One of the beneficial uses of glycolic acid is that it can increase collagen production and make your skin more elastic overall.
You can buy a lower concentration of glycolic acid over-the-counter (higher concentrations require dermatologist prescription). It is considered safe to put on your skin during pregnancy, but you need to take extra care to keep the treated area out of the sun.
14. Vitamin A cream
Vitamin A cream (such as retin-A or renova) can improve dramatically new stretch marks as it boosts collagen production. Vitamin A isn't the best remedy for old stretch marks, but you should notice a marked difference in the appearance of new stretch marks when using vitamin A cream.
It should be noted that vitamin A cream should not be used during pregnancy or while breastfeeding as it can cause birth defects. So, it is best to use vitamin A cream only if your stretch marks are caused by weight gain, extreme weight loss, quick muscle gain, or medications. You will also need to take extra care to keep the treated area out of the sun.
Vitamin A cream requires a prescription by your doctor or dermatologist. You should follow the instructions on the labeling for the safest use to improve your skin's appearance and get rid of stretch marks.
To find out about supplements, including vitamin A, that can help you get and maintain healthy skin, please read my article about the top 8 supplements for a gorgeous skin.
15. Essential oils
Essential oils are also a great natural remedy to keep your skin looking and feeling great. You can mix a few drops of essential oil with a tablespoon of carrier oil (such as olive oil, coconut oil, sweet almond oil, jojoba oil, etc) to make a natural lotion for the treatment and prevention of stretch marks.
Apply the homemade remedy to the stretch marks 2-3 times a day until you notice that your stretch marks are gone completely.
Some of the most useful essential oils that are commonly used for scars and stretch marks are:
Lavender
Frankincense
Geranium
Rose
Myrrh
Helichrysum
If you are interested in learning more about essential oils, you can find useful information in my e-book Magical Aromatherapy. This e-book will help you to discover the power of essential oils and the most effective ways to use them.
16. Stay Hydrated
One of the easiest and cheapest ways to prevent stretch marks is to drink plenty of water. When your skin is properly hydrated, it is softer and more supple and there is less chance of the dermis breaking down. This helps to get rid of the bumpy look that stretch marks cause on the skin.
Drinking plenty of water every day may not help to get rid of stretch marks on its own, but being well hydrated can help boost the effectiveness of the natural remedies for stretch marks mentioned in this article.
Specific instructions vary but consider drinking up to eight glasses of water daily to keep your skin hydrated and minimize the appearance of stretch marks.
Ensure that you drink plenty of water, frequently use moisturizers and avoid caffeine and sugary drinks.
Read these related articles:
1. The Best Ways to Naturally Tighten Skin After Weight Loss
2.The Best Essential Oils for Treating Cellulite
3. The Best Ways to Heal Scars Naturally
Article Sources