How to Make Anti-Inflammatory and Pain Relief Turmeric Ginger Tea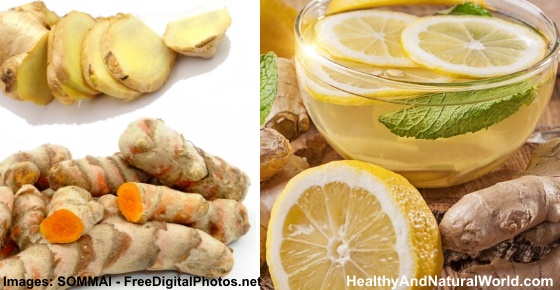 Turmeric and ginger are botanically related to each other and have both been used for centuries as spices in cooking and as medicinal herbs. These herbs are recommended for treating gastrointestinal problems, inflammatory conditions and several other conditions.
I've already written about how inflammation is created in the body and about the damage it causes. I've also mentioned that ginger and turmeric are two of the best herbs to relieve joint pain.
The strong anti-inflammatory properties of ginger are excellent for dealing with muscle and arthritic pain. Ginger contains powerful anti-inflammatory substances called gingerols. These have been tested in various research of rheumatic diseases such as osteoarthritis or rheumatoid arthritis where the participants reported a gradual reduction of pain, improving agility and movement and reduction in swelling when using ginger regularly.
The anti-inflammatory properties of ginger also promote digestion and soothe colic, relieve nausea and intestinal gas, and also used as a treatment for colds and other respiratory conditions. I have already written a detailed article on how to use ginger as a medicine for great health.
As for turmeric, studies have shown that it is more effective at easing pain than aspirin and other similar chemical medications. It is a great help in the relieving of chronic arthritis and joint pain, as well as relieve symptoms of ulcerative colitis and osteoarthritis, which are two other inflammatory conditions.
One of the active ingredients in turmeric is called curcumin, and is used in Traditional Chinese Medicine and Indian Ayurvedic medicine to treat arthritis. It is claimed that turmeric reduces arthritis joint pain, inflammation, and stiffness related to arthritis.
Turmeric also has a good effect on the digestive system and has many other health benefits.
Anti-Inflammatory Ginger Turmeric Tea Recipe
For 1 cup of water use 1 teaspoon each of fresh grated turmeric and ginger roots. If you use ground turmeric and ginger, use 1/3 teaspoon each. Add raw honey to taste and a slice of lemon if you want.
In order to increase turmeric absorption in the body (studies have revealed that turmeric has low absorption and rapid metabolism that lead to relatively low bioavailability in the body), once the tea is ready, you need to add a little bit of fat to the tea, such as a teaspoon of coconut oil or flaxseed oil for example.
Alternative option is to add a little bit (1/4-1/2 tsp.) of black pepper that contains piperine which aids the absorption of curcumin. You can read more about turmeric absorption in my previous article on how to optimize turmeric absorption for super boosted benefits.
Preparation
In a small saucepan, bring water to boil. Add fresh grated turmeric and ginger (or ground ones), reduce heat, and simmer for about 5 minutes with the lid covered. Then strain the tea and add the honey once the tea has cooled down, as well as lemon to taste. Once the tea is ready, add the coconut oil or black pepper to increase turmeric absorption.
How much and how often
There are no official dosing instructions exist for ginger and turmeric tea. You can drink 1 cup of it on days you feel extra achy.
Side effects
Although these herbs are considered safe and without significant side effects when used appropriately by adults, each may interact with certain prescription medications. For example both may not be safe if you have a bleeding disorder or take blood-thinning drugs.
You can find more information about interactions of these herbs with medications in my articles: Ginger Should Be Avoided By These People and Turmeric Should Be Avoided By These People.
It's always a good idea to talk with your doctor before deciding if one or both herbs might be useful for your situation. Also taking these herbs by mouth in medicinal amounts is likely unsafe in pregnant and breastfeeding women.
If you love herbs and are interested in herbal remedies, you can find more useful information in my e-book the Herbal Remedies Guide. This guide will teach you how to treat common ailments using herbs.
Read my other related articles: