Why Drinking Too Much Water Is Dangerous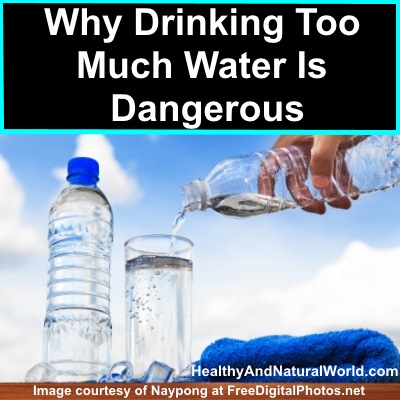 Drinking enough water can help your body circulate nutrients, flush fat, control calorie intake, balance body fluids, stimulate muscle energy, encourage healthy digestion and countless other benefits. You can read my previous articles about the benefits of flavored water for detox and weight loss, as well as the many health benefits of drinking lemon water. But drinking too much water can lead to seizures, comas, brainstem herniation and death.
So where is the middle ground here? Not enough water is deadly, but at the same time too much water can kill you. There have been multiple water chugging deaths linked to radio contests and fraternity hazing in recent years. Endurance athletes are also seen overdoing water consumption and ending up in a potentially fatal scenario.
Why Drinking Too Much Water Can be Harmful for Health
For years it's been untested knowledge that people benefit from drinking several cups of water daily. Now that people are becoming more health conscious, the dangers of over consumption are becoming more apparent. When you consume more water than your body needs, the excess can lead to an increased blood volume. This puts a strain on your circulatory system and can be dangerous if the amounts continue to rise.
You should also consider the kidneys, which have to deal with filtering all the extra water you've consumed. Contrary to what many people believe, water doesn't simply clean out the kidneys. As a matter of fact, if you drink too much, you can overload the glomeruli, which are essentially the main filters within your system.
The root of concern in water consumption when it comes to lethal potential is hyponatremia. This occurs when your bloodstream sodium levels lower to an unhealthy level. It can be  because of a personal medical condition, but excess water consumption also leads to it. At low levels the condition is harmless. If your kidneys cannot keep up with excess water intake, the extra water will dilute the concentration of sodium. As this happens, cells begin to stretch and things become potentially deadly.
Cells can normally expand with relative ease. Unfortunately the neurons in your brain cannot. Your brain cells work in an extremely confined space and have little room for swelling. If this happens from drinking too much water, it could result in a coma, seizure or even death.
Being Safe With Water Consumption
The first step in safer water consumption is identifying your risk factors for water intoxication:
People with relatively lower body masses should be wary, especially young children. With a smaller body comes a more easily diluted bloodstream.
If you play endurance sports be careful. Many people are overcautious about dehydration during marathons and guzzle as much water as possible. Consequently, it's not uncommon to see runners being sidelined with symptoms of over-hydration.
Any activities that occur in a hot environment and/or with a lot of sweating involved can increase the risk of water intoxication. When you sweat out sodium you should replace the fluids lost with something containing electrolytes to stay safe.
How You Can Identify Water Intoxication
There are several ways to identify a person with water intoxication. First and foremost, the person must obviously have been in contact with a large amount of fluid, it doesn't have to be just water.
They often experience considerable headaches and are in a state of confusion.
The ability to focus and respond to questions is often sluggish.
Depleted energy and increased irritability are also signs of water intoxication.
A victim might experience feelings of weakness and cramps and spasms in random muscles.
In serious cases there may be an induced seizure or coma.
If you or somebody you know exhibits any of the above mentioned symptoms, there are a few treatment measures that can help:
The first thing to do is restrict any future fluid consumption.
Certain diuretics can force urination if necessary.
If the symptoms are beyond mild, medical attention should be sought immediately.
There are medical instruments and procedures that are necessary for the most severe cases.
How Much Water You Should Drink
Of course the most effective way to treat water intoxication is to prevent it altogether. To do this, you can use a simple process to estimate a healthy range of daily water consumption.
First you should take into consideration your overall mass. A person that is heavier than someone else has more mass to hydrate, so they need to drink more water. A commonly recommended equation is dividing total body weight in pounds by two-thirds. For example, a person that weighs 100 pounds would need approximately 67 ounces of water each day (100x(⅔)=67).
You can make it easier to remember if you divide the number by 8 (depending on your drinkware size in ounces, here it's according to nearly 8.5 oz per glass) to find the number of glasses you should consume.
Here is a complete example:
Lets assume that your weight is 100 pounds
Multiply your weight by ⅔ and the result is 66.6 (you need to drink 66.66 ounces of water a day)
Find the number of glasses you need to drink by dividing the previous number by 8 – the result of this example is 8.3 glasses of water
Don't forget to take your activity level into consideration. People that work out on a regular basis or have a physically demanding job sweat more and require more water. The average recommendation is an additional 12 ounces of water for every half hour of physical exertion. Drinking the water during the activity is ideal, provided you don't binge a large amount without electrolytes.
Keep in mind that these numbers aren't incredibly strict. You can veer a bit from your allotted water intake if you feel thirsty. It's easy to keep yourself from consuming too much if you're mindful of water intoxication's possibility. Just remember to not go overboard with it and you'll be safe.
The importance of water is featured in my e-book about superfoods and how they can improve your health, which is part of my Natural Health Revolution Program. This program will help you to achieve your health, nutrition and weight loss goals. You may also want to use water to flush fat – as simple as it may sound, water could be the answer to your fat storage problems. Get more information in:
RELATED ARTICLES
Advertisement