The Most Ingenious Uses for Castile Soap + Soap Recipes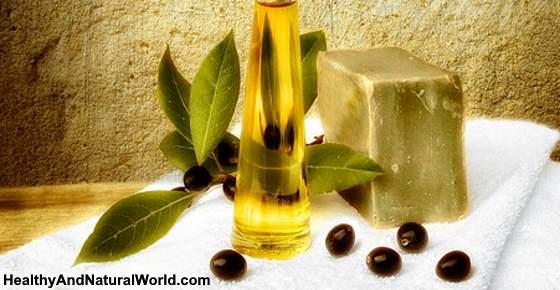 Advertisement
Castile soap (often called pure Castile soap) is soap that is made purely from vegetable oil, water and lye, a cleansing agent known as sodium hydroxide. Castile soap does not contain animal fats or synthetic detergents so it is a great option for vegans or those interested in using more plant-based options in their daily life!
Originated from the Castile region of Spain, Castile soap is traditionally made from pure and local olive oil. While olive oil is the traditional base, Castile soap can be made from other oils such as hemp, avocado, coconut, walnut, and almond.
Many soaps are made of chemical detergents, but Castile soap is entirely biodegradable and safe to use around pets and family.
What are the Benefits of Castile Soap?
No harmful chemicals – The main benefit of Castile soap is that it doesn't contain harmful chemicals – it only contains vegetable-based ingredients.
Castile soap is biodegradable – Pure-Castile soap is a genuinely ecological and simple vegetable oil based soap. It is NOT a complex blend of detergents with a higher ecological impact due to the waste stream created during manufacturing and the detergents' slower biodegradability.
Castile soap is an all purpose cleaner – You can easily clean multiple surfaces with it from fabric to fixtures. Also, because it's so easily biodegradable, it's great for not only cleaning indoors, but outdoors too. You can easily rinse away the soap without worrying about harming plants or waterways. You can find the best Castile soap recipes in the next section of this article.
Castile soap is long lasting – Castile soap is often sold in concentrated form, making it an economical option for frugal users.
There are many ways to use this natural, inexpensive and environmentally friendly soap and I have compiled my favorite Castile soap uses and recipes below.
The Best Castile Soap Uses
All Purpose Cleaning Spray
You can save money on store bought cleaners and opt for a more natural, non-toxic household cleaner – here is a simple Castile soap recipe for an all purpose natural cleaning spray:
Add a few drops of Castile soap to a wet sponge and wipe down tables, sinks, countertops, dishes and floors. Or add a few drops to a bucket of hot water and mop the floors.
For a cleansing spray, add ¼ cup of Castile soap to a quart of hot water in a spray bottle and spray down bathroom tiles, countertops, and kitchen surfaces especially after cooking.
You can also add a few drops of peppermint essential oil, lavender essential oil or tea tree oil – they have shown to have high antiseptic and antibacterial properties and they give your home a fresh scent.
Homemade Castile Soap Shampoo
If you have a sensitive scalp, try making your own shampoo with Castile soap for your hair. This shampoo is great on kids and pets with sensitivities as well.
All you need to do is mix Castile soap with water.
The ratio of Castile soap to water can differ from person to person so you may need to experiment a little bit before finding the right ratio for you. Start from a ratio of 1 tablespoon Castile soap to 1 cup water and experiment from there.
Just be aware that Castile soap is very alkaline, which means that it can quickly affect your hair's natural pH balance if you use it too much.
Here are a few ideas on how to customize your Castile soap shampoo:
You can customize your own shampoo by adding 10 drops of one (or more) of my favorite essential oils for hair to every 12 ounces (1.5 cups) of the basic mixture. This will enable you to create your own favorite scent and in addition these essential oils can also add extra health benefits to your Castile soap shampoo.
For an extra moisturizing shampoo, add a small amount of natural oils such as olive oil, jojoba oil, sweet almond oil or vitamin E oil to the above mixture and shake well.
It's important to follow with an acidic conditioning rinse. This is because Castile soap is very alkaline, so the acidic rinse (such as with lemon juice or apple cider vinegar) will help to restore the pH.
Here is how to create the acidic conditioning rinse:
In a spray bottle mix two tablespoons apple cider vinegar (ACV) with one cup water (use the same ratio if you prepare a larger quantity, something like 1/3 cup of ACV mixed with one liter of water).
Some references suggest the use of higher concentration of ACV because oily hair likes more ACV than dry hair.
Start from the lower dilution and experiment to find the dilution that works best for your hair type.
After shampooing with the Castile soap, apply the ACV rinse, massaging into your hair and scalp.
Leave for a couple of minutes. Then rinse your hair thoroughly. You don't need to use a conditioner. You can find more information about the benefits of ACV for your hair in my article on why you should wash your hair with ACV.
Antiseptic Castile Bar Soap
Here is another great use for Castile soap: a natural antiseptic Castile bar soap that you can easily make at home. This soap makes a fantastic hand and body wash because it contains tea tree and thyme essential oils, that have anti fungal and anti bacterial properties and they are also some of the best essential oils for skincare.
300 g Castile bar soap
500 ml water
5 tbsp. sweet almond oil (or olive/jojoba/avocado oil)
2 tsp. tea tree essential oil
30 drops thyme essential oil
Grate the soap into a glass bowl and add the water. Place the bowl over a pan of boiling water on a low heat (bain-marie) and stir until the soap melts. Add the almond oil, the essential oils, and mix thoroughly.
Pour the mixture into a soap mold and leave to cool and set. Once set, wrap the soap in grease-proof paper and leave to dry in a cool place.
Lavender Castile Soap Bar
2 tablespoons of fresh lavender flowers, chopped
2 tablespoons of glycerine, warmed
12 tablespoons of Castile soap, grated.
1 tablespoon of clear honey
For decoration: a ribbon and extra sprigs of lavender flowers
Preparation
Place the chopped lavender flowers in the warmed glycerine and leave to infuse in a warm place for 2 hours – this softens the flowers and allows the aroma and healing properties of lavender mix into the glycerine.
Place a heatproof bowl over a saucepan of boiling water and melt the grated soap. Remove from the heat and add the glycerine and lavender flowers mixture. Add the honey. Grease soap mold with glycerine and pour the soap. Leave to set and then remove from the mold.
If you want to give it as a gift, you can decorate the soap by wrapping a ribbon around the soap and tie on a sprig of lavender flowers.
Laundry, Hand, Body and Dish Soap
Making your own household soaps with Castile soap saves you money and exposure to harsh chemicals.
To make your own laundry soap, add 1/8 of a cup of liquid Castile soap to your clothes in place of regular laundry detergent. You can use less if your clothes aren't that dirty or if you have extra sensitive skin.
For a bubbling hand soap that leaves your hands soft and moisturized, try this recipe:
Pour the liquid coconut oil and Castile soap into a bottle. Then add the essential oils and fill the rest of the bottle up with water. Leave enough room for the pump. Screw on the top and shake well!
You can use a few drops of Castile soap on your wet sponge to clean dishes. Or try this homemade dish soap recipe for automatic dish washers:
½ cup water
3 drops tea tree oil
1 teaspoon fresh lemon juice
½ cup white vinegar
½ cup liquid Castile soap
Combine all ingredients and stir until blended. Store this mixture in a squirt liquid bottle similar to the ones you buy at the store. For a large load of dishes, use two tablespoons of the mixture.
Whether you are looking for a gentle soap for a baby or yourself, you can make your own body soap to use in the shower with this recipe:
1/2 cup liquid Castile soap
3 tablespoons raw honey
3 teaspoons of vitamin E oil or almond oil
5-10 drops of essential oil
Mix all the ingredients together in a bottle. This mixture can be used on a wet sponge or a wet washcloth.
Homemade Fruit or Vegetable Wash
It's always a good idea to buy organic produce to cut back on pesticide exposure. But even if you are buying organic, you still need to wash your vegetables. If you are trying to cut back on the amount of pesticides your family is exposed to, the last thing you want is to wash your vegetables in more chemicals.
Make your own fruit or vegetable wash by adding 1/4 – 1/2 teaspoon of Castile soap to a bowl of water and gently add the vegetables. Swish the vegetables around in the bowl or gently rub them with your hands. Wash the vegetables well to get any of the soap off.
Another option is to use this healthy and natural way to remove pesticides from fruits and vegetables.
Bug Spray
Getting rid of bugs in your home is tricky. You want an effective method for getting rid of them, but you don't want to spend a lot of money or use chemicals around your children or pets.
Castile soap is your solution! Use this Castile soap recipe to naturally repel bugs such as ants, spiders, roaches, and other creepy-crawlers:
1/2 teaspoon of liquid Castile soap
2 cups of water
10 drops of citronella essential oil
10 drops of lemongrass essential oil
Combine all ingredients in a spray bottle and shake before each use. You can also add in a few drops of peppermint essential oil to this mixture. Spiders especially hate that! Spray in the corners of areas where bugs like to hide.
You can also use other natural ways to get rid of ants, spiders, roaches, and flies.
Castile Soap for Mosquito Bites
One of the common summer nuisances is itching and scratching like mad due to mosquito bites.
Rub a little bit of Castile soap over the itchy area and leave for a few minutes until the itch goes away, or just wash the affected area with water. You can also use my previous recipe of the antiseptic Castile soap and use this soap to wash the affected area. For more ideas, read my article about the best natural ways to relieve mosquito bites.
Castile soap toothpaste
Instead of using a commercial toothpaste that can be loaded with toxic chemicals, make your own natural Castile soap toothpaste.
Here is a simple recipes for a DIY toothpaste:
Combine the ingredients in a bowl, adding coconut oil until it reaches a smooth consistency (you can adjust the amount of the coconut oil) and store in a jar.
You can use a spoon to put the mixture on your toothbrush and then it quickly melts in the mouth when you brush with it.
Another optional ingredient that you can add is ground eggshells as it might be a good ingredient to heal your cavities.
Where to Buy Castile Soap

You can buy Castile soap at your local health shop and online. The most well known brand is Dr. Bronner's Castile Soap and it is available as liquid Castile soap or as a bar of Castile soap.
Dr. Bronner's liquid Castile Soap as well as its bar soap are made using pure coconut, olive, hemp, and jojoba oils. The result is a concentrated and completely biodegradable soap that cleans gently, yet effectively, and can be used in a large number of different ways.
Read these related articles:
1. How to Use Baking Soda for Gorgeous Face and Skin
2. 8 Ingenious Ways to Use Coconut Oil on Your Hair
3. African Black Soap: Benefits, Side Effects, for Acne and More