Rosemary (Essential) Oil: Benefits and Uses for Hair, Skin and More (Science Based)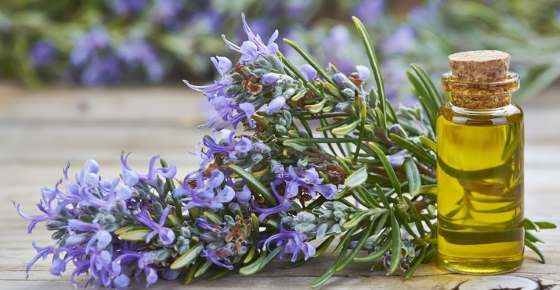 Advertisement
Rosemary essential oil is a fragrant oil that is good for improving your brain function, enhancing memory, coping with stress, and relieving pain. The pleasant aroma of rosemary oil does wonders to boost your mood and enhance feelings of calm. Rosemary essential oil can also be used topically to promote hair growth, relieve muscle pain, and improve the appearance of your skin.
Rosemary oil and rosemary extracts have been used for centuries due to their medicinal properties. Scientific research now backs up many of the therapeutic uses of rosemary essential oil. In fact, research has shown that rosemary oil contains high levels of powerful antioxidants.
In this article, you will learn about the many rosemary oil uses and benefits for your health. You will also find out practical ways to use rosemary oil for its therapeutic benefits.
What Is Rosemary?
Rosemary (botanical name Rosmarinus officinalis) is an evergreen herb that gives off a pleasant woody scent.
Rosemary grows mainly in the Mediterranean region and is used as a food flavoring, meat preserver, and for its floral aroma in fragrances.
Dried and fresh rosemary are used in culinary products and to make a refreshing rosemary tea.
What Is Rosemary Oil (Rosemary Essential Oil)?
Rosemary essential oil is made by a steam distillation process to extract the volatile oils from the leaves that contain all the health benefits.
Researchers say that the main components of rosemary essential oil are 1,8-cineole, camphor, rosmarinic acid, and alpha-terpineol. These compounds have antioxidant, antibacterial, and antitumor properties. Researchers point out that the health benefits of rosemary oil are due to a synergistic effect of all its medicinal compounds. (1)
Rosemary essential oil is a very aromatic herb, and people describe rosemary scent as piney and woody scent. Some people say that rosemary oil has a slight citrusy aroma.
In general, you should use 4-5 drops of rosemary essential oil for every tablespoon of carrier oil, or 10-12 drops for each 1 oz (30 ml) of carrier oil.
What Is Rosemary Oil Good For? (Rosemary Essential Oil Uses)
The therapeutic compounds in rosemary make rosemary essential oil a popular oil in aromatherapy.
Scientific research into the healing properties of rosemary oil has confirmed many of its traditional uses. The journal Future Science OA reports that rosemary essential oil is good for treating many of the following health conditions: (2)
Rosmarinic acid from rosemary oil has been linked to cancer treatment
Antimicrobial compounds in rosemary essential oil help kill off strains of bacteria and yeast
Rosemary's anti-inflammatory compounds help reduce swelling and joint inflammation
Antioxidant properties of rosemary help boost brain function
Sniffing rosemary essential oil has a calming effect and helps protect against depression
Rosemary oil is good for hair growth because it helps protect and stimulate hair follicles
Compounds in rosemary volatile oils have a natural analgesic effect to reduce pain naturally
Benefits of Rosemary Essential Oil
Let's look in more detail at the many rosemary oil uses and how you can use essential oil from rosemary to address many health concerns.
Rosemary Oil Promotes Good Brain Function
Rosemary essential oil has a neuro-protective effect that can help protect your brain from degenerative conditions.
A study published in the International Journal of Neuroscience reported that sniffing rosemary oil can help improve mood and brain function. After inhaling rosemary scent, scientists noted that many people performed better in memory tests. (3)
One study showed that after inhaling rosemary oil in aromatherapy, people felt more mentally active. Scientists also noted a marked increase in brain activity and improved mood in the subjects. (4)
Another study found that consuming dried rosemary leaf powder has a beneficial effect on memory function in elderly people. (5)
Studies have shown that breathing in rosemary oil aromas also helps protect cognitive function in people with Alzheimer's disease. (6)
How to use rosemary essential oil to boost mental health
Use a rosemary oil in a diffuser to help inhale rosemary scent and help support brain function and cognitive activity.
Rosemary Oil Aroma Helps to Improve Memory
Rosemary essential oil can help with memory loss because rosemary compounds inhibit brain chemicals that affect memory.
Research on the effects of rosemary on memory function says that the rosemary compound 1,8-cineole affects certain neurochemical pathways. Sniffing rosemary essential oil has a positive effect on both working memory and long-term memory. Researchers found both rosemary aromatherapy and taking rosemary extracts help boost memory. (7)
Another study found that carnosic acid from rosemary can help to improve memory and boost learning ability. (8)
How to use rosemary essential oil to improve memory
Mix 3-4 drops of rosemary oil with a tablespoon of carrier oil such as virgin olive oil or sweet almond oil. Massage onto your temples and behind your ears to help strengthen your cognitive abilities.
Find out what other herbs and foods you can take to help improve your memory and brain function.
Rosemary Oil Naturally Alleviates Stress and Anxiety
Another of the positive effects that rosemary essential oil has on your mind is that it helps resolve feelings of anxiety and stress.
One study found that sniffing rosemary essential oil increases the number of antioxidants in your body. It was found that the mind-relaxing effect of rosemary reduced levels of cortisol – the stress hormone. (9)
The stress-relieving effects of rosemary essential oil were also shown in a study involving student nurses. Inhaling rosemary essential oil helped lower anxiety and reduce pulse rates when sitting exams. (10)
Another study involving over 140 volunteers found that sniffing rosemary scent in aromatherapy helped to induce feelings of contentment and improved mood. (11)
Further reading: The Best Essential Oils For Anxiety, Stress And Depression.
How to use rosemary essential oil to reduce stress
Put a few drops of rosemary oil on a tissue and breathe deeply whenever you feel your stress levels rising.
If you suffer from chronic stress and anxiety, find out what else you can use to lower your stress levels.
Rosemary Oil Has Antimicrobial Properties
Compounds in rosemary essential oil are powerful enough to kill off many strains of bacteria. This has potential use in helping to preserve food and also keep your skin healthy.
Research published in the journal Medicines reported that rosemary essential oil is effective against bacterial strains such as Staphylococcus aureus, Salmonella choleraesuis, and Escherichia coli. (12)
Using rosemary herb in your cooking can give your food a wonderful taste and help kill off any bacteria.
Later in the article, you can learn how to use rosemary essential oil for great-looking skin.
Rosemary Oil Is Anti-Inflammatory
Another of the many rosemary essential oil uses that boosts your health is that it helps reduce inflammation.
A study involving mice found that rosemary essential oil had an anti-inflammatory effect that can lower pain and swelling. (13)
Another study involving rats found that consuming rosemary essential oil or rosemary leaf extract has an anti-inflammatory effect on the gastrointestinal tract. This has led scientists to suggest that rosemary can help manage inflammatory bowel diseases. (14) It is not advised to drink rosemary; however, researchers say that rosemary is among the herbs that are good for digestion and reducing flatulence.
Learn about more natural remedies for IBS, reducing inflammation in your gut and improving your digestion.
Rosemary Oil Is Good for Getting Rid of Headaches
Rubbing some rosemary essential oil on your temples or forehead is a good way to clear headaches and migraines.
Rosemary oil is a natural pain-reliever and the pleasant aroma can help to ease a headache. For example, researchers from South Korea found that a combination of rosemary, lavender, basil, and rose oils helped alleviate headache pain in middle-aged women. (15)
Another study found that rosemary tea helped workers cope with burnout and reduced symptoms such as headaches, tiredness, and muscle pain. (16)
How to use rosemary essential oil for headache relief
To help get rid of a headache, you could gently massage rosemary oil mixed with a carrier oil on your temples for pain relief.
Or, add 20 drops of rosemary essential oil diluted in a carrier oil to your warm bath and soak for 20 minutes to relax muscles, ease tension, and soothe away your headache.
Learn about the top causes of headache and how to get rid of a headache quicker.
Rosemary Oil Helps Soothe Muscle and Joint Pain
The anti-inflammatory properties of rosemary essential oil along with its analgesic effect means that a rosemary massage oil can help alleviate painful joints and muscles.
Researchers in 2017 reported that applying rosemary oil topically can help soothe musculoskeletal pain. The patients used the rosemary oil treatment 3 times a day and noticed pain relief after 3 days. (17)
If you are dealing with chronic pain, then research has shown that rosemary oil can increase the effectiveness of traditional painkillers. (18)
How to use rosemary essential oil to relieve pain from sore joints and muscles
Mix 4 drops of rosemary oil with a tablespoon of carrier oil such as coconut oil. Use the rosemary massage oil 3 times a day on the affected area. Continue using the rosemary essential oil mix until the pain has gone.
For more information on the best essential oils to soothe muscular pain, please see this article.
Rosemary Oil Is Good for Your Skin
Rosemary is one of the excellent essential oils for your skin because it reduces inflammation and helps keep your skin healthy.
One of the ways that rosemary oil helps protect your skin from damage is that it protects against UV-radiation damage. Rosemary oil may help reduce the visible appearance of aging and offer good skin protection. (19)
Other studies on the uses of rosemary essential oil for your skin show that the antibacterial properties help to kill off skin infections. (20)
Another study showed that rosemary essential oil can also be used for inflammatory skin conditions such as eczema. In this trial, a combination of marigold (calendula) and rosemary oil was used. (21)
How to use rosemary essential oil to keep your skin healthy
Pure rosemary essential oil is too potent to be used directly on your skin undiluted. Add 4 drops of rosemary essential oil to a tablespoon of sweet almond oil or other carrier oil. Put a few drops on your fingertips and massage the rosemary oil into your face, neck, and backs of your hands to moisturize and protect them. Avoid eye contact.
Did you know that there are many other essential oils that help combat wrinkles? Use these essential oils such as rosemary to give your skin a more youthful appearance.
Rosemary Oil May Help Treat Acne
One of the benefits of rosemary essential oil for your skin is that it has anti-acne properties.
One study into the antibacterial properties of rosemary essential oil found that it effectively kills off Propionibacterium acnes strain of bacteria. This strain of bacteria can cause pimples and acne lesions on the skin. (22)
Another study reported that rosemary oil can be used as a natural topical treatment for acne breakouts and eczema. (23)
How to use rosemary essential oil to keep your skin free from pimples
You can make a cleansing and refreshing skin toner for acne using rosemary oil. Mix 1 oz. of witch hazel with 5 drops of tea tree oil and 5 drops of rosemary essential oil. Use a cotton ball to cleanse your acne-prone skin with the rosemary skin toner.
Learn about other essential oils such as tea tree oil that can help you win your battle with acne.
Rosemary Oil Can Improve Symptoms of Asthma
Deeply inhaling rosemary essential oil can help reduce coughing, wheezing, and breathing difficulties associated with asthma.
Researchers found that the anti-inflammatory properties of rosemary were effective in preventing asthmatic symptoms. Rosemary extract helped reduce the severity of coughing, chest pain, and wheezing. (24)
One study reported that 1,8-cineole, the major compound in rosemary essential oil, has an anti-inflammatory effect on the respiratory tract and can help control asthma. (25)
How to use rosemary essential oil for asthma
Fill a bowl with hot water and add 10 drops of rosemary oil. Put a towel over your heard and inhale the rosemary aromatic vapors for 10 minutes to help soothe coughing and respiratory irritation.
Learn how to use rosemary for asthma and other respiratory conditions along with other essential oils.
Rosemary Oil Has Anticancer Properties
One of the promising uses of rosemary essential oil and its extracts is in treating various types of cancer.
The journal Nutrients reported that rosemary contains polyphenols such as carnosic acid and rosmarinic acid that have anticancer properties. Antioxidant compounds in rosemary have shown to be effective against colorectal tumors, breast cancer, prostate cancer, and ovarian cancer. (26)
Some rosemary extracts also boost the effectiveness of chemotherapy treatments. (26)
Although rosemary extracts can be useful in cancer treatment, more research needs to be done to explore ways to use rosemary to treat cancer.
Rosemary Oil for Hair
Rosemary essential oil is good for your scalp because rosemary oil can help hair regrow.
One randomized controlled trial involving 100 men showing signs of hair loss found that rosemary oil boosted hair growth. Over a 6-month period, researchers found that rosemary oil significantly increased hair count. The rosemary oil hair-growth treatment was as effective as minoxidil – a popular drug used to stimulate hair growth. (31)
How to use rosemary essential oil for hair growth
For a daily massage to stimulate new hair growth, add 4-5 drops of rosemary oil to one tablespoon of carrier oil such as jojoba oil. Rub gently into the scalp for a few minutes and leave for at least 30 minutes. You can also combine it with peppermint essential oil (which can also promote hair growth).
Further reading: How To Make Your Hair Grow Faster: The Best Natural Ways.
Other Uses of Rosemary Essential Oil
Use rosemary oil to get rid of stretch marks
Because rosemary essential oil is good for your skin, you can add rosemary essential oil to some rosehip oil. One study found that rosehip oil helped increase the skin's elasticity and prevent stretch marks from getting worse. (27)
You can use rosemary oil as an insect repellent
Rosemary is used in some commercially-available mosquito repellents. Other natural insect and mosquito repellents are citronella, peppermint oil, and lemongrass oil. (28)
Find out about other natural mosquito repellents you can use to keep yourself free from insect bites.
Rosemary essential oil acts as an insecticide
The journal Pharmaceutical biology reports that rosemary essential oil has some insecticidal activity. (29)
Some people claim that rosemary will get rid of spiders from your home. Get some great natural spider repellent recipes in this article.
Rosemary essential oil improves blood circulation
The journal Phytomedicine published a study that has found rosemary oil to improve local blood circulation and alleviate pain. (32)
This can be used, for example, in cases of Raynaud's disease where blood vessels in your fingers and toes may overreact to cold temperature, leaving them cold and with skin discoloration.
A case study published in 2018 tested the effect of massaging the hands of a woman with Raynaud's disease with a rosemary oil over 3 days and then, separately, with olive oil. The result showed significant warming of fingers after applying rosemary oil, but not after applying the olive oil. (33)
Side Effects of Rosemary Oil
Rosemary essential oil is generally safe when applied to the skin diluted with a carrier oil. Rosemary oil in aromatherapy is also well tolerated by most people.
Doctors from WebMD report that consuming undiluted rosemary oil is not recommended. There have also been reports that taking rosemary extract in large amounts could affect kidney function, cause skin reactions, vomiting and result in spotting between periods. (30)
Always dilute rosemary oil with a carrier oil, and do a spot test on your skin to make sure you don't develop any skin reactions.
Related articles: