Here is what Happens to Your Body When You Consume Soy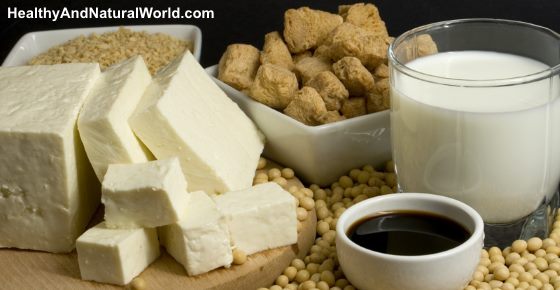 Soy is one of the largest cultivated crops in the US and used as the main protein source by most vegetarians or vegans. Many people have started eating tofu as a substitute for eggs and meat in trying to improve their health, but there seems to be a lot of confusion whether soy is good for your health or not. For decades the mainstream media has been telling us how healthy soy products are. But have those million dollar campaigns tricked us into believing something that's not true?
Well the answers is YES. Soy is not healthy. It causes major health problems and its production is destroying our planet. There are hundreds of research studies linking soy to malnutrition, allergic reactions, thyroid disorders, immune issues, digestive disorders, infertility, cancer, and heart diseases.
So if you think soy is a health food, just like I thought, then you have been the victim of smart marketing campaigns over the past years.
But What About Asian People? They Eat Tons Of Soy And Are In Good Health.
We all assume Asian people eat tons of soy, and since they are thin and in good health, soy must be the superfood the media claims it to be. Or is this just an illusion?
To be honest I have been to Asia a few times and they are not the big soy-eaters we think they are. Soy based foods are served as a condiment and never as a main meal or replacement for animal protein. And another big difference, all their soy products are fermented in contrary to what you get on your plate in the West.
Soy's History
Originally soy was an inedible plant used as a rotating crop to fix nitrogen in the soil. Ancient Asian people were aware that soy contained many toxins (such as saponines, goitrogens, hemagglutinin, oxalates, phytates, protease, estrogens, etc.), making it unsafe for consumption. Only after discovering that soy's toxins could be neutralized through fermentation they started to use fermented soy products in small amounts for cooking.
The soy industry made massive investments in marketing campaigns, and that's how unfermented and overly processed soy products like soymilk, tofu, soy cheese, burgers, and ice cream ended up on our kitchen tables.
So in contrary to what we think, Asians do not use soy (as we know it) as their main source of protein and all soy is fermented.
The Hidden Dangers Of Soy
Our western market is flooded with unfermented soy products that we should avoid at all cost. Before going into detail about the risks, I want to share with you my personal experience with soy.
3 years ago I decided to eat less meat, and soy became my main source of protein. After 2 months all my breast glands where painfully swollen, my hormones were a total mess, and they found calcifications in both breasts. These calcifications can be the onset for breast cancer. Luckily it didn't come so far, but the thought scared the hell out of me. I stopped all soy intake and everything went back to normal in less than a week or 2.
Health Risk Of Soy Products
Although soybeans are complete proteins with moderate amounts of fat and considered a good alternative for animal protein, these 8 reasons will definitely change your mind, if my personal story didn't give you enough proof to stay as far as possible from unfermented soy like tofu, edamame, soy milk and soy burger.
1.      Estrogen-like Phytochemicals
Soybeans contain phytoestrogens, which act like natural estrogen and can seriously mess up your hormones. And not only women are affected. Men, children and newborns as well.
For men, raised estrogen levels mess up testosterone levels and may cause infertility, low libido, low sperm count, man boobs, fat accumulation around the waist, energy loss, and it increases the risk of cancer (especially prostate cancer).
For women, raised estrogen levels cause estrogen dominance which is linked to infertility, disrupt endocrine system, menstrual issues, and increased risk of cancer (especially breast cancer).
Newborns who are consuming soy formula are daily consuming an amount of estrogens that equals the amount of 4 to 5 birth control pills! Your baby needs a balanced hormonal system for its normal development. Especially baby boys are affected. Too much estrogens can mess up the development of the testicles and other issues may appear when they grow older (lack of facial hair, prostate cancer, thyroid malfunctions, and emasculation).
2.      Affects Absorption Of Essential Minerals And Vitamins
Soy has very high levels of phytic acids. These inhibit the absorption of essential minerals like zinc, calcium, magnesium, iron and copper. Soy also contains protease inhibitors, which block the function of important enzymes necessary for the digestion of proteins.
Eating soy regularly will increase your body's need for vitamin D and B12. People who often eat soy make their B12 deficiency much worse. And that is bad news for the vegetarians and vegans who are already at higher risk of vitamin B12 deficiency. Just as with the estrogens, soy contains vitamin B12-like compounds that can't be used by our body.
3.      Thyroid Disruptor
Soy contains high levels of goitogens. These compounds slow down thyroid function and disturb the thyroids ability to use iodine. This can lead to hypothyroidism, or and under-performing thyroid gland. Especially women are at risk.
Goitrogens can also be found in cruciferous vegetables (broccoli, kale, cabbage), but in smaller amounts and these are removed when vegetables are cooked, which is not the case for soy-products.
4.      Free Glutamic Acid (MSG)
MSG is potentially neurotoxic and is formed during the processing of soybeans. And if that isn't bad enough, they add more to mask soy's natural bad flavor. MSG can change the normal activity of the nervous system and damage nerve tissue.
5.      High Levels Of Aluminum
MSGs are not the only thing found in final soy products. When soybeans are processed they are washed with acids in aluminum tanks. During the process high levels of aluminum end up in the final product.
6.      Almost All Soy Is GMO
More than 80% of all soy grown in the US is genetically modified to make the plants resistant to a toxic herbicide (Roundup). GM soy has often been associated with allergies and an increased risk of infertility.
7.      Not A Good Alternative For Celiac and Gluten Intolerant People
Although soy does not contain gluten, its lectins can damage your intestines and prevent your gut from healing.
8.      Not Good For our Planet
And soy is not only wreaking havoc on our bodies, it is ruining our planet and poisoning our livestock as well. Actually they see the same issues appearing in animals that are fed with soy.
And one last thing, soy is a very destructive crop. It depletes the soil from its essential nutrients and the crops are heavenly sprayed and processed afterwards.
Take-home message
Personally I don't eat any soy products anymore since all the trouble it caused in my body. But that doesn't mean you can't have it either. Keep in mind only fermented (preferably traditionally fermented) soy in moderation is safe. Natto, miso, tempeh and fermented soy sauce are a few safe examples. Soy milk, tofu, edamame, soy burgers are definitely not a health food.
Make sure to read your food labels and watch out for phrases that contain the word soy. You will be surprised how many soy you are actually consuming. Even if you're off tofu and soy milk. Almost all processed foods are packed with some form of soy.
This is a guest post written by Amy Goodrich, biologist, natural nutrition expert, and holistic health coach who loves living a natural, eco-friendly, and healthy lifestyle. Visit her website http://www.body-in-balance.org  and Facebook page https://www.facebook.com/bodyinbalance.org
To learn more about fermented foods, which among them are miso and tempeh, read the article about top 10 fermented foods for healthy gut:
Advertisement