How to Get Rid Of A Rash Under Breasts: The Best Home Remedies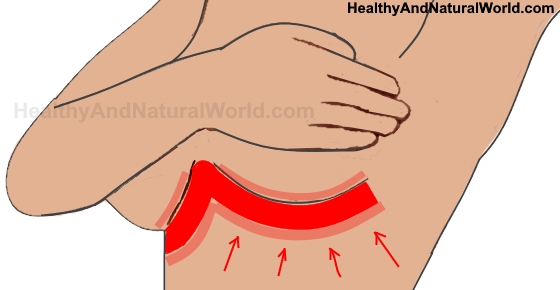 Advertisement
A rash under the breasts (intertrigo) is a common problem for many women. When you suffer from this rash, the skin under the breast can also become very itchy, painful, and in some cases, start blistering and even cause a burning sensation.
Usually, the causes of a rash under the breasts are excessive moisture (that can be caused by excessive sweating) and chaffing. In time, the breast rash can also become infected by bacterial infections, yeast infections (candida), or other types of fungal infections.
If you suffer from itchy skin and rash under the breasts, there are many home remedies that can treat the breast rash and relieve the itching and burning sensation.
In this article, I will look at what causes itchy skin under the breast and what you can do to get rid of the breast rash. Understanding the causes for this condition will also help you know how to prevent rashes from developing under your breasts.
Symptoms and Causes of Rash Under Breasts
A rash under the breast is a form of intertrigo. Dr. Melinda Ratini on WebMD says that intertrigo is a rash that appears between larger folds of skin. It can cause rashes to appear beneath the breasts and on the underside of the breasts.1
The symptom of a rash beneath the breasts is a reddish-brown rash which can feel itchy or raw. Very often the skin can ooze and become cracked and crusty. The rash can sometimes be accompanied by a foul odor.
The most common causes of a rash under the breasts are:
Excessive moisture trapped under the breast which can be caused by excessive sweating.
Lack of air circulation.
Chafing between the skin folds which can be caused by wearing a tight bra.
Dr. Tim Kenny on Patient.info says that a candida skin infection can also cause inflammation under the breast.2 This is sometimes referred to as candida intertrigo, and it can cause some breast soreness and a yellow-like substance to develop over the affected area.
One of the most common reasons for a rash under the breast is wearing a wrong fitting bra. Dermatologist Dr. Graham Johnston told the Daily Mail newspaper that a badly fitting bra can cause the skin to chafe. This can result in an itchy rash because of the sweatiness and chafing. This can then lead to further infections.3
Also, women who are overweight or have diabetes can also be more prone to developing infections under the breast.4
Is a rash under the breast a sign of breast cancer?
It is important that all women are aware of their breast health and are quick to notice any changes that occur. Many women are concerned that a rash under the breast could be a sign of breast cancer.
However, the BreastCancerCare.co.uk says that generally, a rash under breasts between the folds of skin is a sign of intertrigo candida. Of course, if you are concerned about changes to your breasts, you should always visit your doctor. You should also be aware of some of the uncommon signs of breast cancer.
How to Get Rid of a Rash Under the Breasts
There are many home remedies to treat an itchy rash under your breasts. These will help to reduce the inflammation, relieve the itchiness, and help to heal the skin on the underside of the breast.
Of course, if the rash beneath your breast is caused by chafing, you will also need to try and prevent the skin getting irritated further.
Coconut oil with tea tree oil
You can use coconut oil and tea tree oil to help in getting rid of an itchy rash under your breasts. A study in the Journal of Medicinal Food showed that coconut oil has antimicrobial properties and is effective against candida infections.5 It can also help to reduce inflammation and relieve pain.6
Tea tree essential oil is also effective against skin rashes because it contains antifungal properties. The Skin Pharmacology Society published a study showing that tea tree oil can help to treat various forms of dermatitis. (Intertrigo is a form of inflammatory dermatitis).
How to use
Mix 4 tbsp. coconut oil with 6-8 drops of tea tree oil
Dip a cotton ball in the coconut oil and tea tree mixture and apply into the affected skin to soothe itchy breast rash and help with the healing process.
Do this every evening before going to bed, after you have a shower, and after you wash under your breast.
You may need to slightly warm the coconut oil before mixing it and applying it to the inflamed area.
Coconut oil also helps to repair damaged skin, so it won't just get rid of the breast rash, but will help your skin to heal. There are many more reasons to use coconut oil for skin issues and you can read about them in my article on how to use coconut oil for eczema.
Alternatively, you can use olive oil for healing itchy breast rash and you just substitute it for coconut oil. The journal Dermatitis reported on how both olive oil and coconut oil are effective in treating various forms of dermatitis.7
Essential Oils / Herbs
Many essential oils can also help to soothe an itchy rash under the breasts. When using essential oils, you should remember not to apply them directly to the skin. They should always be mixed with a carrier oil such as coconut oil, olive oil or jojoba oil.
Generally, you should mix one tablespoon of carrier oil with 2-3 drops of essential oil. Then apply with a cotton ball.
Lavender
Lavender is a great essential oil for the skin and you can use it to treat a rash under breasts. It has antiseptic, antibacterial and antifungal properties which can help to reduce infection and inflammation. It also helps to calm and moisturize the skin.8
Chamomile
Chamomile doesn't just make a delicious herbal tea, it can be used to soothe irritated skin and reduce inflammation on various skin disorders.9
Geranium
Geranium essential oil can also help to reduce breast rash and it is also one of the best essential oils for skincare. A study published in the Biological & Pharmaceutical Bulletin showed that geranium oil is effective against candida infections.10
You can also use my essential oils for eczema to treat skin rash under breasts. These oils can help you to speed up the healing process and reduce inflammation. You can also learn more about essential oils in my e-book Magical Aromatherapy.
Calendula
Calendula oil (sometimes called pot marigold) is an effective remedy against candida infections and can help to cure your itchy breast rash.11
Alternatively, you can buy creams that contain calendula. Dr. Andrew Weil recommends calendula products with at least 10% plant extract to clear up yeast infections.12
Aloe Vera
Aloe vera is a great natural remedy for relieving the itchiness and inflammation of a rash under the breast. Aloe vera is also a well-known natural remedy for sun burnt skin. However, it can also help relieve the irritation from chafed skin which is one of the causes of breast rash.
The Journal of Ethnopharmacology showed that aloe vera gel is beneficial for treating wound and skin-related disorders and it has antimicrobial and anti-inflammatory properties.13
How to use
Extract the gel from the aloe vera leaf and apply to the affected skin under your breast to alleviate the itchiness and to help with the healing process. It may be easier to buy organic pure aloe vera gel rather than extract it from the leaf.
To increase the anti-inflammatory effects of aloe vera you can also mix a little turmeric powder with the aloe vera gel. The curcumin in turmeric helps to reduce inflammation and also boosts the formation of collagen.14
Both aloe vera and calendula are common herbs to treat various skin conditions and you can find more about them and other herbs in my e-book The Herbal Remedies Guide.
Oatmeal
Oatmeal is an effective natural treatment for a rash under the breast that has been caused by chafing. Oatmeal helps to reduce inflammation and cleanse the skin. The Journal of Drugs in Dermatology says that oatmeal can be used to cure rashes, dermatitis, and scaling skin.15
How to use
An oatmeal bath is a great home remedy for soothing itchy breast rash.
Fill the bathtub with warm water and add 1 to 2 cups rolled oats.
Mix the oatmeal in the bath with your hand and let it set for a few minutes.
Soak in the bath for 20 minutes.
While in the bath, gather together some of the oatmeal and gently press it to the rash under your breasts.
Rinse off in the shower with warm water and pat your skin dry.
Apple Cider Vinegar (ACV)
Use diluted raw unprocessed apple cider vinegar on the rash under your breast to relieve the itchiness. Apple cider vinegar is also effective against candida yeast infections and in studies was more effective than a popular antifungal medication.16
How to use in the bath
Add a cup or two of ACV to a warm bath and soak for 20 minutes to treat a breast rash. You can also add a few drops of tea tree oil mixed with a carrier oil due to its anti fungal and anti bacterial properties.
How to use topically
Dilute ACV with equal amounts of water.
Soak a small piece of cotton in the liquid.
Apply the ACV compress to the rash under your breast for 10-15 minutes.
Rinse with warm water and dry the area.
Witch Hazel
Witch hazel has many uses and is another natural remedy for reducing the itchiness and redness of a breast rash. Studies show that witch hazel can help reduce skin irritations and inflammation. However, it is also effective against yeast and bacterial infections.17
How to use
Soak a cotton ball with 100% witch hazel and apply to the affected skin under your breast to help with the healing process.
Zinc Oxide Cream
Zinc oxide is a mineral used in a variety of creams, sunscreens and make-ups. Its antibacterial properties make it a common ingredient in antiseptic ointments. It is used to treat skin irritations such as diaper rash, minor burns and chapped skin. Zinc oxide can soothe skin and protect it from irritants so it can be suitable to relieve rash under the breast too.
Zinc oxide can come in cream form, lotion, ointment, and a variety of other forms. You can also purchase fine zinc oxide powder that easily mixes with other lotions.
Cold Compress
Cold compress is a very effective remedy for relieving the itching and burning sensation caused by rashes under the breasts. All you have to do is wrap an ice pack in a cotton towel. Place on the rash for 5 to 10 minutes to soothe the itchy skin.
Proper Fitting Bra
If you think that the rash under your breast is from chafing because your bra is the wrong size, it is important to use a bra that fits well and offers good support.
How to Prevent a Rash under your Breasts
There are a few practical steps that you can take to prevent a breast rash. The American Family Physician suggests the following:16
Keep the area under your breasts dry. Try to have the under breast area exposed to air twice a day for 30 minutes.
Don't use harsh soaps as they can strip the protective barrier from the skin.
Wear a bra that offers good support.
Wear clothing made from natural fibers and absorbent fabrics that don't chafe the skin.
After showering or exercising, always thoroughly dry the area under your breasts to prevent moisture building up which can cause an itchy breast rash.
Read these related articles:
1. Effective Treatments for Itchy Breasts
2. How to Effectively Use Apple Cider Vinegar for Yeast Infection
3. Sore Breasts After Period: What Does it Mean?
4. Ingenious Reasons to Use Coconut Oil for Eczema
Medical Resources: