The Ultimate Liver Cleansing Super Detox Juice (or Smoothie) – Backed By Scientific Studies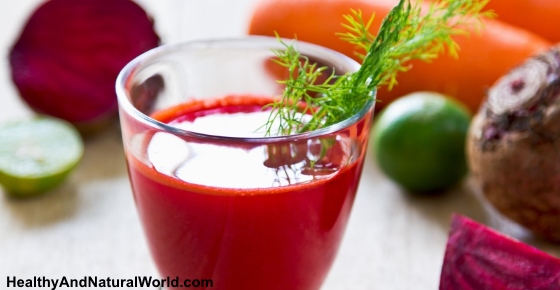 Advertisement
The liver is one of the most vital organs in our body – it is the first line of defense against toxins and acts like a filter by preventing toxic substances contained in foods from passing into your blood stream. Keeping your liver in a top working condition is essential for maintaining a great health, and my liver detox juice (or smoothie) can help you cleanse your liver.
There are scientifically proven foods that are really good for your liver, and you can use them as part of your liver detox home remedy. Foods such as green leafy vegetables, beetroot, carrots and apples can protect your liver and should be included in the liver cleansing juice.
Why It's Important to Keep Your Liver Healthy
Here are a few facts about your liver:
In addition to removal of toxins, the liver is also responsible for protein synthesis, helping to regulate hormone activity, and production of biochemicals necessary for digestion.
Everything we eat must be processed by the liver before it can be distributed throughout the body.
The liver is necessary for survival, and currently there is no way to compensate for the absence of liver function in the long term.
So as you can see, due to its wide range of functions, the health of our body is directly related to the liver functioning at its peak.
Liver Detox Juice (or Smoothie) – Scientifically Proven Ingredients for Keeping your Liver Healthy
This liver detox juice includes the following ingredients, which are beneficial for a better liver function. If you cannot get hold of all the ingredients, use what you have.
Green Leafy Vegetables
Green leafy vegetables should be part of your liver detox juice because they can protect your liver.
A scientific study published in the medical journal Lipids In Health and Disease concluded that consumption of green leafy vegetables is beneficial for the liver. The researchers who conducted the scientific study used green leafy vegetables such as collard greens, purslane and sweet potato greens which are rich sources of antioxidants, monounsaturated fatty acids and polyunsaturated fatty acids.
The researchers also added that consumption of dark leafy vegetables can also protect your heart and may even protect against liver cancer (chemopreventive advantages).
To make your liver detox home remedy use dark leafy vegetables such as collard greens, chicory, lettuce, spinach, chard, kale, arugula, and parsley.
Further information: Proven Health Benefits of Chlorophyll.
Lemon is Good for Your Liver
Add lemon to the liver cleansing juice because it contains compounds that decrease liver damage.
A medical study published in the scientific journal BioMed Research International concluded that lemon juice can protect your liver. The medical study investigated how lemon juice can affect "alcohol induced liver injury". The scientists said that lemon juice has protective effects on alcohol-induced liver injury. They also added that the protective effects might be related to the antioxidant proprieties of lemon juice.
Another medical study mentioned that lemon (Citrus limon) contains active ingredients such as naringin and citric acid that can decrease liver damage.
You can read my article about the amazing health benefits of drinking lemon water to understand the incredible healing power of lemon.
Grapefruit can keep your liver healthy
Grapefruit is a great addition to your liver cleansing juice because of its ability to protect the liver.
Grapefruit has high amounts of vitamin C, antioxidants, and an antioxidant called naringenin. These substances prevent your liver from storing fat and turn it into a detoxifying powerhouse.
An extensive review of medical studies concluded that naringenin (found in grapefruit) is a useful natural product for the treatment of many liver diseases because of its antioxidant and anti-inflammatory properties.
Another medical study found that grapefruit juice can protect the liver from DNA damage.
Beetroot and Carrot
Beetroots and carrots contain plant flavonoids that are essential for your liver to work effectively, giving your liver a much-needed cleansing boost.
The medical journal Nutrients mentioned that beetroot can fight oxidative stress and prevent chronic inflammation such as liver disease.
Another medical study found that beetroot juice can protect the liver and may even help to reduce blood pressure.
Juicing carrots is also beneficial for your liver because their antioxidants can protect the liver. A study found that carrot juice has antioxidants that can protect the liver.
Another medical study found an indication that carrot juice may help treat Non-alcoholic fatty liver disease (NAFLD).
Apples
Don't peel your apples before adding them to the liver cleansing juice because the skin of apple (apple peel) was found to have liver protective properties.
One medical study mentioned that apples contain polyphenols that can help treat liver damage.
Berries
Berries are real superfoods, they are rich in nutrients and fiber and are full of antioxidants which make them ideal for liver cleansing and digestive health.
A medical study said that bilberry could help in the treatment of liver cancer.
The medical journal Plos One published a study showing that blueberry juice may help prevent liver fibrosis.
You can find more useful information about berries in my e-book The Healing Berry Guide which will teach you how to transform your health with berries.
Virgin Coconut Oil
Virgin coconut oil is a great addition to the liver cleansing juice because it can help protect your liver.
A scientific study concluded that coconut oil protects against liver damage.
The journal of the Science of Food and Agriculture found that virgin coconut oil can be used to prevent liver damage.
Further reading: read the article about the scientifically proven uses and benefits of coconut oil.
Super Liver Detox Juice Recipe (or Smoothie)

You can change the amounts and adapt it to your own taste:
2 beets, quartered
2 carrots, roughly chopped
1 compressed cup of leafy greens of your choice
A juice of ½ lemon
A juice of ½ grapefruit
1 apple (with the skin), cored and sliced
1 cup berries of your choice
1 Tbsp. unrefined coconut oil
water
How to Make the Liver Cleansing Juice

Put the ingredients in a juicer (or blender if you want to make a smoothie), starting with the large chunks first (beets, apples and carrots). Then add the rest and pour water according to your desired consistency. Drink immediately to enjoy the most nutritional benefits.
You can get further information on how to naturally detox your body in my e-book The Detox Guide which will help you to discover the most effective natural methods to neutralize harmful toxins from your body to enhance your vitality and increase your energy levels.
For more information read my article about early signs of liver damage and how to strengthen your liver.
Related articles:
Advertisement