The Best Essential Oils for Treating Shingles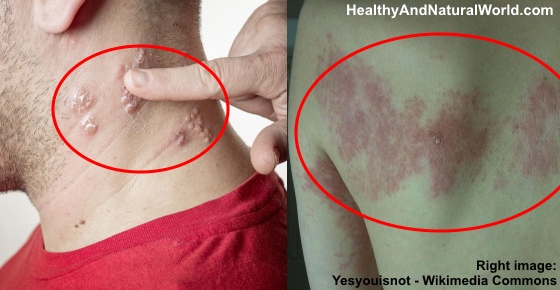 Shingles is a viral disease that manifests in a painful skin rash with blisters on a small area of your body, normally your torso or face. Before the blisters appear, you may have a headache and fever, but this is often so mild that most people miss it.
Shingles is caused by the varicella zoster virus, which is the same virus that causes chickenpox. If you had chickenpox as a child, the virus is still lurking in your body and may cause shingles if your immune system weakens.
The varicella zoster virus is in the same family as the herpes simplex virus, so many essential oils that work for herpes may well also work for varicella zoster. The one big difference is that oils for shingles must be gentle on the skin to avoid causing more pain than you already experience, so they must be considerably diluted.
The Best Essential Oils for Shingles
Geranium oil
Geranium oil is an effective home remedy if shingles have caused your skin to be sensitive to touch and painfull. This has been proven to be effective in getting rid of pain caused by postherpetic neuralgia. Postherpetic neuralgia is a medical term to describe the pain that can continue after the rash has disappeared.
This is nerve pain due to damage caused by the varicella zoster virus. The result is that the skin is very sensitive to the touch that even dressing, turning in your bed at night or a light breeze and make your skin painful. One study showed that it provides quick relief from shingles pain and is more effective than capsaicin cream.
Ravintsara oil
Ravintsara is a large tree native to Madagascar and the essential oil is extracted by steam distillation of its leaves. The antiviral properties of ravintsara oil are well established; it is even effective as a treatment against viral hepatitis.1
Of all the essential oils, it has the strongest anecdotal evidence behind it specifically for the treatment of shingles.
Lemongrass oil and Lemon balm oil
Lemongrass oil is one of the strongest antiviral oils against herpes simplex virus type-1 (HSV-1) and it is potentially an effective treatment for shingles.2
However, since it is also an extremely hot oil that might burn your skin, lemon balm oil, also called Melissa or Melissa officinalis oil, is the better option if you want to apply it directly to the blisters.
Keep lemongrass oil for your bathwater and your diffuser. Melissa oil is gentler and has the same antiviral effects,3 but be warned, it is expensive.
Lavender oil
There are many good reasons to keep lavender oil in your first aid kit. Lavender oil is a gentle, antiviral, anti-inflammatory, and analgesic oil that you can apply to the blisters to combat the virus, the inflammation and the pain.4, 5
It will also make you feel relaxed and sleepy if you diffuse it, which is a good idea if you are struggling with the pain. You can also use my other top 20 essential oils for reliving pain and inflammation.
Clove oil
Clove oil is a powerful anti-viral, anti-inflammatory, and analgesic oil and, accordingly, can treat the virus, the infection, and the pain.6 It is hotter than lavender, so needs to be diluted more if you want to apply straight to the blisters.
Peppermint oil
Peppermint oil is a very versatile and one of the most commonly used essential oils. Peppermint oil has useful antiviral effects against the herpes virus, but needs to be diluted significantly before applying it to the blisters.7
Manuka oil
Manuka oil is derived from the leaves of  the Manuka tree which is native to Mew Zealand. It has antiviral and anti-inflammatory properties which were tested in vitro and significantly inhibited herpes simplex virus.8

Eucalyptus oil
Eucalyptus oil is a reasonably good antiviral oil with impressive analgesic and anti-inflammatory properties.9
Tea Tree (Melaleuca) Oil
Tea tree essential oil is obtained from the leaves of the Melaleuca alternifolia, which is native to Australia. It has anti viral properties and some people find it helpful to clear up the shingles. This oil is very versatile and you can find more used for it in my article about top 5 medicinal uses for tea tree oil.
Black cumin seed oil
According to a study made on rats, the steam-distilled essential oil of Iranian black cumin seed (Nigella sativa L.) was investigated for its analgesic and anti-inflammatory properties. Although black cumin oil cannot do much about the virus, it is a powerful analgesic that researchers have found even anti-opioids cannot reverse.10
I've already mentioned the 15 reasons to consume Black cumin / black seed which is also known as the medicine for everything but death.
How to Use Essential Oils for Shingles
– You can apply essential oil(s) to the red spots on your skin after diluting it in a carrier oil such as jojoba oil or coconut oil.
– Since you want the antiviral effect of the oils, diffusing it in your diffuser can also work. As you inhale it, it will circulate through your body. There are many other ways to use essential oils in your diffuser.
– You can make a soothing hot compress: Dilute the oil with a carrier oil, place the blend in a bottle, put the bottle in hot water, and drop some on a towel. Put the hot compress on the painful skin rash caused by shingles.
– Drop some essential oil(s) diluted in a carrier oil in your bathwater from where your body will also absorb it.
Essential Oil Blends for Shingles
The Popular Ravintsara-Calophyllum (Tamanu) Blend
Many companies that sell oil blends for specific health conditions sell a blend that contains ravintsara oil, calophyllum (also called tamanu) oil, Roman chamomile, and/or geranium oil as a shingles treatment: ravintsara to combat the virus and the others to promote healthy skin recovery after the blisters have dried.
Try the following recipe and apply it to the affected area three to five times a day.
2-3 drops ravintsara oil
2-3 drops of geranium oil
1 tablespoon calophyllum (tamanu) oil – this is your carrier oil
Continue to apply this mixture to the irritated skin area after the shingle blisters have subsided to benefit from the anti-viral effects of the ravintsara oil.
A Gentle Topical Blend for Treating shingles

Lavender, manuka, and eucalyptus oils are a good combination too. Apply the following blend to the blisters three to five times a day.
1 tablespoon coconut oil
2 drops lavender oil
2 drops manuka oil
2 drops eucalyptus oil
A Strong Topical Blend for shingles

Clove, peppermint, and melissa oil in approximately equal amounts can be a great antiviral and analgesic. Remember to test it on your inner arm first.
1 tablespoon coconut or almond oil
2 drops clove oil
2 drops peppermint oil
2 drops melissa oil
An Antiviral Bath Oil
Add a few drops of diluted clove or lemongrass oil into your bathwater or combine them together.
Keep Going, Even Once Shingles Blisters Have Gone
Continue diffusing the oils, bathing in them, and applying them to your affected area until long after the blisters have disappeared, especially if you are still experiencing pain. This could prevent it from returning soon.
If you get painful shingles often, consider visiting a naturopath or doctor who could help you get to the bottom of why it keeps appearing in the first place. Together with the adoption of a healthy diet and exercise program prescribed by your chosen health professional, you may be able to restore your immune system and stop further episodes of shingles from occurring.
If you are interested to learn more about essential oils you can find useful information in my e-book Magical Aromatherapy. This e-book will help you to discover the power of essential oils and the most effective ways to use them.
You can also find another natural treatment for shingles:
Resources:
1. Giraud-Robert, A.M.,
The role of aromatherapy in the treatment of viral hepatitis.
International Journal of Aromatherapy, 2005.
15
(4).
http://www.sciencedirect.com/science/article/pii/S0962456205000640
2. Minami, M., et al.,
The Inhibitory Effect of Essential Oils on Herpes Simplex Virus Type‐1 Replication In Vitro.
Microbiology and immunology, 2003.
47
(9).
http://onlinelibrary.wiley.com/doi/10.1111/j.1348-0421.2003.tb03431.x/full
3. Allahverdiyev, A., et al.,
Antiviral activity of the volatile oils of Melissa officinalis L. against Herpes simplex virus type-2.
Phytomedicine, 2004.
11
(7).
http://www.sciencedirect.com/science/article/pii/S094471130400100X
4. Edris, A.E.,
Pharmaceutical and therapeutic potentials of essential oils and their individual volatile constituents: a review.
Phytotherapy Research, 2007.
21
(4).
http://onlinelibrary.wiley.com/doi/10.1002/ptr.2072/abstract
5. Hajhashemi, V., A. Ghannadi, and B. Sharif,
Anti-inflammatory and analgesic properties of the leaf extracts and essential oil of Lavandula angustifolia Mill.
Journal of ethnopharmacology, 2003.
89
(1).
http://www.sciencedirect.com/science/article/pii/S0378874103002344
6. Chaieb, K., et al.,
The chemical composition and biological activity of clove essential oil, Eugenia caryophyllata (Syzigium aromaticum L. Myrtaceae): a short review.
Phytotherapy research, 2007.
21
(6).
http://onlinelibrary.wiley.com/doi/10.1002/ptr.2124/abstract
7. Schuhmacher, A., J. Reichling, and P. Schnitzler,
Virucidal effect of peppermint oil on the enveloped viruses herpes simplex virus type 1 and type 2 in vitro.
Phytomedicine, 2003.
10
(6).
http://www.sciencedirect.com/science/article/pii/S094471130470255X
8. Reichling, J., et al.,
Virucidal activity of a beta-triketone-rich essential oil of Leptospermum scoparium (manuka oil) against HSV-1 and HSV-2 in cell culture.
Planta Medica, 2005.
71
(12).
http://europepmc.org/abstract/med/16395648
9. Silva, J., et al.,
Analgesic and anti-inflammatory effects of essential oils of Eucalyptus.
Journal of ethnopharmacology, 2003.
89
(2).
http://www.sciencedirect.com/science/article/pii/S0378874103003131
10.Hajhashemi, V., A. Ghannadi, and H. Jafarabadi,
Black cumin seed essential oil, as a potent analgesic and anti-inflammatory drug.
Phytotherapy Research, 2004.
18
(3).
http://onlinelibrary.wiley.com/doi/10.1002/ptr.1390/abstract
Advertisement