Amla Oil For Hair: Benefits, Tips and Uses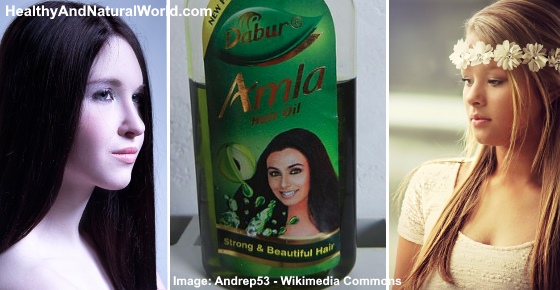 Advertisement
Amla oil has been used for centuries in traditional Indian medicine (Ayurvedic medicine) because of its many beneficial uses. One popular natural treatment is to use amla oil for hair. In fact, amla oil is used by both men and women as part of their hair care regime.
This article will explain how your hair can benefit from using amla oil, and if there is any truth in the claims that amla oil is good for hair growth.
What is Amla Oil?
The amla tree (Phyllanthus emblica) is sometimes called the Indian gooseberry and it produces a sour fruit resembling a gooseberry. In Ayurveda, most of the plant is used for its therapeutic and cosmetic properties.1
Amla oil is not extracted from the tree or the fruit. It is produced by drying the fruit and then infusing it or soaking it in an oil like coconut oil or sesame oil. The oil is then purified and it is ready to be used. Sometimes the oil is produced by boiling the fruit or extracts from the amla tree in coconut oil.
Using amla oil for hair is not just popular in India but is becoming more and more popular with people everywhere.
Benefits of Amla Oil for Hair
Amla oil contains many properties which make it an excellent hair care product.
Although the fruit of the amla tree is very rich in vitamin C, which is a well-known antioxidant and helps rid the skin of free radicals, it's hard to know exactly how much of the vitamin C content is preserved in the oil itself. But studies have also shown that the fruit contains anti-inflammatory and antioxidant properties.2
Because amla oil is made using natural oils, it also contains fatty acids which help to nourish and moisturize the hair. For example, coconut oil (which is usually used to make amla oil) has properties in it which help protect the hair from protein loss and can penetrate inside the hair shaft.3
Amla oil has also shown to have antifungal properties which can be beneficial for the scalp.
For example, the journal Mycoses publishes studies into fungal diseases. It published a research showing that amla oil has antifungal properties and can kill off dermatophytes.4 These are fungi which can cause skin, hair and nail infections.
So, by using amla oil for your hair you are helping to nourish and strengthen your hair.
How to Use Amla Oil for Hair
You can apply amla oil directly to your scalp and use it as a hair mask.
To do this you should follow these steps:
Apply some amla oil to your scalp and hair and gently massage into your scalp, making sure that you cover all areas.
Cover your hair with a shower cap and wrap your head in a towel.
Leave for 2-3 hours, or overnight.
Wash out the amla oil with your favorite shampoo.
Amla Oil for Hair Growth
Does amla oil really work for hair growth? Although studies into amla oil and hair regrowth are lacking, there is much anecdotal evidence to show that many people have had positive results when using amla oil for hair growth.
However, amla oil does contain properties like antioxidants and fatty acids which are known to promote healthy hair growth.
One study into amla extract has shown that an amla extract together with sesame seed oil was even more effective at promoting hair growth than minoxidil, a common drug used to treat baldness.5
You can also mix amla oil with essential oils which are known to help hair grow better.
The best essential oils to stimulate hair growth are:
Both peppermint oil and rosemary oil have shown in clinical trials to be just effective at treating hair loss as some of the popular hair loss treatments.
For example, a study published by dermatology journal Skinmed showed that over a six-month period, rosemary essential oil helped hair regrowth in men who were showing signs of male pattern baldness. In fact, it was just as effective as minoxidil.6 Studies into peppermint oil have also shown similar results.7
To use amla oil along with essential oils to prevent hair loss and stimulate healthy hair growth you can add 3-4 drops of either peppermint or rosemary essential oil to a tablespoon of amla oil and then massage into your scalp.
Leave for at least 30 minutes with your hair in a shower cap and wrapped in a towel. Then wash out the oil. Repeat this process twice a week. You can also leave the oil in your hair overnight for even better results.
Further reading: if you want to make your hair grow faster, you can find more information in my article about the best natural ways to grow hair faster.
Amla Oil for Dandruff
As already mentioned, amla oil has antifungal properties which can help to treat fungal infections. There can be various reasons why a person suffers from dandruff, and one of them can be caused by a yeast infection or fungi on the scalp.
You can combine amla oil with some coconut oil and tea tree essential oil to make an effective dandruff treatment. Tea tree oil has antifungal and antibacterial properties which are effective in treating dandruff.8 Coconut oil is also effective against fungal infections.9
To use amla oil for dandruff, you should:
Mix 3-4 drops of tea tree essential oil with 1/2 tablespoon of amla oil and 1/2 tablespoon of coconut oil.
Gently massage the oil into your scalp.
Put your hair in a shower cap and wrap in a towel.
Leave for 2-3 hours or overnight before washing out.
For other ideas, read my article about the best natural ways to get rid of dandruff.
Where to Buy Amla Oil
Amla oil is available at many online stores (like this one) or in specialist Indian stores. It is always best to look for amla oil which is 100% natural and doesn't contain any synthetic ingredients or mineral oil.
Side Effects of Amla Oil
There are no reported side effects of using amla oil topically.
Read my other related articles:
1. 8 Ingenious Ways to Use Coconut Oil on Your Hair
2. Tea Tree Oil for Hair and Scalp – The Complete Guide
3. Olive Oil for Hair Care: The Most Ingenious Uses
Resources: