Pinterest Blocked My Website – BUT There Is GOOD News!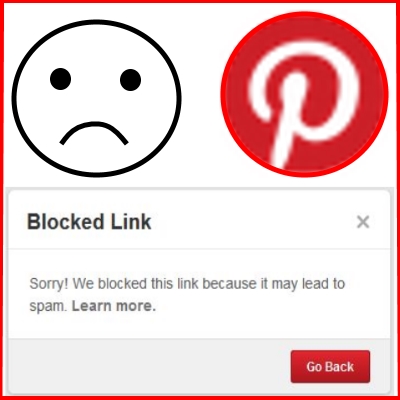 Advertisement
Yesterday I received numerous messages from my readers that they were unable to pin my content in Pinterest. It looks like Pinterest marked my website as SPAM yet again ????
The same issue happened more than a year ago but thanks to the huge help of the community, Pinterest realized that they made an error and promised me that it won't happen again. They actually told me to contact them if it happens again.
Well, guess what – it happened again! And I've followed their instructions to contact them.
I've contacted Pinterest a few times but all I managed to get was a generic reply that they put my website in the "blacklist". They did NOT make any extra effort apart from copying their generic reply and email it to me.
Is my website associated with spam?? You must be joking!!!
I have asked my community to help me and raise their dissatisfaction with Pinterest and "suddenly" someone actually bothered to look into it.
If it wasn't for the huge support of the community, they would have completely ignored me and kept sending me their useless automatic replies.
Here is the reply that I finally got from Pinterest:
But I was NOT happy with that reply.  So what should I do if it happens again? Obviously the "support" doesn't provide any support – who should I REALLY contact if I need support.
Well this is the reply that I got (pay special attention to the highlighted text):
When I saw this message, the first thing that came to my mind was how ridiculous this can be.
I did contacted support and let them know about it at the beginning – didn't I? But they did NOTHING! Do you really expect me to believe you? I also contacted my website admin and we looked at the logs – we couldn't see any suspicious activity at all!
I have a lot of followers on Pinterest and in social media and I don't have any control on what THEY do with the pins. It might be that someone tries to sabotage my work and my website and did it deliberately. So what can I do about it and what is PINTEREST going to do to prevent it from happening again?
I've asked to get this issue escalated and get contact details of a real person but this is what I got:
Did you notice that they say that they'll provide 1:1 support? I have no idea what they are talking about!
The main issue that I have is that anyone can damage a website by doing mass pinning. Support will not help and the only thing that can help is to ask your community to get involved.
Pinterest – you can do a much better job than that. A company that is worth 11 Billion dollar can invest in much better support.
I've contacted the Press department in Pinterest to get their formal reply and hopefully speak with a real person but I am still waiting for them. If anyone knows how to contact their CEO Ben Silbermann please let me know. I want to speak with him personally and give him a few ideas for improvement.
For great health
Jenny Hills
P.S – As a precaution, I do not allow pinning from my website until I get the contact details of a real person in Pinterest whom I can speak to. So you will not be able to pin any content for now.