The 10 Most Effective Home Remedies for Sunburned Lips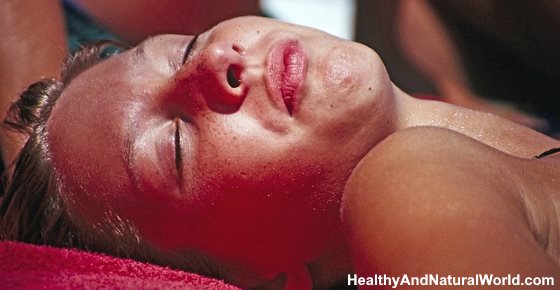 Advertisement
The sun's UV rays can cause sunburned lips just as much as they can give you a bad sunburn on your skin. Even though many people know the importance of using a high SPF sunscreen to protect their skin, they can forget about the importance of lip protection in the sun. It is very easy to avoid sunburned lips by using a lip balm with a high UVA/UVB protection factor. However, what can you do if you have symptoms of burned lips?
Even short exposure to the sun can leave you with sunburn on your lips. You may notice that a few hours after enjoying the sunshine, your lips begin to itch, feel warm and tender to touch. Even worse, later you may find that blisters have started to appear on your lips. Sunburned lips take about the same time to heal as sunburned skin. Fortunately, there are many effective home remedies to take the heat out of sunburned lips.
This article has the top 10 home remedies for soothing sunburned lips. Natural treatments like chamomile, honey, aloe vera, and cucumbers will relieve pain from your lips and help sunburned lips heal quicker.
Can Your Lips Get Sunburned?
Doctors from the Mayo Clinic say that sunburn can affect any exposed part of your body and this includes your lips. However, just as with regular sunburn, the symptoms of sunburned lips may not show up until a few hours after sun exposure.1
Because we need our lips for speaking, eating, and drinking, sunburned lips can cause a lot of discomfort and even make day-to-day activities difficult.
Symptoms of Sunburned Lips
You should never underestimate the power of the sun's rays. In just a few hours the UV rays can leave you with second or even third-degree burns on exposed lips and skin.
Just like with any burn, the symptoms of sunburned lips are itching and pain in your lips, swelling, and they may feel warm to touch. Severely sunburned lips will also blister and could become infected if germs get into the wound.
There is also another complication of lips getting sunburned. The Dermatology Associates of Atlanta says that sunburn on your body can activate the herpes virus and cause cold sores on your lips to appear.2 This can make the discomfort of having sunburn on your lips even greater.
How long do sunburned lips take to heal?
The length of time sunburned lips take to heal depends on the damage the sun has caused. According to the National Health Service, mild to moderate sunburn on lips should fully heal within a week.3 However, if your lips are severely sunburned with blisters, they may take longer to heal.
Top 10 Home Remedies for Sunburned Lips
When you go out in the sun, even if it is just on your daily activities, you should remember to always protect your lips from UVA and UVB rays. If, however, you forget and your lips get sunburned, here at the top 10 natural ways to heal them.
1. Cold compress
Applying a cold compress will instantly take the heat out of sunburned lips and help prevent swelling. Even just cold tap water running over your lips is enough to reduce inflammation and help ease the pain of burned lips.
Doctors at the Mayo Clinic recommend putting something cooling on the burned area a to treat minor burns.4
How to use:
To make a cold compress for quick relief from the symptoms of sunburned lips, this is what you should do:
Dip a small washcloth in ice water and squeeze out the excess.
Put the towel on your sunburned lips.
When the towel starts to warm dip it again in the ice water and repeat.
Continue applying the cold compress to your lips until the swelling and pain go.
Remember – Never put ice directly onto sunburned lips because it can damage the burn wound even more and hinder the healing process.
2. Aloe vera
Aloe vera is one of the best natural ingredients for getting rid of sunburn on your lips. Even many doctors recommend aloe vera to treat sunburned skin. Aloe vera is a great natural healing treatment for sunburn because it contains beneficial enzymes and vitamins to boost skin health. It also has a cooling effect on the skin, especially if you keep the aloe vera gel in the refrigerator.
In clinical studies, the anti-inflammatory properties of aloe vera have proven to be just as beneficial as hydrocortisone creams in treating burns and skin wounds. Hydrocortisone creams are sometimes recommended to reduce swelling and sunburn pain.5
How to use:
To use aloe vera to help heal sunburned lips and get relief from the pain caused by burns and blisters on your lips, please do the following:
Apply pure aloe vera gel directly to your sunburned lips to ease the sunburn pain.
Repeat the process 2-3 times a day to promote healing.
To help speed up the healing process, you can add some witch hazel to aloe vera. Witch hazel is a natural antiseptic with astringent properties. In fact, witch hazel is often added to after sun treatments to help sunburn heal quicker.6
3. Honey
Raw honey can help to heal sunburned lips quicker and prevent blisters from becoming infected. Honey is anti-inflammatory and has a soothing effect when used on damaged and irritated skin. One of the best types of honey to use for sunburn is Manuka honey because of its medicinal properties.
A study published in the journal Foods found that Manuka honey helps to soothe open wounds. Its antioxidant and anti-inflammatory properties make it a great natural healer. In fact, the study also mentioned the effectiveness of Manuka honey on sunburn.7
How to use:
To use Manuka honey on lips that have signs of sunburn or blisters, you just need to apply a little directly on your lips.
Take a small amount of Manuka honey and dab on your sunburned lips.
Leave on for 10 minutes and reapply frequently throughout the day.
Continue using Manuka honey for sunburned lips until your lips are completely healed.
If you don't have Manuka honey, you can use raw organic honey to help treat burn wounds.
4. Coconut oil
One of the many uses of virgin coconut oil as a home remedy is to help sunburned lips heal quicker. Coconut oil is a great general moisturizer for your lips, but it can also help treat sunburn. The anti-inflammatory properties and antimicrobial properties in virgin coconut oil cause wounds to heal quicker.
A study into the burn wound healing properties of coconut oil reported that it is an effective natural treatment. Coconut oil helps accelerate wound healing and has an antibacterial activity which prevents infection.8
How to use:
Coconut oil is very easy to apply to sunburned lips to help them heal quicker. This is what you should do:
Apply some virgin coconut oil onto your lips that have symptoms of burning.
Use 2-3 times a day to keep your lips moisturized and help speed up the healing process.
Continue using until your sunburn is healed.
You can also try my coconut oil and aloe vera gel remedy for treating burns.
5. Lavender essential oil
Lavender oil has many beneficial properties for sunburned lips and can help treat burn wounds. Many studies into the healing effect of using lavender oil topically have found that its antimicrobial properties have the ability to reduce inflammation as well as having an overall positive effect on burns.
The journal Phytotherapy Research reported that there is scientific and clinical data to support the use of lavender as an effective treatment for burns.9
How to use:
To help sunburned lips heal quicker with lavender oil, it should be mixed with a carrier oil like coconut oil. This is what you should do:
Make a healing salve by mixing 2-3 drops of food grade lavender oil with 1 tablespoon coconut oil.
Apply the lavender remedy to your sunburned lips.
Use 2-3 times a day to promote wound healing and get rid of the effects of sunburn on your lips for good.
6. Chamomile
Another soothing essential oil with healing properties is chamomile. Extracts from chamomile have been used for centuries to help calm the mind. However, applying chamomile to sunburned lips can help to reduce inflammation, pain, and help the sunburn to heal quicker.
Various studies into the medicinal use of chamomile have shown that it is an effective anti-inflammatory agent with pain-relief properties. The journal Natural Product Research reported that the antioxidant and inflammation-reducing properties of chamomile make it an effective treatment for burns. In fact, the researchers concluded that "chamomile oil had a good potential for acceleration of burn wound healing."10
How to use:
To help speed up the healing process of sunburned lips, this is how you can make a chamomile extract salve.
Mix 2-3 drops of chamomile oil with either a tablespoon of coconut oil or aloe vera.
Apply the chamomile remedy 2-3 times a day to your sore lips.
Repeat every day to help speed up healing time and get relief from your sunburn.
Alternatively, you can make a cool, soothing chamomile compress to heal sunburned lips. This method involves using your old tea bags for healing.
Put a chamomile tea bag in a cup of boiling water and leave for 10 minutes.
Remove the tea bag and leave to cool (best place is in the refrigerator).
Place the cool chamomile tea bag onto your sunburned lips and leave for 10-15 minutes.
Repeat 2-3 times a day until you no longer have signs of sunburn on your lips.
Chamomile tea bags are also a great way to get rid of puffy-looking eyes quickly.
7. Oatmeal compress
An oatmeal compress is a very quick and cheap way to get rid of the effects of sunburn. Oatmeal is also used in many skin preparations for its anti-inflammatory activity and to help to quickly soothe itchiness on the skin.
The Journal of Drugs in Dermatology in 2015 reported on the clinical properties of oatmeal. Among the benefits of oatmeal for your skin are using it as a cleanser, moisturizer, skin protector, and soothing agent. The study revealed that oatmeal is used to heal burns, eczema, skin rashes, and reduce swelling.11
How to use:
You can quickly make an oatmeal healing compress at home for its dermatological benefits and speed up the healing process of your sunburned lips.
In a blender, grind 1/2 cup of plain oats
Mix the ground oats with a few tablespoons of raw honey and a little milk. The paste should have a thick consistency.
Spread the mixture over your lips, lie back and let the oatmeal remedy soothe your burned lips for 10-15 minutes.
Rinse off with cool water and repeat 2-3 times a day.
8. Potatoes
Potatoes are a surprising home remedy for healing sunburned lips and burn wounds. Raw potatoes contain many medicinal properties that help to take the heat out of burns.
The benefits of using potatoes on minor burns were reported in the Journal of Medicinal Plants Studies. Researchers reported that raw potato is an effective natural remedy for first-degree burns. The potato helps to reduce pain and inflammation from areas of the skin exposed to excessive heat.12
How to use:
Use slices of raw potato as a first-aid measure for sunburned lips. This is what you should do:
Thoroughly wash a potato and cut into thin slices (you don't need to peel the potato).
Apply the slices to the sore areas of your lips that have a sunburn.
Leave on for 15 minutes, remove for 5 minutes, then replace with a fresh slice of raw potato for 15 more minutes.
Do this daily until you no longer feel the effects of sunburn on your lips.
9. Cucumber
Cucumber is another food that has medicinal and soothing properties to accelerate wound healing. Just as with using potatoes to heal wounds, cucumber slices are a quick and effective home remedy for sunburned lips. Because all types of cucumbers have a high moisture content, they can also help to soothe and moisturize sore lips.
Although taking a slice of cucumber from the refrigerator and placing on a sunburn has an instant cooling effect, cucumber also has healing properties. A study from 2013 found that the flesh from cucumber has a soothing effect on skin irritations and reduces swelling. Cucumber also alleviates sunburn pain.13
How to use:
To use a few slices of cucumber to quickly get rid of pain from sunburned lips, this is what you should do:
Take a cucumber from the refrigerator and cut into thin slices.
Lay the slices on your sunburned lips until they become warm.
Replace with fresh cucumber slices to help take the heat out of the burned lips.
Repeat 2-3 times a day or use whenever you need instant relief from discomfort caused by sunburned lips.
10. Turmeric
Turmeric is a very versatile herb that has many medicinal properties to reduce inflammation and swelling. A turmeric paste can also help to alleviate sunburn pain and speed up the healing process.
Clinical trials have shown that turmeric has great potential in burn wound healing. The Journal of Molecular Histology reported that a turmeric paste on burn wounds helps to heal damaged and burned skin quicker. Curcumin, which is the main component of turmeric, quickly reduced inflammation, boosted collagen production, and caused accelerated wound healing.14
How to use:
Make a simple and easy paste with turmeric and aloe vera or coconut oil to apply to your sunburned lips by doing the following:
Mix together equal amounts of turmeric powder and aloe vera gel (or coconut oil).
Apply to the blisters and sunburned areas of your lips and leave for 30 minutes.
Rinse off with cool water.
Apply the turmeric remedy 2 times a day to your lips to get rid of itchiness, swelling, and other symptoms of sunburn.
Alternatively, you can use honey instead of the aloe vera/coconut oil to improve the taste of the turmeric sunburn remedy.
How to Prevent Sunburned Lips
You can save yourself a lot of pain and discomfort by preventing sunburn on your lips. This also helps you avoid premature aging in your lips and the area around your mouth. The principles of avoiding sunburned skin also apply to sunburned lips.
To prevent sunburned lips, please do the following:
Use a high SPF lip balm on your lips and apply frequently throughout the day.
Keep your face in the shade by wearing a wide-brim hat.
If possible, avoid exposing your lips to direct sunlight during 10 a.m. to 4 p.m. when the sun's rays are at their strongest.
When to See a Doctor
Usually, home remedies are enough to treat mild to moderate sunburn on your lips. However, in cases of severe sunburn, you should visit your doctor. The National Health Service advises seeing a doctor for sunburn in these circumstances:3
You have blistering and swelling, this includes if you have blisters on your lips caused by sunburn.
With severe sunburn, you have chills and a fever.
You experience dizziness, nausea, or headaches after being in the sun for too long.
Read my other related articles:
Article Sources