Glyphosate in Food: Full List of Products that Contain this Cancerous Weed Killer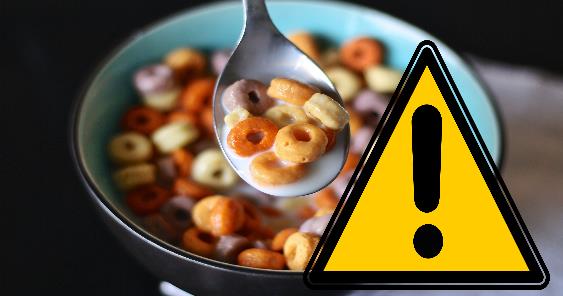 Advertisement
Recent tests found trace amounts of the cancer linked weed killer, glyphosate, in breakfast cereals, oatmeals and snack bars. In some cases the tests found more of the weed killer glyphosate than some vitamins in samples of oat-based breakfast cereals marketed to children. Glyphosate is the active ingredient in Monsanto's Roundup weed killer, and lab studies found this herbicide in many oat-based cereals and foods.
Laboratory tests commissioned by EWG found levels of glyphosate, first produced by Monsanto as Roundup weed killer (herbicide), in many breakfast cereals including in samples of General Mills' Honey Nut Cheerios.
According to the EWG, the amount of the toxic glyphosate herbicide exceeded the amount of both Vitamin D and Vitamin B12. In a sample of Quaker Oatmeal Squares, there was more glyphosate than Vitamin A.
The glyphosate in food list contains breakfast cereals such as Quaker Oatmeal Squares, Instant Oatmeal Cinnamon & Spice, Snack bar Quaker Chewy S'mores and many more foods.
In this article I'll explain why glyphosate is bad for you and I'll share with you the list of the products containing glyphosate.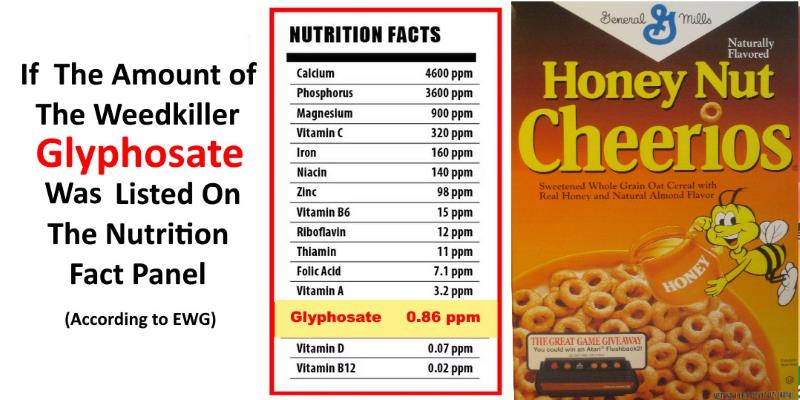 What is Glyphosate and Is It Dangerous?
Glyphosate is the most widely used broad-spectrum systemic herbicide. Glyphosate is found in many foods because it is absorbed through foliage, and minimally through roots.
Is glyphosate dangerous? In March 2015, the World Health Organization's International Agency for Research on Cancer (IRAC) classified glyphosate as "probably carcinogenic in humans" based on epidemiological studies, animal studies, and lab studies. The IARC has steadfastly defended that decision despite ongoing attacks by Monsanto.
In 2017, glyphosate was also listed by the California Office of Environmental Health Hazard Assessment as a chemical known to the state to cause cancer.
The link between glyphosate and Non-Hodgkin's lymphoma is particularly strong. A study published in the International Journal of Cancer found an association between exposure to herbicides such as glyphosate and non-Hodgkin lymphoma.
The European Food Safety Authority concluded in November 2015 that "the substance is unlikely to damage the DNA or to pose a carcinogenic threat to humans", later clarifying that while carcinogenic glyphosate-containing formulations may exist, studies "that look solely at the active substance glyphosate do not show this effect."
Regardless of the evidence, Monsanto still states that "Glyphosate has a 40-year history of safe and effective use. In evaluations spanning those four decades, the overwhelming conclusion of experts worldwide, including the Environmental Protection Agency (EPA), has been that glyphosate can be used safely."
Related: Top 5 Cancer Causing Foods to Avoid According To Science
Glyphosate is Legal so What's the Problem?
Just because glyphosate is legal it doesn't mean it's safe to have it in our foods. In fact, the EWG claims that glyphosate could be dangerous even in tiny amounts.
The EWG says that "federal government standards for pesticides in food are often outdated, and not based on the best and most current science. The EPA's standards for pesticides and other chemicals are also heavily influenced by lobbying from industry."
"The EPA's legal limit for glyphosate on oats, 30 parts per million, was set in 2008, well before the cancer findings of the IARC and California state scientists." says the EWG.
Studies regularly find that the legal limits on contaminants in food, air, drinking water and consumer products fall short of fully protecting public health, particularly for children and other people more sensitive to the effects of toxic chemicals.
Chemicals linked to cancer should not be in your food, especially in children's food.
"How many bowls of cereal and oatmeal have American kids eaten that came with a dose of weed killer? That's a question only General Mills, PepsiCo and other food companies can answer," said EWG President Ken Cook. "But if those companies would just switch to oats that aren't sprayed with glyphosate, parents wouldn't have to wonder if their kids' breakfasts contained a chemical linked to cancer. Glyphosate and other cancer-causing chemicals simply don't belong in children's food, period."
Glyphosate in Food: List of Breakfast Foods Filled with Glyphosate
Below is a list of oat-based breakfast cereals that contain glyphosate residues.
EWG Report (source)
Granola Quaker Simply Granola Oats, Honey & Almonds
Instant oats Quaker Instant Oatmeal Cinnamon & Spice
Instant oats Quaker Instant Oatmeal Apples & Cinnamon
Instant oats Quaker Real Medleys Super Grains Banana Walnut
Overnight oats Quaker Overnight Oats Raisin Walnut & Honey Heaven
Overnight oats Quaker Overnight Oats Unsweetened with Chia Seeds
Oat breakfast cereal Quaker Oatmeal Squares Brown Sugar
Oat breakfast cereal Quaker Oatmeal Squares Honey Nut
Oat breakfast cereal Apple Cinnamon Cheerios
Oat breakfast cereal Very Berry Cheerios
Oat breakfast cereal Chocolate Cheerios
Oat breakfast cereal Frosted Cheerios
Oat breakfast cereal Fruity Cheerios
Oat breakfast cereal Honey Nut Cheerios
Oat breakfast cereal Cheerios Oat Crunch Cinnamon
Snack bar Quaker Chewy S'mores
Snack bar Quaker Chewy Peanut Butter Chocolate Chip
Snack bar Quaker Breakfast Squares Soft Baked Bars Peanut Butter
Snack bar Quaker Breakfast Flats Crispy Snack Bars Cranberry Almond
Related: Popular Children's Foods Contaminated With Petroleum Based Food Dyes
Glyphosate in Food: List of More Products Containing Glyphosate
Based on another report from the EWG (source)
Granola
Back to Nature Classic Granola
Quaker Simply Granola Oats, Honey, Raisins & Almonds
Back to Nature Banana Walnut Granola Clusters
Nature Valley Granola Protein Oats 'n Honey
KIND Vanilla, Blueberry Clusters with Flax Seeds
More Foods with Glyphosate
Quaker Dinosaur Eggs, Brown Sugar, Instant Oatmeal
Great Value Original Instant Oatmeal
Umpqua Oats, Maple Pecan
Market Pantry Instant Oatmeal, Strawberries & Cream
Giant Instant Oatmeal, Original Flavor
Quaker Steel Cut Oats
Quaker Old Fashioned Oats
How To Avoid Glyphosate in Foods
You cannot remove glyphosate contamination by washing as it is absorbed into the plant while it's growing. It is also not broken down by cooking or baking.
Here are a few pointers that will help you avoid glyphosate in food:
1. Always Look for Organic Non-GMO Project Verified
Look for products that are non-GMO and organic as they are unlikely to contain glyphosate.
But you need to be aware that glyphosate use is so rampant, that some organic foods may still contain small amounts of glyphosate residues.
This toxic herbicide can travel far, especially when it is applied in mornings. It gets hung up and moves with the air mass across fields.
2. Look for Glyphosate Residue Free Labels
Glyphosate Residue Free certification verifies that your product/s do not contain glyphosate.
A third party ISO 17025 accredited laboratory tests the products to make sure they do not contain glyphosate residues.
3. Grow Your Own
Growing your own vegetables is a great way to ensure your food is grown glyphosate-free.
Read next: Popular Children's Foods Contaminated With Petroleum Based Food Dyes
Related articles: