Early Signs of Stroke – Discover the Warning Signs that Can Save Life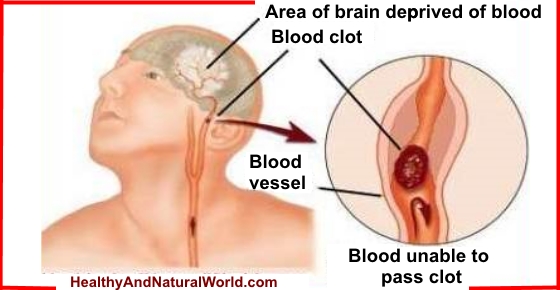 According to the National Stroke Association, stroke is the fourth leading cause of death in America and a leading cause of adult disability. Yet many U.S. adults aged 45 and older may have had a stroke without realizing it, a new study shows. The researchers wrote that people should learn the early signs of stroke and immediately seek emergency medical help if those symptoms appear.
Some stroke medicines must be given shortly after stroke symptoms start, and those drugs can make a big difference in the outcome of a stroke. Some people recover completely from strokes, but more than 2/3 of survivors will have some type of long term disability.
What is a stroke?
Our brain needs a constant blood supply to function. This blood supply provides vital nutrients and oxygen to the brain cells. The arteries are the blood vessels that deliver oxygen-rich blood from  the heart to the tissues of the body. A stroke occurs either when a blood clot blocks an artery (ischemic stroke) or the artery bursts (hemorrhagic stroke), interrupting blood flow to an area of the brain.
When either of these things happen, the blood supply to part of the brain is cut off and brain cells begin to die and brain damage occurs. In this case abilities controlled by that area of the brain are lost, and can include speech, memory and movement. The affect on the patient depends on where the stroke occurs in the brain and how much the brain is damaged, and can damage mind and body.
A stroke can be small, in which the patient can experience for example a minor weakness of an arm or leg. But it can also be large stroke in which the patient can be paralyzed on one side or lose  their ability to speak. Brain cells usually die shortly after the stroke starts. However, some can last a few hours, if the blood supply is not cut off completely.
If the blood supply can be returned in the minutes and hours after the stroke, some of these cells may recover. There is also "mini stroke" (transient ischemic attack – or TIA) which is a temporary blockage that doesn't cause permanent brain damage, but can cause stroke warning signs for minutes or even hours, and this is a warning sign that should be taken care of and not ignored.
What are the warning signs of stroke?
A stroke is always a medical emergency and therefore it's important to recognize the symptoms of a stroke and to get help as soon as possible.
Here are the possible warning signs of stroke:
1. Sudden weakness or numbness in the muscles of face, arm or leg on one side of the body. Sometimes the patient is complete paralyzed and cannot even lift an arm. In other cases one side of the face droops and the face appear non-symmetrical when trying to talk or smile.
2. Sudden loss of speech or the ability to understand speech. The patient has communication problems and struggles to talk or  create logical sentences and may appear confused or struggles to  understand statements or commands.
3. Sudden loss of vision or trouble seeing clearly, especially in one eye.
4. Abrupt loss of sensation, such as lack of feeling on the skin, or other senses that can be affected, such as smell taste and hearing.
5. Sudden loss of balance and coordination, possibly accompanied by vomiting, nausea, fever or brief loss of consciousness. Often victims struggle to walk and lose their balance and coordination.
6. Sudden and severe headache that is unusual or with no other cause. It can be followed rapidly by loss of consciousness – indications of a stroke due to bleeding
7. Unexplained dizziness or sudden falls
8. a decrease or loss of reflex, such as trouble swallowing when eating to the point where they gag.
If you or someone with you shows any possible signs of stroke, don't hesitate. Get emergency medical care right away. Immediate identification and quick evacuation to hospital will not "just" save the patient but in many cases appropriate medical treatment within three hours enables the patient to let get out of it unscathed!
The "FAST" test
If you are not sure whether a person around you had a stroke, follow these simple tests and ask the patient to make 4 small things – the "FAST" test:
1. Face – ask the patient to smile and see if he/she can smile properly or if one side of the face droops.
2. Arms – Ask the patient to raise both hands together. See if one hand drifts downward or cannot be lifted.
3. Speech – Ask the patient to say a simple sentence. Check if their speech is strange or unclear.
4. Time – if even one of the above does not work properly – it's time to call the ambulance immediately, describe the signs and give an exact location!
Please forward this information to everyone who matters to you. For every ten people who receive it, you've probably helped to save at least one person!
Make sure to follow these 10 life saving tips for lowering your stroke risk.
If you are interested to learn more about our amazing brain, find here how to improve your brain function naturally:
RELATED ARTICLES
Advertisement