Blast Your Belly Fat – The Ultimate Guide For Losing Belly Fat For Good
Learn What It Takes To Unlock  Your Stubborn Belly Fat Using My Step-By-Step Blueprint
Hi!
Jenny Hills here.
Have you ever tried to lose your belly fat but just felt that your "will power" failed you?
I unders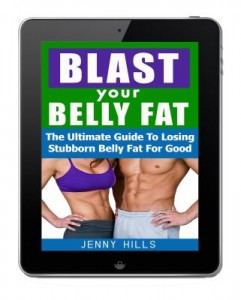 tand… And, it's not your fault.
The fad diet industry sells horrible misconceptions regarding this topic, and for years, I believed the hype.
But after actually talking to people who'd been through this and beaten it, I came to an incredible discovery.
Losing belly fat is actually easy…
… Once you drop the unrealistic expectations and false methods the fad diet industry tries to sell you!
As I'm about to show you, it's not a lack of will power that keeps those extra pounds on your tummy…
… It's the specific false information you've been fed that can't work and which leaves you giving up on your weight loss efforts before you even start.
The good news is, you

CAN

shed those extra pounds…
… And you don't need to go on a diet to do it!
All you need is the knowledge of what works and a solid plan of action to make healthy eating a part of your lifestyle.
If you've ever wanted to shed your belly fat…
If you're sick and tired of feeling ashamed of the way you feel…
Then you're
going to want to pay close attention to what I going to tell you.
I'm going to show you how thousands of people have beaten belly fat for good.
I'm going to reveal the the absolute lies told by the fad diet industry and why it goes directly against what you should be doing.
And finally I'm going to start you on the path to finally losing those extra inches yourself and keeping them off.
If you've ever felt "beyond hope" or like you've just failed too many time with weight loss, this could change your life.
Today I want to share the formula I developed and used to achieve that transformation, with you.
Introducing Blast Your Belly Fat: The Ultimate Guide For Losing Belly Fat For Good

Blast Your Belly Fat is the final result of more than a year of research into the science of belly fat reduction.
It consists of TWO all-inclusive parts:
Blast Your Belly Fat, The Ultimate Guide For Losing Belly Fat For Good. The full, authoritative system for dramatic belly fat reduction.

AND
Blast Your Belly Fat Recipes. The complete recipe book for fast and easy fat burning.
I need to make one thing very clear:
This is NOT a diet!
This is a comprehensive system for reducing belly fat that you can work around any type of diet.
If you're a vegetarian, you can apply the ideas of Blast Your Belly Fat to your diet.
If you're a carnivore, you can make this system work for you too.
A low carb fanatic? You can even incorporate this system's ideas with that approach.
The genius of Blast Your Belly Fat is that it is based on the science of belly fat.
I dig deep into the big picture reasons why belly fat develops, and how it's distinct from overall weight gain.
I show you the links between belly fat and metabolism.
I explain the little known relationship between bacteria and belly fat.
And most importantly, I show you how to put the science of belly fat into practice in ways that fit your lifestyle.
It doesn't matter what kinds of foods you like.
You can build a healthy lifestyle around your basic dietary preferences (as long as you follow some basic rules).
What You'll Discover Inside Blast Your Belly Fat – The Ultimate Guide For Losing Belly Fat For Good!

Why belly fat forms. It's MUCH more than just a simple matter of "calories in and calories out." Find out the REAL reasons inside!
The science of fat loss. How a few simple nutritional changes can take the mystery (and a lot of the effort) out of losing fat.
Good vs. "bad" calories, and what it means for your tummy.
The "five healthy food groups" and how they can help you shed inches.
Hormones and belly fat. How stress and adrenaline levels can impact your fat burning efforts.
How SLEEPING MORE can help you lose belly fat.
5 Common Bad Eating Habits that Cause Belly Fat.
The good, the bad, and the ugly… of fats. Not all fats are created equal… You'll discover the REAL scoop on which ones to avoid!
The one refined sugar that looks dangerously similar to cocaine… and is almost as bad for you.
2 common beverages that will WRECK your weight loss attempts. You'll be SHOCKED at how one CALORIE-FREE bevarage can actually be INCREASING your body fat!
How PROTEIN can help you manage belly fat.
All about Omega 3 Fatty Acids.
How to time your meals for max weight loss. Why '3 square meals a day' is actually WRONG way to do it.
And more than a dozen other helpful tricks, tactics and techniques to help you eliminate belly fat AND keep it off.
Blast Your Belly Fat Recipes
All the recipes follow the nutritional philosophy laid out in Blast Your Belly Fat: The Ultimate Guide For Losing Belly Fat For Good.
Consistin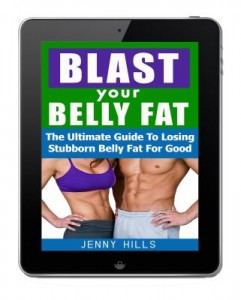 g of 70 original recipes, this part will help you put the ideas you learned in Blast Your Belly Fat into practice.
Each and every dish in the recipes guide follows nutritional principles that reduce belly fat. Each recipe is…
– Calorie-wise.
– Ridiculously easy to make.
– And most importantly, DELICIOUS!
Trust me. You do not need to be the best cook in the world by any means to make these recipes. I can barely cook spaghetti without burning something and I can make all of these dishes without a hiccup!
Take The First Step Toward Losing Your Belly Fat

TODAY!
Testimonials
This book has a lot of extremely useful information on how to reduce belly fat and it's extremely detailed and comprehensive.  By Linda
"This is a great book for me to read and implement. I've been dieting for a while, but I can no longer easily drop kilos. I'm down 12kg, but I really need to lose another 15kg, so I've still got a fair way to go, and needed a new direction. This book offers fantastic practical solutions and well researched advice on how to lose my extra weight and trim my belly fat.
It explains the causes for belly fat and then shows how you can get the fat deposits from our waist once and for all! I love the meal planners and the recipes look amazing. The exercise suggestions are extremely practical and I can easily integrate them with my busy schedule. I also like the idea of eating less but more often. I also like the supportive and empathic tone used in the book.
The book offers practical and realistic advice and I recommend it if you want a healthy weight loss plan, with good long term results, not a quick fad diet that never works in the long run"
Hi Jenny I love your ebook BLAST YOUR BELLY FAT By tina
"Hi Jenny I love your ebook BLAST YOUR BELLY FAT! A month ago I went for a check up and my doctor made me so angry, I ask him for advice on losing weight because I'm considered morbid obesity, as well as high cholesterol. He told me "just stop eating". I was so angry when I left his office. But after reading your book you had all the answer that I needed. I answered yes to everything on your quiz. I work at night, so I realized that the lack of rest, no water intake, and the stress in my life is whats keeping me from losing the weight and I am definitely addictive to sugar. I am on Chpt. 4 and I look forward to your meal suggestions to start my weight loss journey as a matter of fact, I was so excited that I changed my eating habits the very next day. Also, I can't wait to read your other books. Thank You Jenny:)"
The book resonates with a common sense approach. By Fred
"The book resonates with a common sense approach. It doesn't hit me with overly strict rules, and it doesn't go overboard in throwing out yesterday's rules. It lets us bite off change as we are able, and give sound reasons why we should."
You Can Read This E-Book In Less Than 90 Seconds From Now!
That's right! No more waiting for the mailman to come to your door 7-10 days later.  Blast your Belly Fat is an E-Book so it doesn't matter if it's 2 AM in the morning, you'll be downloading and reading "Blast your Belly Fat" within just a few minutes. So what are you waiting for? You can start losing your belly in just a few minutes!

Your
Special Price Today: $15

 

Full No Risk 60 Days Money Back Guarantee
If you are in any way dissatisfied with this product, you can get a complete 100% money back guarantee. All you have to do is ask. There is NO RISK and there will be no questions or hard feelings
If you have any question you can email me: [email protected]
For Great Health
Jenny Hills