Horny Goat Weed: Benefits, Uses & Horny Goat Weed Tea Recipe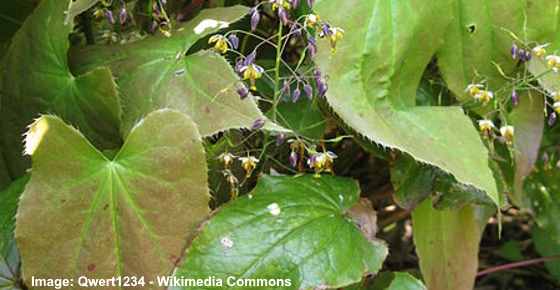 Advertisement
Horny goat weed is a natural aphrodisiac that is used in Traditional Chinese Medicine. Known commonly also as Epimedium, this natural herb has benefits in helping to improve symptoms of osteoarthritis, bronchitis, osteoporosis, depression and low libido. You can make horny goat weed tea by putting a few of the leaves in a cup of hot water, or you can take it as a supplement.
In this article, you will learn if science backs claims of the many health benefits of horny goat weed. This will help you find if horny goat weed really works.
What is Horny Goat Weed?
Horny goat weed is a perennial flowering plant that grows in Asia and the Mediterranean region. The therapeutic herb is from the Epimedium species, such as Epimedium sagittatum and Epimedium koreanum, and contains a number of compounds linked to good health.
The story behind the name horny goat weed is that according to legend, a Chinese goat herder noticed that his goats had more libido whenever they ate the Epimedium plant.
The Journal of Ethnopharmacology reports that horny goat weed is a traditional remedy for sexual dysfunction. It is called Yangheye or Yin Yang Huo in Traditional Chinese Medicine and other names include Bishop's Hat, Barrenwort, Rowdy Lamb's Herb, and Fairy Wings. (1)
Studies have shown that the benefits of horny goat weed are mainly due to one of its compounds called icariin. This antioxidant in Epimedium works as an aphrodisiac, treatment for impotency, lowers blood pressure, and treating depression. (2)
Scientists have also found that horny goat weed extracts are good for alleviating bronchitis, improving artery health, strengthening bone health, and improving function of the immune system. (1)
What is Horny Goat Weed Tea?
The leaves of the Epimedium plant are often dried and used to make horny goat weed tea. To make horny goat weed tea put a teaspoon of horny goat weed plant leaves and leave to infuse in a cup of boiling water for several minutes. You can also use tea bags containing horny goat weed. Drink the tea 2 times a day to achieve the desired results.
Benefits of Horny Goat Weed
Let's look in more detail at many of the reasons to take horny goat weed supplements or tea.
Horny Goat Weed Helps Treat Erectile Dysfunction
To help treat erectile dysfunction (ED), men can take horny goat weed to help improve their sexual health.
The reason why horny goat weed seems to improve male sexual health is due to the compound icariin. Studies have shown that icariin inhibits a protein phosphodiesterase type 5 that is associated with erectile dysfunction. (3)
Researchers have found that icariin helps obtain an erection easier and enhances erectile function. (4)
One study found that horny goat weed extracts work in a similar way to sildenafil. This pharmaceutical drug for erectile dysfunction is sold under the brand name Viagra. (5)
Although studies have shown that sildenafil drugs are more potent, you can still use horny goat weed supplements for ED. In fact, some manufacturers make high potency super horny goat weed that is more potent than just tea.
Horny Goat Weed is Used as a Natural Aphrodisiac
Horny goat weed is an herbal aphrodisiac that may improve sexual health of both men and women.
One of the reasons why horny goat weed works well as an aphrodisiac is because it helps treat erectile dysfunction.
Although scientific research is lacking for its use as an aphrodisiac for men and women, there is some evidence that Epimedium can boost sex drive when used together with maca root, which is one of the well-researched natural aphrodisiacs.
Some studies have found that some horny goat weed and maca supplements may act as an aphrodisiac and libido enhancer. (6)
Learn about other foods that have aphrodisiac properties that can help to boost sexual health. Also read more about the scientifically proven health benefits of maca in this article.
Horny Goat Weed Helps Treat Hardening of the Arteries
Taking horny goat weed supplements can help improve the condition of your arteries and prevent plaque buildup.
Atherosclerosis is when plaque in your arteries builds up causing them to narrow. This can lead to a stroke or heart attack. Icariin in horny goat weed helps to improve many aspects of vascular health.
Studies have shown that the Chinese medicinal remedy horny goat weed helps arteries to function better and prevent red blood cells from clumping together. Researchers found that icariin supplements have potential use as anti-atherosclerotic drugs. (7)
Extracts from horny goat weed can also prevent hardening of the arteries due to too much cholesterol. Icariin has antioxidant properties and can help prevent a buildup of dangerous plaque in the arteries. (8)
Apart from taking the best horny goat weed supplements to improve your cardiovascular health, find out what other foods help unclog your arteries.
Horny Goat Weed Promotes a Healthy Immune System
Horny goat weed tea is good for your immune system because it helps regulate white blood cell production and reduce inflammation.
Studies have shown that taking supplements contain icariin can help manage various autoimmune disorders, such as rheumatoid arthritis, bronchial asthma, multiple sclerosis and lupus. Horny goat weed extracts also have an anti-inflammatory effect that helps support the immune system. (9)
Further reading: Boost Your Immune System Naturally: Herbs, Supplements and More.
Horny Goat Weed is Good for Bone Health
Horny goat weed herb helps prevent bone fracture and osteoporosis because it promotes bone health.
One study found that Chinese herbal remedies such as horny goat weed stimulate bone marrow cells. In animal studies, this has helped to strengthen bones and prevent disease related to brittle bones. (10)
Another study found that ingredients in horny goat weed help to increase bone mass density. Researchers suggested that taking horny goat weed extracts could help treat osteoporosis. (11)
Horny goat weed supplements are good for women after the menopause as they help strengthen bone health.
Studies have shown that horny goat weed has phytoestrogens that help prevent bone mass loss in menopausal women. In one trial involving 100 women over 50, taking 60 mg icariin along with 300 mg calcium daily helped to improve bone health. (12)
Find out about what you should eat on the osteoporosis diet to help increase bone mass density.
Horny Goat Weed May Treat Osteoarthritis
If you have inflammation in the joints, horny goat weed may be a good supplement to take due to its anti-inflammatory effect.
Osteoarthritis is a degenerative joint condition that causes pain, swelling, and cartilage breakdown. Scientific studies have found that taking horny goat weed can slow down the progression of osteoarthritis. Horny goat weed helped to inhibit the effect of certain inflammatory enzymes that cause joint pain. (13)
One study found that horny goat supplements are good for improving joint function. Researchers discovered that, apart from its anti-inflammatory effects, icariin in Epimedium can help prevent cartilage degradation. (14)
Learn about many other supplements in addition to horny goat weed that are good for alleviating joint pain. There are also some effective remedies if you have osteoarthritis in the knee.
If you have arthritis, it is also important to avoid these foods that cause inflammation.
Horny Goat Weed Helps Relieve Bronchitis
Horny goat weed plant supplements may also help treat respiratory disorders such as chronic bronchitis.
Bronchitis is an inflammation of the lungs that can cause coughing, fatigue, mucus, and shortness of breath. The reasons for bronchitis can be an upper respiratory infection (acute) or the results of long-term exposure to irritants (like with smoking).
According to the journal PLoS One, extracts from horny goat weed can help reduce lung inflammation caused by chronic bronchitis. The results from animal studies showed that icariin had a significant effect in improving lung function. The Epimedium supplement helped address issues of inflammation caused by cigarette smoke. (15)
Use horny goat weed tea as an expectorant to relieve symptoms of bronchitis. You can also find out about the best essential oils to help get relief from bronchial infections.
Horny Goat Weed is Good for Anxiety and Depression
Drinking horny goat weed tea can help reduce stress, alleviate anxious tension, and help treat mild depression.
Studies on animal subjects have found that horny goat weed supplements may help deal with many stress-related symptoms. For example, horny goat weed works for stress by regulating hormonal imbalances due to chronic stress. Scientists found that this had an anti-depressive effect. (16, 17)
Icariin extracts from the horny goat weed plant helps to lower corticosterone concentration. Cortisol levels often rise during times of chronic stress and can lead to panic disorders, digestive upset, high blood pressure, and weight gain. Taking horny goat weed for depression could help to improve mental health. (18)
Along with taking horny goat weed for anxiety, learn about other natural stress-relief supplements that can help, as well as other natural treatments for depression.
How to Use and Where to Buy Horny Goat Weed
Horny goat weed can be found in health stores or online, and comes in the form of supplements (capsules/pills and extract), tea bags or loose leaves that you can take every day.
Some doctors don't recommend taking icariin supplements for longer than 6 months. However, some reports indicate that you can take horny goat weed supplements for up to 2 years without adverse side effects. (19)
Taking genuine horny goat weed supplements is a popular and easy way to improve sexual health and treat erectile dysfunction. Many horny goat weed supplements that claim to increase sex drive include other ingredients such as maca root, saw palmetto, and ginseng (such as this one).
There is no standard dosage for taking horny goat weed, so make sure to follow the manufacturer recommendations, which also depend on the percentage of the active ingredients which are different from product to product.
Reviews of horny goat weed extract show that many men and women find this an effective supplement for improving libido. Some people report that horny goat weed supplements start to work as soon as 3 or 4 days after taking them. However, some people find that taking horny goat weed before sex works for them.
You can also buy horny goat weed tea in the form of tea bags (such as this one), loose leaves, or Chinese Yin Yang Huo powder.
To choose the best horny goat weed tea or supplement, try to find the type that is organically grown. It is always good to check out horny goat weed supplement reviews before buying online to see how users rate their effectiveness.
Horny Goat Weed Tea Recipe
It couldn't be simpler to make your own horny goat weed tea to enjoy all its health benefits.
Some people grow the plant in their garden to always have a fresh supply of Epimedium leaves to make an infusion.
If making a cup of horny goat weed tea with fresh leaves, you will need about 3 teaspoons of chopped leaves. If using dry leaves, about one teaspoon per cup should be fine.
How to make horny goat weed tea:
Put your fresh or dried tea leaves in a tea infuser and put in a cup. (You can also just add the leaves straight to the cup).
Pour over boiling water.
Cover the cup and allow to infuse for 5 minutes.
Remove the infuser and strain if necessary.
Add a spoon of raw honey to taste once the tea has cooled somewhat.
Enjoy the invigorating tea 2 or 3 times a day to give your health a boost.
Frequently Asked Questions About Horny Goat Weed
Does horny goat weed work?
Scientific studies have backed up many of the traditional uses of horny goat weed. Among the reported benefits of Epimedium extracts are anti-aging, antioxidant, anti-inflammatory, and anti-depressant. Horny goat weed extracts also have shown benefit in treating sexual dysfunction, regulating hormones and improving your immune system. (2)
How long does horny goat weed takes to work?
It is claimed that the response time of taking horny goat weed for ED is 30 to 90 minutes. However, this may depend on the individual and the strength of horny goat weed supplement.
Is horny goat weed safe?
According to doctors from WebMD, it is safe to take horny goat weed supplements in small amount for a short time. (19)
Should I take super goat weed everyday?
Some super-strength horny goat weed supplements contain 1,000 mg of icariin along with other stimulating herbs. Some studies have used around 6,000 mg of super horny goat weed and even more than that, but there may be some side effects of long-term use. (20)
Horny Goat Weed Side Effects
Even though horny goat weed is a natural supplement, there still may be adverse effects connected with its long-term use.
Some reports indicate that taking horny goat weed everyday could cause fever-like symptoms, an increased heart rate, or aggressiveness in some people. (6)
Doctors also warn that dizziness, vomiting, dry mouth, and nosebleeds could result from high doses of horny goat weed or of its long-term use. (19)
Horny goat supplements may also interact with some medications, such as blood thinners, anti-depressants and medications to lower blood pressure, so if you take other medications you must consult with your doctor before taking horny goat weed supplements. (20)
Also pregnant or breastfeeding women should not take horny goat weed. (20)
Related articles:
Advertisement