How to Boost Your Health With Seaweeds and Algae and How to Consume Them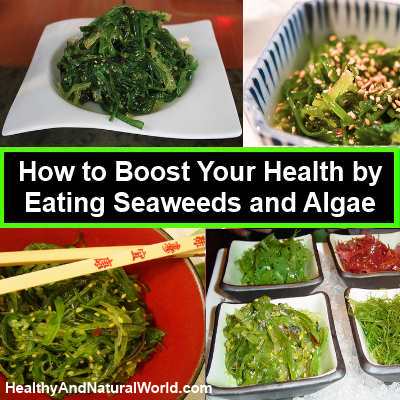 Have you heard the words chlorella and spirulina? kelp, nori and wakame? There are a lot of reasons for eating seaweeds and algae, and if you haven't done so, it's time to add them to your menu. These algae and seaweeds are all aquatic plants that are a rich source of nutrients and antioxidants, such as beta carotene, selenium, zinc, iron and vitamins C, E and B complex. They can help fight inflammation and damage to tissues caused by free radicals. They are also rich in protein and amino acids that help the body to fight infections, and fiber that encourages the growth of good bacteria in the gut, and helps maintain bowel regularity and removes toxins and fats from the body. They also help detox our body by protecting the liver from toxic damage. If you are interested in detoxifying your body, you can find more useful information in my e-book The Detox Guide. This guide will teach you how to use detox to cleanse and energize your body naturally and safely.
Seaweeds are also a good source of iodine, which is essential for metabolism. The high iodine content helps support healthy thyroid function, which helps regulate metabolism and helps weight management. They have magnesium and potassium which protect blood vessels and fight the effect of stress. They contain nutrients that support the health of the adrenal glands, which have an important role in our response to stress. Without this nutritional support, the adrenal glands can suffer constant stress, resulting in chronic fatigue, mood changes and damaging the immune system.
Before eating seaweeds and algae, lets meet few of them:
Chlorella
This is a green algae that is one of the richest sources of the detox plant pigment chlorophyll. Chlorella contains a compound that can enhance immune function and stimulates tissue repair. Chlorella has been shown to help remove heavy metals, such as cadmium and mercury, pesticides and industrial pollutants from the body, thus helping to detoxify it.
Spirulina
This is a blue-green algae, that is the most commonly used. It is a rich source of beta-carotene and amino acids. Dried spirulina contains about 60% (51–71%) protein. It is a complete protein containing all essential amino acids.
Kelp
This seaweed is a rich source of iodine and other important minerals. Brown seaweeds, such as kelp and wakame, contain antioxidant that improves insulin resistance and assists metabolize fat more efficiently.
Wakame
This seaweed contain a high amount of magnesium that improves heart function, lower blood pressure and acts as a diuretic.
Nori
This seaweed is particularly rich in protein, and contains a large amount of fiber.
Dulse
This seaweed is a good source of minerals and vitamins compared with other vegetables, has the antioxidant beta-carotene and has a high protein content.
How to consume algae?
Fresh algae don't keep well, and therefore are often sold as supplements in a dried, powdered form or as tablets. The drying process concentrates the nutrients, so you need to consume only a small amount. Over-consuming it can cause stomach cramps. Dried algae are versatile. You can add the algae as a salad dressing by mixing 1-2 tsp algae powder into an oil and vinegar salad dressing. The powder usually has a mild flavor which is ideal for mixing in soups, stir fries, salsas, guacamoles, smoothies, and vegetable juices (see my recipe for the ultimate super food energy smoothie).
How to consume seaweeds?
You can consume them fresh or dried. Drying doesn't damage its nutritional value. If you consume fresh seaweed, make sure to rinse it well. You can use ground seaweed to enhance flavor instead of salt, or add to stocks, soups, broths, chowders, sandwiches, sushi and salads, or added to bread/pizza dough.
I hope I have convinced you that eating seaweeds and algae is a good idea, and that they are versatile enough to combine them in your daily menu. The health benefits of eating seaweeds and algae are great and cannot be ignored, so give it a try!
Eating seaweeds and algae is good for detoxifying your body. Click here to read about the 6 ways your body detoxifies itself:
Advertisement