The Best Cooking Oils for Healthy Heart and How to Use Them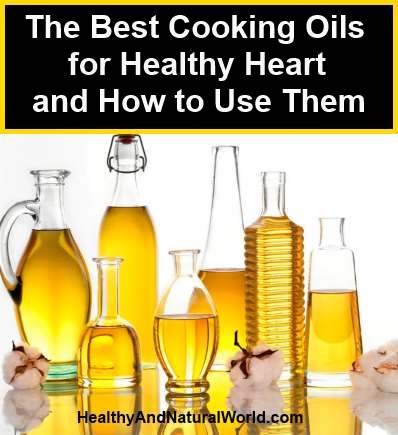 When it comes to improving your health, incorporating several oils into your diet could provide you with surprising results for healthy heart. People are sceptical when it comes to using these oils since they aren't fully educated on the benefits they have to offer.
The following oils contain loads of nutrients that are key to a healthy diet and are incredibly easy to use in your meals:
•    Olive Oil
•    Macadamia Nut Oil
•    Toasted Sesame Oil
•    Walnut Oil
•    Coconut Oil
•    Other Oils – Hempseed Oil, Flaxseed Oil and Black Seed Oil.
First we will discuss why these oils are beneficial for healthy heart, then how much you should consume of them, and finally how you can specifically use each oil in your diet.
Kickstart your heart
Perhaps the most appealing aspect of these oils is the amount they contribute to heart health.
Each one of these oils is jam packed with healthy fats and essential nutrients. I know, the term healthy fat might sound a bit counter-intuitive. There is a clear difference however, between fats that are good for you and ones you should avoid.
Unhealthy Fats – The two fats that are considered "unhealthy" are saturated fat and trans fat. While saturated fat is a necessary part of a balanced diet, you only need a small amount of it to fully benefit it's health properties. Trans fats found in fried foods and greasy snacks won't benefit your body in any way and should be avoided at all costs.
Healthy Fats – The fats that are most prevalent in these oils are polyunsaturated and monounsaturated fats. They play a much more important role in a balanced diet and should be consumed on a daily basis to fully benefit.
But why are these types of fat so good for you?
First off, they play a key role in lowering LDL, otherwise known as bad cholesterol. If your LDL is higher than it should be, you are put at risk for some serious heart conditions. It builds up on the walls of your arteries and eventually forms plaque. This and the formation of clots could lead to a serious heart attack if left unattended.
While these fats are busy lowering your LDL, they are also elevating your HDL. HDL, or high density lipoproteins, are also referred to as healthy cholesterol. Studies by the American Heart Association show that if your levels of HDL run low, you are at higher risk of heart disease. These lipoproteins regulate your insulin, maintain healthy blood sugar levels, and slow down the build up of plaque.
How much is enough?
When it comes to consuming these oils, it is important to know the right amount. They may be good for your heart, but they are also fairly calorie dense. With proper moderation you can benefit from these oils without consuming too many calories.
The United States Department of Agriculture recently conducted a study on their site to find the essential amount of healthy oil to consume daily. They advise that men consume around 6-7 teaspoons while and women consume 5-6.
For example, if a woman eats three meals a day and wanted to evenly balance her oils, she would incorporate two teaspoons at each meal. Make sure you assess your calorie goals and factor that into your allowance. If you are more active and have a high metabolism, there is nothing wrong with going over this amount.
How to consume the oils
There are many different ways that oils can be incorporated into your diet. They are an extremely useful cooking tool and can add a special taste or texture to your favorite meals. The most common ways of consuming oils is through baking, stir-fry, spreads, dip, and dressing.
Olive oil
Olive oil has become popular due to its versatility. It is effective when used in any of the above mentioned methods. Since virgin olive oil tends to run a bit more expensive and retain flavor better, people usually reserve it for dressing, spreads, and dips. You may also want to read my article about the amazing health benefits of olive oil.
If you cook with olive oil, the important thing about cooking with any oil (olive or otherwise) is not to heat the oil over its smoking point. High quality extra virgin olive oils (with low free fatty acids) have a high smoking point. They are an excellent choice, but an expensive one. Mass produced, low quality olive oils have a much lower smoke point. The smoking point of extra virgin olive oil is roughly between 400 and 365ºF (204 and 185ºC) depending on its free fatty acid content.
Olive oil and losing weight
Sure, these oils can provide your heart with a fortress of health, but that's not all they do. Did you know that olive oil can also be a pivotal part of a weight loss routine? You may have heard about a research that found that consuming olive oil increases your serotonin, which helps regulate your appetite and feel full and satisfied for longer periods of time.
But the surprising thing is that according to a recent study in the American Journal of Nutrition, you don't even need to eat olive oil. Simply smelling olive oil may help you lose weight. This is because the scent of olive oil helps you feel full, so it could be used as an effective dieting tool, though further studies are needed.
The study showed that adding the scent of olive oil to food (by adding an aromatic extract) reduced the amount of calories people in the study consumed and improved their blood sugar response.
But what about the other oils mentioned? Well, each one actually has a specific area that it excels in:
Macadamia oil – For baking
This type of oil is renowned for its rich flavorful taste. It gives off hints of nut and butter without overpowering the overall product. Because of this, it is most practical for baked goods. Try adding a teaspoon or two into your cookie dough or pancake batter and taste the difference.
Sesame oil – For stir fry
If you enjoy authentic Asian style cuisine, look no further than this type of oil. It has remained the secret behind some of the most delicious stir fry recipes out there. Loaded with antioxidants and essential vitamins, it is an ideal way for you to add a healthy Asian flare to any sautéed dish.
Walnut oil – A substitute for butter
This oil has the same healthy qualities but is used in a slightly different way. Walnuts produce an oil that is fragile, sometimes resulting in a bitter taste if cooked. It is absolutely delicious however, when used as a substitute for butter. Try spreading this oil on a piece of toast or stirring it into your favorite dip for a healthy flavor boost.
Coconut oil
Although coconut oil contains saturated fat and you've probably all been told a thousand times that saturated fats are bad for your health and lead to all sorts of diseases, not all saturated fats are bad for your health.
In my website you can find an excellent article "Discover the Truth About Coconut Oil and Its Many Health Benefits" which explains all you need to know about coconut oil, and why it's saturated fat has a more neutral effect on heart health, and can actually contribute greatly to your heart.
Hempseed Oil
This oil has anti inflammatory and antioxidant properties, and contains the highest percentage of essential fatty acids in any oil. It contains the perfect balance of omega-3 and omega-6 fatty acids, which are essential for cell growth, healthy circulation and improving the immune system.
The high content of omega-3 in this oil makes it a good vegetarian alternative to fish oil.
Adding hempseed oil to your diet will benefit your heart, nervous system, improve your skin and help maintain healthy joints. This oil is also good for the brain. It supports memory and improves cognitive function, and may help prevent dementia. You can get this oil in some supermarkets, health food stores or online.
How to use it? Store the oil in a dark cool place. This oil is not suitable for cooking or frying at high temperatures, so it should be used cold to enjoy its health benefits. Add this oil to juices, smoothies, yogurts, salad dressings, steamed vegetables, or use a little on cheese or on bread instead of butter.
Flaxseed Oil
This oil is extracted from flax seeds and contains the essential fatty acid ALA, that can help prevent stroke and heart attacks. It also reduces inflammation and excessive blood clotting, assists blood vessels health, and reduce the risk of irregular heartbeat. Flaxseed oil also contains omega-3 and omega-6 fatty acids. You can get this oil in supermarkets, health food stores or online.
How to use it? Store in a dark cool place, and use it cold, as it's not heat stable. Drizzle on cheeses, add to juices or smoothies or add to condiments such as ketchup, mayonnaise and salad dressings.
Black Seed Oil
I wrote in the past why black seed (Nigella Sativa) is 'The Remedy For Everything But Death'. Black seed oil has anti inflammatory and detoxifying effects that can help treat arthritis and rheumatic conditions. It can also relieve symptoms of hay fever, eczema and asthma.
It also contains gamma linoleic acid (GLA), which reduces the pain associated with damage to the nerves due to high blood pressure from diabetes. This oil can also increase the levels of the "good" cholesterol (HDL) in the bloodstream. You can get this oil in health food stores or online.
How to use it? You can add it to salad dressings and stir fries. Mix with honey and garlic to treat allergies, coughs, colds and flu. If you have diarrhea, mix 1 tsp of this oil with 1 cup of plain probiotic  yogurt and eat as needed. For an energy boost to start the day, mix 1 tsp of black seed oil with a glass of orange juice.
Adding a variety of different healthy oils in small quantities is part of a healthy eating and nutrition that promotes anti inflammatory effect, heart health, and helps us to absorb fat-soluble vitamins. So if you want to maintain a healthy heart, try to diversify your nutrition by adding these oils to your menu, and don't forget that despite the many health benefits of all the oils mentioned previously, like many things in life, moderation is the key.
Maintaining a good heart health is also one of the 70 habits featured in my e-book 70 Powerful Habits For A Great Health which will guide you how to take positive steps to improve your wellness and overall health.
You can also maintain a healthy heart by using certain herbs to nourish, tone and strengthen the heart. Click here to find out the top 10 herbs for healthy heart, including heart tonic recipe: The Top 10 Herbs for Healthy Heart, Including Heart Tonic Recipe.
Advertisement